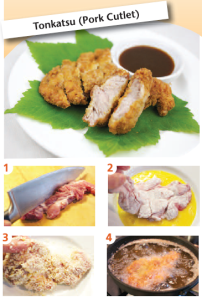 Tonkatsu (Pork cutlet)
When tonkatsu met curry 'pork katsu curry' was born.
What you may not realise is the significance of tonkatsu alone as a dish. There are many hundreds of specialist restaurants in Japan dedicated to serving nothing but tonkatsu.
The secret of its crispiness lies in the 3 layers of coating; egg, flour and special Japanese breadcrumbs called 'panko' are carefully applied before the meat is deep-fried. The coating becomes incredibly crispy while the pork remains juicy and succulent. Loin and fillet are typically used for their tenderness, but pork shoulder is also favoured for the taste.
Ingredients:
Serves 2
– 2 pork fillets or loins
– salt and pepper to season
– 60g plain flour
– 1 egg
– 100g Yutaka panko (breadcrumbs)
– vegetable oil
Tonkatsu sauce
– 2tsp ketchup
– 2tsp worcester sauce
– 1tsp oyster sauce
How to prepare:
1. Make tonkatsu sauce by placing all od the sauce ingredients in a small bowl, then mix well and put aside. Make 4-5 cut marks across the pork and beat it with tenderizer (or beat wirh back of knife) to soften the meat. Season with salt and pepper.
2. Coat the chops with flour so they are covered evenly on both sides. Dip the chops into beaten egg.
3. Coat the chops with breadcrumbs. Press with the hands to ensure even coating on both sides.
4. Heat at least 2cm of oil in a frying pan to about 175°C. To check the oil is hot enough drop a couple of breadcrumbs into the oil, if they bubble and float to the top then you are ready to fry. Fry one chop at a time to avoid sudden lowering of the temperature, turning it over only when it floats to the top. When the chop is crispy and golden brown, take it out of the oil and place it on kitchen paper to drain excess. Cut the pork into bite sized pieces and serve immediately with tonkatsu sauce.