No42 [Taste] Nara and Kyoto, food and drink (2/2)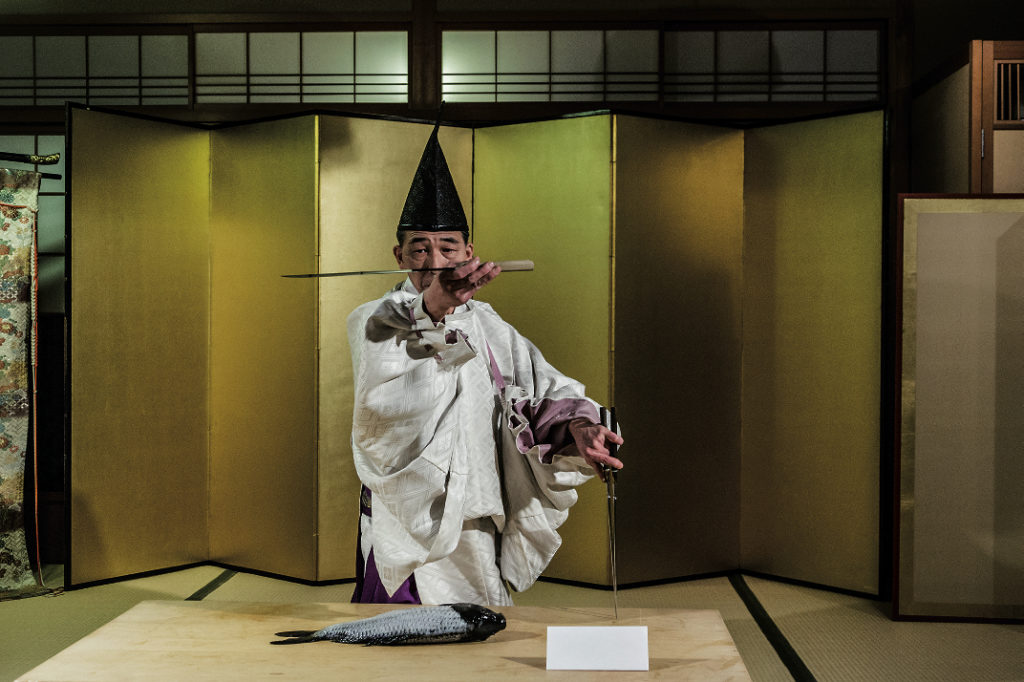 The two ancient imperial cities are full of history and have a long tradition of fine cuisine.
Among the many trains circulating on the busy Kintetsu Nara line linking the two ancient imperial capitals is the Shimakaze, a different kind of train that offers passengers extraordinary levels of comfort while they contemplate the beautiful landscape. The Shimakaze runs through the Ise-Shima region from Osaka, Kyoto, and Nagoya, and is aimed at those who wish to enjoy some luxury during the three hour journey. But it is even worth trying the 30- minute ride between Nara and Kyoto for an idea of the kind of service you will get on this train, justifiably named the Premium Express. It is just the best way to set out on an exploration of Kyoto and its gastronomic treasures.
Your first contact with the city will be its huge railway station that, in 2017, will be celebrating 20 years since its complete renovation by Hara Hiroshi. He created an innovative complex of 238,000 square metres in which the railway infrastructure takes up only 12,000 square metres. This gigantic railway station deserves a visit all of its own. But first, do set out in search of a pleasant place to eat. The station has a lot to offer food-wise, but it is better suited to busy travellers in a hurry. The quality of food is good but when you're visiting for the first time you might want to aim for restaurants of the highest quality in this historic city of Kyoto, full of sacred architectural treasures. Kyoto is registered as a world heritage site, and has many restaurants that pay homage to Japanese gastronomy, itself listed as a UNESCO Intangible Cultural Heritage.
Just a 12-minute walk from the station is Sushi Iwa, a restaurant that has been owned by Onishi Toshiya for 25 years. The atmosphere here reminds one of the little cheap restaurants in some of Tokyo's popular districts. The sushi master offers fine cuisine with a variety and quality of fish that distinguishes it from the typical sushi restaurant. If you are lucky enough to sit at the counter you will be able to watch the skill with which the chef cuts and arranges his fish on the beautiful porcelain plates, which are themselves worth making a detour to see. He is friendly, speaks English, happy to answer questions about the fish, and can give you some good advice about sake — the "drink of the gods" — which is another characteristic of this restaurant. It is better to book in advance (tel. 075-371-9303, open 11am to 10.30pm, closed on Mondays). Dozens of bottles of sake are lined up behind the chef, some without labels. Even if they were labelled you would need to be a connoisseur to find your way around this incredibly wide range from which to choose. Onishi Toshiya is both a lover of and a connoisseur of sake, affirming that "to savour raw fish, you need an excellent sake". If he doesn't offer it to you himself don't hesitate to ask for Matsumoto, of which he has several bottles. This sake is rare and only available in a few restaurants in the city where Sushi Iwa is situated. It is quite wonderful and is the perfect accompaniment to the cuisine offered by this chef, whose joviality completely puts paid to the reputed arrogance of some Kyoto locals towards tourists.
Depending on the time of day or night you leave this charming restaurant you can choose to walk directly to your hotel or take a little stroll towards the Imperial Palace to help digest your meal, while making your way through little streets full of craft shops. "To create Kyoto, it took generations of emperors passionate about art and beauty, as well as architects, builders, gardeners, sculptors, poets, goldsmiths, lovers, enamellers, philosophers, urban designers, craftsmen and artists, but also, so that Kyoto should remain as beautiful and successful as at its inception, it was necessary that even the least scrupulous of warmongers refused to destroy it", said journalist Marcel Giurglaris in his book Visa for Japan, published in 1958. You need only take a relaxing walk around the city to understand the truth of this.
The city's 1,600 Buddhist temples, 400 Shinto shrines and its priceless treasures have always had a powerful attraction. "Kyoto is the only city in the world where the past and the present exist so naturally side by side. In Tokyo the ancient remains have all changed and are unrecognizable. Here, every stone, every tree, every sound, every animal, has remained the same", insists this sensitive writer, who is aware of the sense of permanence to be found in the multitude of places one can visit. It is also present in the cuisine, and our next gastronomic stop is one of the best illustrations of this.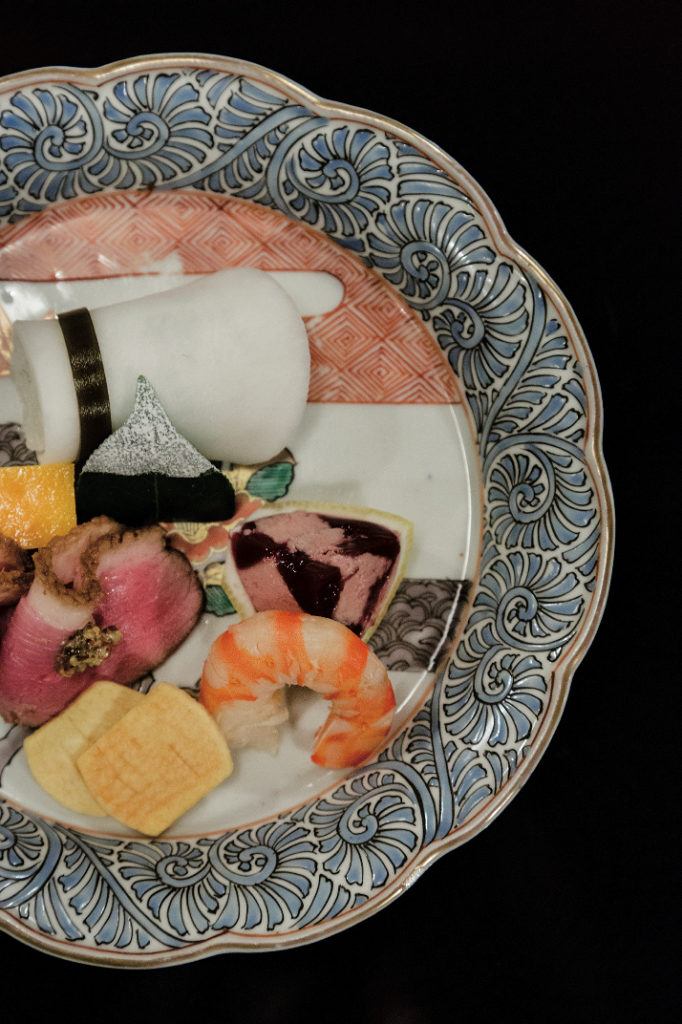 The Mankamero (open from 5pm to 11pm, booking recommended) fits perfectly into this culinary tradition, in which Kyoto has historically played a great part. The place itself resembles one of those inns so often portrayed in samurai films. If you approach it at sunset, you may sense its rather intriguing atmosphere. What is hidden behind the large noren (fabric curtain displaying the restaurant's name) over the entrance? You will discover the beautiful manners of Ikama Masayusu, undoubtedly gained over long years of experience. He is the twenty-ninth in a long line of shopkeepers to manage Mankamero, which was founded in 1722. He is one of the very few Japanese chefs who knows how to perform the shikibocho ceremony, which consists of cutting up the fish to form it into a kind sculpture. It dates back to the 14th century, when it was only carried out for the Emperor. Nowadays it is still a privilege for those common mortals who are lucky enough to see it practised in this restaurant that specializes in yusoku cuisine, that is to say food prepared specially for members of the Imperial family. So you need to expect an expensive bill at the end of the meal.
The fine quality of the food and the environment in which it is served come at a high price, so you need to reckon on paying between 10,000 and 30,000 yen per person, depending on the dish. It is a great deal of money, but considering the originality of the location and its very long history it is a must for gourmets to visit. If you were not born into the aristocracy but still want to experience a monument to local cuisine try Hyotei (open from 11am to 7.30 pm, closed every second and fourth Tuesday; its adjoining restaurant is closed on Thursdays). It was created 400 years ago and, at that time, it was a simple tea-house where pilgrims stopped for a rest on their way to the Nanzen-ji temple. They were served tea and pastries with half-cooked eggs, the recipe for which remains a secret. Hyotei's famous eggs are one of this location's specialities where, over time, kaiseki cuisine gradually developed. Just like Mankamero the Hyotei is charged with history, with its little tea-houses where meals are made up of a multitude of little dishes, each one more refined than the last. Both the presentation and the taste contribute to the pleasure.
And if you add to this the beauty of the place and the tranquility of the surrounding country, all your senses come alive when you sit down to eat in this restaurant. Prices here are also quite high (from 23,000 yen for lunch and 27,000 for dinner). However, you can visit the adjoining restaurant that offers bentos, which are all delicious, but much cheaper (5,400 yen). Kaiseki is an essential part of Kyoto's culinary traditions and there is even more reason to try it in this city so rooted in its past. As Marcel Giuglaris says, "You cannot describe Kyoto, all you can do is let yourself be guided on a timeless journey". Cuisine is a great way to discover Kyoto's history. And it's sufficiently light to allow you to continue your exploration of the city's other architectural, spiritual, artistic and historical treasures, because you are never more than one step away from a temple, a shrine or a museum…
HOW TO GET THERE
From Tokyo, take the Tokaido shinkansen to Kyoto. There are several departures per hour. If you are in osaka the Kintetsu trains from the railway stations at Namba and ueomachi will get you to Kyoto. If you decide to stay a day or two remember to get a pass valid for one or two days (1,500 and 2,000 yen), which will allow you to take as many of the company's trains as you wish during that period, as well as the buses on the Nara Kotsu line.
ADDRESSES
Sushi Iwa
Shimojuzuyamachi-dori Ainomachi Nishiiru, Shimogyo-ku, Kyoto 600-8155
Tel: 075-371-9303 – www.sushiiwa.jp
Mankamero
387 ebisu-cho, Kamigyo-ku, Kyoto 602-8118
Tel: 075-441–5020 – www.mankamerou.com
Hyotei
35 Kusakawa-cho, Nanzenji, Sakyo-ku, Kyoto 606-8437
Tel: 075-771-4116 – www.hyotei.co.jp/en/
Odaira Namihei