No.80 [TREND] Fashion food addiction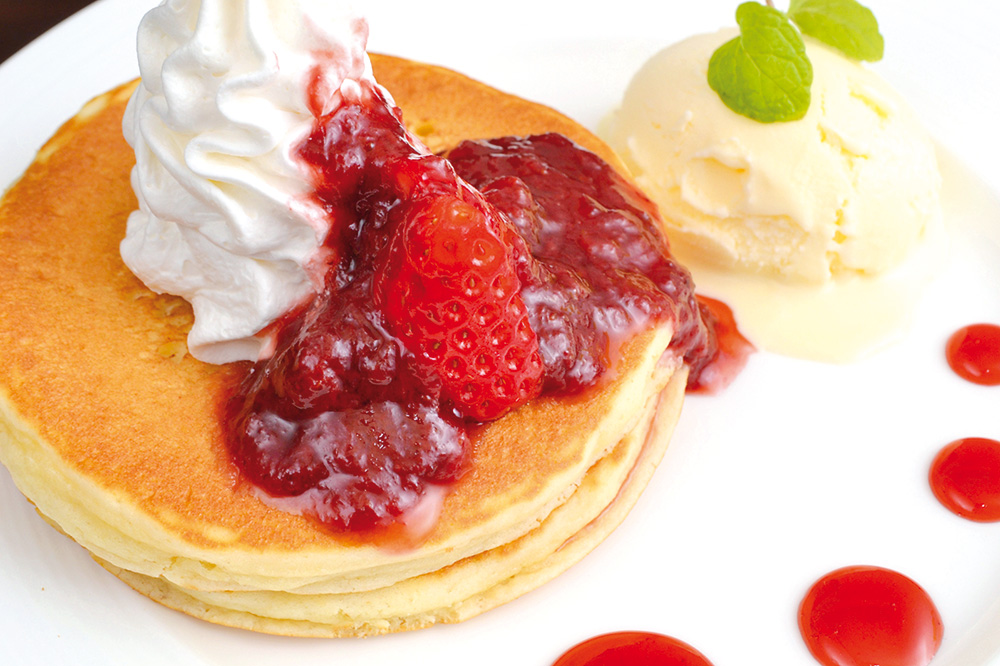 The fashion for "sweets from America" reached its height between 2006 and 2011.
Over the past 50 years, the Japanese have become immersed in a sort of feeding frenzy.
Magazines and journals are products of their time; they are the first to pick up on the "spirit of the times" and tell us about it. Sometimes the subject is food. HATANAKA Mioko, who publishes cookery books, has herself written a book about what she calls "fashion food" ("Fasshon fudo, arimasu" pub. Chikuma bunko, 1913, not published in English), and maintains that in Japan food has been "a fashion commodity" since the 1970s. You eat a certain kind of cake because it's trendy, it has a history; we consume information. It was at this period that An An magazine appeared. The "An An generation" was the first to go in search of restaurants and food that reflected the mood of the city and represented its aspirations. According to HATANAKA Mioko, the magazine was innovative in the way it freed food from being a symbol of housework. While other women's magazines always linked cookery topics to recipes and happy families, An An, by encouraging young working women to eat food made by others, supported the struggle against the ideology of the "good housewife" still prevalent at the time. Let's take a look at some of the sugary stars that have paraded through bakeries over the past fifty years.
In the 1970s, we saw the emergence of fast-food outlets: the first MacDonald's opened in Ginza in 1971, rapidly followed by other fast-food chains and their flagship products: doughnuts, American-style ice cream, cheesecake… and the height of fashion at the time, which still survives today, crepes. The first crepe stall opened in 1976, in Shibuya, followed by one in Harajuku, the centre of teenage culture for around fifty years. The unique "girly" style of the Japanese pancake – topped with scoops of ice cream, whipped cream, and fresh fruit – lured all the young people who dreamt about Tokyo. Today, crepes are still a local Harajuku speciality, and have undergone many changes.
Ten years after An An, Hanako appeared, another city-news magazine for young women, and spread the word about new trends. Among pastries, mousse cakes gained in popularity. This previously unknown texture primed the Japanese palate in its search for the fuwa fuwa (soft, light, fluffy) sensation.
In 1990, the last major nationwide trend appeared: tiramisu. Its foamy, creamy texture was all Japanese palates could wish for. This coincided ith the rise in popularity of Italian restaurants, following on from French restaurants, which were considered to be the height of luxury at that period. The Japanese were looking for conviviality, and a simple, cheerful, informal cuisine.
With the arrival of the internet, tastes changed rapidly. The abundance of information gave rise to a host of diverse and short-lived trends.
1991 saw the rise in popularity of the fuwa fuwa texture. In an effort to take advantage of the success of pastries, everyone wanted to find new sweettasting delights to promote. The Japanese continued to enjoy creamy, melting textures: crème brûlée, soft cheese rolls, panna cotta, creamy chocolate… From 1992-1993, desserts from Asian countries, with tapioca and coconut cream, took centre stage for several years. Until then, the Japanese had their attention firmly fixed on Europe, but they were now being seduced by the delights on offer from neighbouring countries. This was also the time when depachika started to appear (see Zoom Japan no.24, October 2014): delicatessens, which were often set up in department store basements and offered a wide range of ready-made dishes and desserts to eat at home. Three years later, the talk was all about cannelés (small fluted French pastries), waffles from Liège, Breton cakes or pastel de nata (egg tarts) from Portugal. Traditional local pastries from Europe, already commonplace in France, became all the rage in Japan.
2006-2011 saw the beginning of the boom in "sweets from America": oil-free popcorn, "bean to bar chocolate", Krispy Kreme Donuts, pancakes… The recession favoured the world of sweet treats; baked goods such as pancakes, spit cakes, Japanese-style Castella sponge cakes, (re)appeared for some years. They were affordable, simple, could be shared by the family, and were filling…
In 2014, it was time for kakigori to step into the limelight. For a long time, the Japanese had looked elsewhere to fulfil their dreams, which was why pastries and desserts from abroad had taken centre stage over the previous 5 decades. For several years now, the fashion has been for revisiting traditional Japanese cakes and pastries, but with a modern twist. This trend reflects the country's inward-looking attitude as well as the rise of a new creative generation able to take a fresh look at their own culture.
Kakigori, shaved ice cream with syrup poured over it, had already made an appearance in the thousand-year-old Pillow Book of Sei Shonagon (trans. Ivan Morris, pub. Penguin Classics). Today, this dessert has undergone incredible changes and comes in endless variations; ice cream with a texture similar to powdered snow, frothy sauce, Japanese or Western flavours, with fresh fruit, Korean or Taiwanese-style, granita-style… Some desserts have become well-known around the world: tiramisu, pastel de nata and pancakes are perfect examples. Some Japanese fashions have caught people off-guard, such as kakigori which is served in some places in Paris.
What will the next food fad be? Vegan, ethical, gluten-free, halal… retro-pop? Maybe it's a subject for a long conversation while movement is restricted during this time of coronavirus? Something from distant foreign shores to counteract our desire for travel?
SEKIGUCHI RYOKO