SWAY GALLERY XMAS MARKET 2021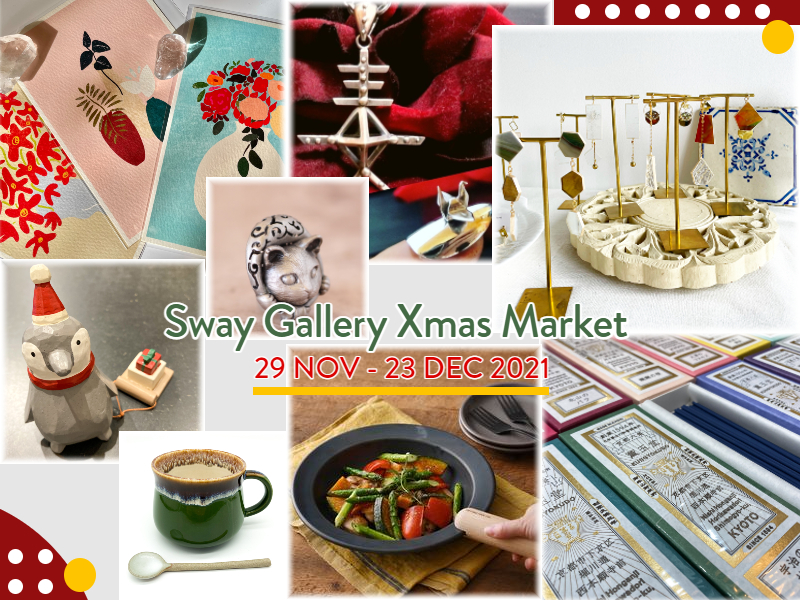 【29th November – 23rd December 2021】
We are thrilled to announce that the Sway Gallery Xmas Market is back this festive season! You will find an array of unique gifts from Japan including the ever-popular brand Ginnezu launching a new, adorable animals jewellery collection.
Many other jewellers taking part in our Xmas Market will be debuting their works in the UK this December.
We will be waiting for you with a wide range of carefully selected Japanese crafts and looking forward to seeing you in Old Street!
– GINNEZU
Tomoaki Yamazaki was born in1970, at Hachioji city, Tokyo.
He had worked at an atelier as a craftsman for more than two decades, and he acquired the national qualification: "First-class technician of precious metal".
In 2011, he established his atelier, and started his own company "GINNEZU". By the way, Japanese word "Ginnezu" is another name of silver colour, deriving from "Gin-Nezumi(Silver gray mouse). Silver material has a mysterious allure which is beyond our description. Tomoaki is a silversmith, and one of the craftsmen who were fascinated with the allure of this material. Actually, more than a few centuries ago, Japanese people also preferred silver to gold, as well as Europeans did in the past.
This first-class silversmith focuses mainly on beauties of nature; plants, animals, and Japanese scenery. He is adept at engraving delicate line, making elaborate "mill-grains(small round protrusion)" on the surface of his work, and especially expressing the four seasons of Japan.
Now, the craftsman sets up his booth at various kind of exhibitions held in department stores all over Japan, as well as runs GINNEZU online shop. He journeys more than ten times every year for exhibitions.
WEBSITE
INSTAGRAM
– gocha x gocha
The artisan Gocha has more than 15 years of experience in metal carving and makes 925 sterling silver jewellery.
The brand gocha x gocha was launched eight years ago with the aim of creating "curious jewellery"; therefore it features unusual motifs: one of Japanese alphabets (kanji) or spiral staircases that turn round or sway.
It is simply fun to wear gocha x gocha jewellery!
INSTAGRAM
– Moe. accessories
Moe = 『萌』
The character "萌" used to spell my name has a double meaning: "breath of life" and "beginning of life". I grew up surrounded with spectacular natural scenery and animals, learning about colours from forests and plants. My mother taught me how to mix colours and I took to it as a small girl.
Creating with colours relaxes me and allows me to be who I am. My artwork captures endless beautiful moments that nourish my heart: colours of the sky changing daily, dazzling particles of light filling the air, adorable animals, the stunning beauty of the nature.
Thank you and enjoy!
With love and light,
MOE
– Moe.ART –
She launched her brand "Moe.ART" during the pandemic with the hope to make people smile and relax. Her drawings attracted one hundred customers! The postcards on display feature the drawings from this project.
– Moe. clay accessories –
While having a bath in November 2020, the word "clay" came to her mind. She went to buy materials two days later and started creating as though guided by an invisible force. She spends days playing with clay fascinated with the shapes and colours that grew out of it as naturally and as easily as breathing.
She hopes her jewellery will bring you happy moments!
WEBSITE
INSTAGRAM
– toridori
Stained Glass and Brass Jewelry
toridori means "various" in Japanese.
Her aim is to celebrate the differences and uniquenesses in everything and everyone through craft.
When designing she would like to be playful with the colours, textures and shapes. And try to bring out the beauty of the characteristics of the materials she uses. She hopes her pieces will deliver a little happy moments in everyday life.
They are carefully handmade in Japan and one of a kind pieces.
WEBSITE
INSTAGRAM
OPENING HOURS 29 NOV – 23 DEC
Mon-Fri: 11:00 -19:00
Sat-Sun: 12:00-18:00
Free entry
Details
Starts On
29/11/2021
Ends On
23/12/2021
Event Categories