ARE YOU ME? -saga in manga linea- by K:KO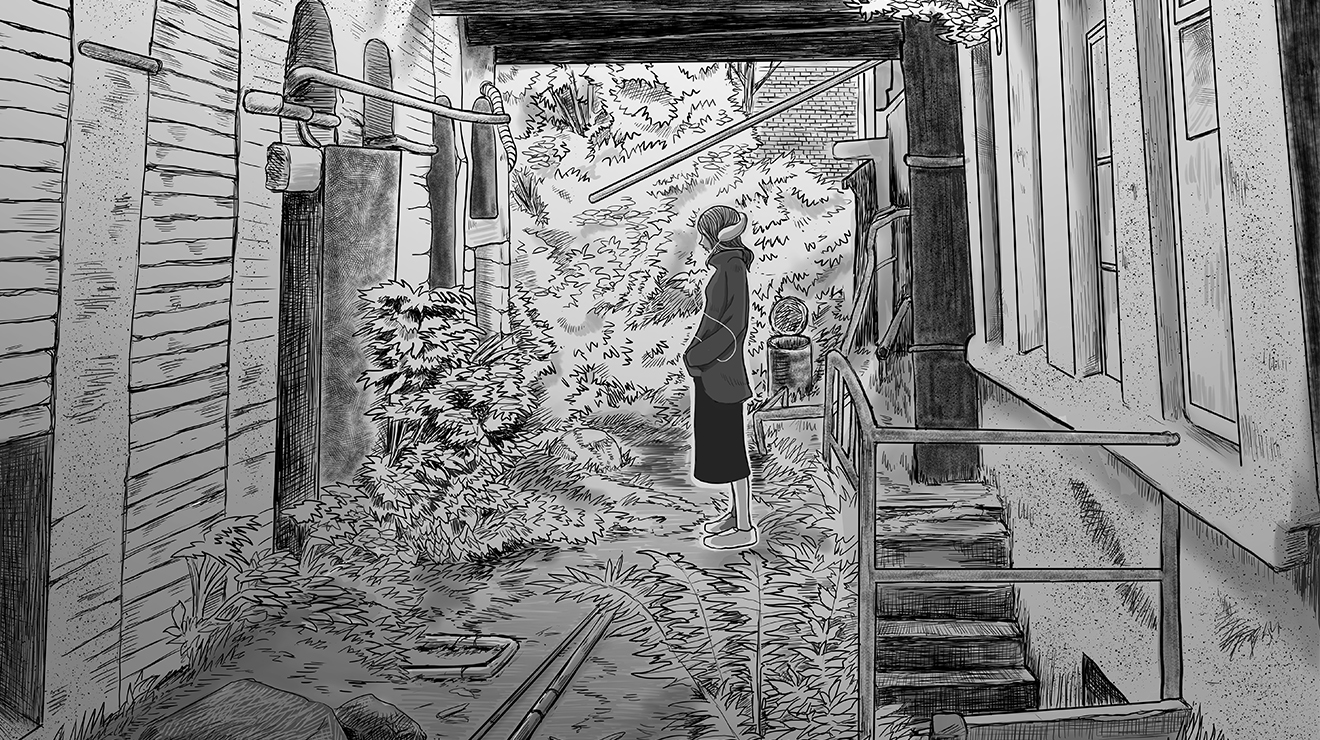 ARE YOU ME? -saga in manga linea- by K:KO
DATES: 13th April – 8th May
LATE OPENING: Friday 12th April 18:00-20:00
RSVP via EVENTBRITE
SPECIAL OPENING: Saturday 13th April 12:00-18:00; ARTIST TALK at 15:00
K:KO (Keiko Kikkawa) is a Japanese artist based in Warsaw, Poland. She has studied manga art and modern arts in Kyoto, as well as animation in the Czech Republic. Her illustrations are a mix of Japanese manga style and European culture, which she continually rediscovers.
This exhibition shows the beauty of the abandoned and destroyed
buildings, as well as the images of women, illustrated in various forms, who enjoy the isolation and calmness of those ruins and devastated landscapes. To K:KO such places are a reminiscent of strength, brittleness and beauty at the same time. Ruins covered with the greenery express hope.
ARTIST PROFILE
K:KO, Keiko Kikkawa, a manga artist / creative director
K:KO has graduated from Kyoto University of Art & Design. Her main subjects were modern art, information art, manga, and animation. During her studies, she founded a team of street artists who performed and organized many events in Kyoto. Later, she moved to the Czech Republic to study scriptwriting and artistic animation.
Finally, she moved to Poland and started her career as an artist and animation producer. Her daily activities consist of drawing manga and illustration, as well as connecting with other industries such as IT, business, new technology, fashion etc., and expanding her artistic activities through cooperation between Japan and Europe.
Her latest manga work 'Polife', which was drawn based on her experience of life in Poland, has been published in Poland and Japan.
INTERESTING LINKS:
Website: https://kejko.me/
Facebook: https://www.facebook.com/keiko1230/
Instagram: https://www.instagram.com/kkejko/
OPENING HOURS:
MON-FRI 11:00-19:00
Saturday 13th April: 12:00-18:00
Other SAT & SUN by appointment only (buyers only)
FREE ENTRY
ALL THE ARTWORKS WILL BE FOR SALE
Details
Starts On
13/04/2019 - 12:00
Ends On
08/05/2019 - 19:00
Event Categories
Venue
London
United Kingdom
EC1V 9AN
P: 02072535851