FREE Japanese film screening & director talk event in LONDON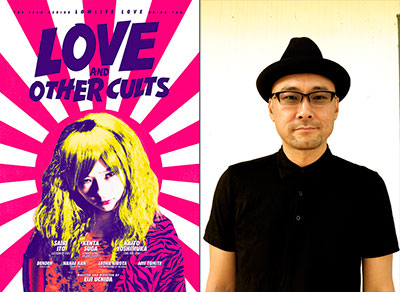 Love and Other Cults – Film Screening and Q&A with director Eiji Uchida and producer Adam Torel
Friday 9 March 2018              6.00pm for 6.15pm

Room B202 at SOAS Brunei Gallery
SOAS University of London
Thornhaugh Street, Russell Square
London WC1H 0XG
Free – Booking recommended
Book online here
Watch the film's trailer: https://www.youtube.com/watch?v=nWkIWFiVW1w
The keenly awaited follow-up to controversial satire Lowlife Love, Love and Other Cults (Kemonomichi) is an irreverent story that crackles with energy and style depicting the lives of marginalised youth and their struggles in contemporary Japan. Having fended for herself as a child, drifting from a negligent mother to an oddball cult and a druggie dropout community, when Ai meets Ryota, she wonders: could love be the cult that heals all?
Written and directed by independent filmmaker Eiji Uchida, the film deals with social issues such as child neglect, teenage gangs and the sex industry against a blackly comic background. This coming-of-age narrative fizzes with rich symbolism and explosions of colour and secures Uchida's place as one of Japan's most exciting young directors.
The main cast includes the talented Sairi Ito and Kenta Suga, who both started their careers as child actors and shed their "good kid" personas to play dark characters. Other cast members include the in-demand young actor Kaito Yoshimura (100 Yen Love), Sion Sono regulars Ami Tomite (Antiporno) and Denden (Cold Fish), award-winning actors such as Hanae Kan (Nobody Knows) and Katsuya Maigumua (Ken and Kazu) plus veterans such as Leona Hirota (Whispering of the Gods) and Yoshimasa Kondo (Welcome Back Mr Mcdonald).
After its successful presentation at film festivals in 2017, Japan Society is very pleased to offer members and friends the opportunity to attend a free screening of the film in London and to meet director Eiji Uchida and British producer Adam Torel. Dr Marcos Centeno, lecturer in Japanese cinema at SOAS, will conduct the post-screening Q&A session and discussion on the film, Uchida's career and the state of independent filmmaking in Japan.
Details
Starts On
09/03/2018 - 18:00
Ends On
21:00
Event Categories
Venue
London
United Kingdom
WC1H 0XG