Sou Fujimoto: Futures of the Future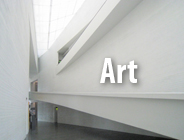 'SOU FUJIMOTO: FUTURES OF THE FUTURE', is an exhibition held in collaboration with Tokyo's TOTO GALLERY・MA. Seen for the first time in the UK, the exhibition explores the innovative works of one of Japan's most influential contemporary architects. Fujimoto's vision of the future is not a fully imagined set of assumptions but is to plant the seeds of inspiration and potential. This exhibition looks at not only current projects but also Fujimoto's architectural experiments for the future asking the visitor to share in imagining a variety of futures of the future.
Accompanying the exhibition is a lecture by Sou Fujimoto on 12 June, at the Design Museum, entitled 'Sou Fujimoto: Futures of the Future', followed by a session in conversation with The Guardian's architecture and design critic Oliver Wainwright.
In addition, Fujimoto also presents 'Architecture is Everywhere' which illustrates the concept of discovering architecture within the forms of everyday objects: the serendipity of finding numerous possibilities for new architecture.
Details
Starts On
22/06/2018 - 00:00
Ends On
05/08/2018 - 00:00
Event Categories