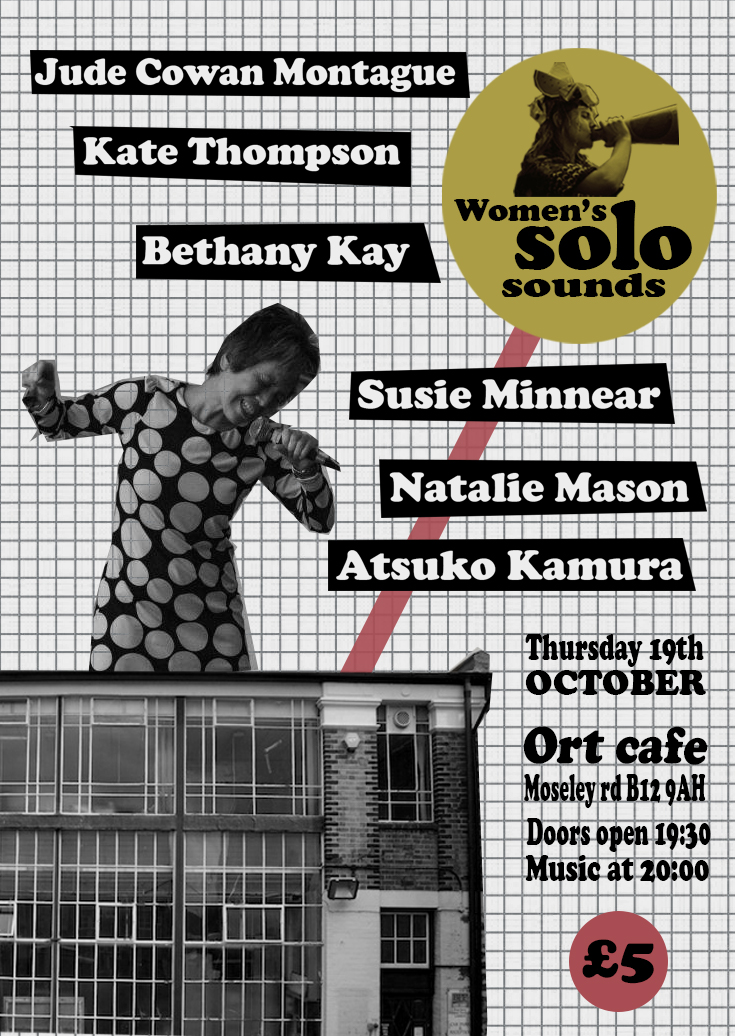 Women's Solo Sounds
https://www.facebook.com/events/1728596654111672/
Thursday 19 Oct 2017
at Ort Cafe
500-504 Moseley Rd, Birmingham, B12 9AH
£5 on door
Door open: 7:30
Music start 8:00
Six extraordinary female musicians play solo set of diverse and highly original music.
Jude Cowan Montague
Kate Thompson
Bethany Kay
Susie Minnear
Natalie Mason
Atsuko Kamura
"All Welcome"
Jude Cowan Montague
Jude Cowan Montague performs songs of the old taverns and theatres looking at street song and broadside ballads and gives her musical take on contemporary news. An archivist for ten years on the Reuters collection she produces the show 'The News Agents' for Resonance FM, 'experiments in news and arts.
Kate Thompson
Kate is a singer-songwriter who has been making music since she was 9 on her dad's piano. She started a band called KateGoes in 2005. With an inventive and often funny style of self-expression she provides a fresh insight on common feelings.
https://www.facebook.com/KateGoess/
Bethany Kay
Bethany Kay sings songs of journeys, whimsy, tory cruelty and swimming with a voice of urgency. Expect banjo, misbalance and honesty.
https://www.facebook.com/bethanykaymusic/
https://www.youtube.com/embed/nmXPM1x_67Q
Susie Minnear
hopeful, heartfelt folk
Natalie Mason
Natalie's musical life began in the womb at classical concert, when her mother felt a kick during the climax of Shostakovich's Fifth Symphony. As a baby she was weaned on strange sixties music, in a cradle rocked by her father's foot as he practised the guitar. She writes intricate instrumentals and surreal songs about times in Birmingham and beyond, while playing as many instruments as she can get her hands on.
Atsuko Kamura (Kamura Obscura Solo)
Japanese agit-femme vocalist and electricist. Former member of Frank Chickens and Mizutama Shobodan (Polka Dot Fire Brigade). Voice-modulated improvisation and eco-surrealist chansons are weaved into the bizarre world of the experimental.
https://www.facebook.com/kamuraobscura/
https://www.youtube.com/watch?v=mjgV6qoEbuY&feature=youtu.be
Details
Starts On
19/10/2017 - 20:00
Ends On
23:30
Cost
£5.00
Event Categories