1つの雑誌で、4つの市場をカバー 1 magazine, 4 markets
日本の文化的情報を総合的に発信するヨーロッパ唯一の無料月刊誌「ズーム・ジャパン」は、2010年6月にフランスで創刊して以来、イギリス版、イタリア版、スペイン版を刊行し、現在は4ヶ国語で合計約20万部を発行、およそ40万人の読者を抱えています。幅広い日本の魅力を紹介すべく、人・旅・食・映画・音楽・文学・建築・時事問題など多角的に日本の「今」を伝え、読者の知的好奇心に刺激を与える質の高い情報を提供しています。ル・モンドやウォールストリートジャーナルなど世界各国の新聞や雑誌で活躍するジャーナリストたちによる深く切り込んだ取材内容と、欧米人ならではの視点で多くの読者の心をとらえ、「読み捨てしないフリーペーパー」としてマスコミ関係者もバックナンバーを揃えるなど独自の評価を得ています。
Since its start in 2010 in France, the only free magazine in Europe that publishes the overall information about Japanese culture, Zoom Japan has launched English, Italian and Spanish edition and eventually issuing 200,000 copies reaching 400,000 readership in total of 4 languages. It features up-to-date and high quality information about Japan ranging from art, film, music, literature, travel, food to political issues that stimulates the readers' curiosity. The unique contents by the journalists who has been active at the forefront of international journalism such as in Le Monde and Wall Street Journal have fascinated many readers and so highly evaluated as people in the media industry keep all the back numbers of the magazine.
読者層の60%が職業的・社会的に恵まれている立場の人々であり、欧州市場もしくは世界市場へのコミュニケーション手段として理想的な媒体。
配布国での新作映画の公開、コンサート、展覧会、見本市など日本に関係する大型イベントのパートナーメディア。
紙面とオンラインで日本の情報を提供するメディアリーダー。
60% of our readers are composed of people who have good quality of life in terms of occupation. An ideal to reach local or global Japanese market.
A partner media of major Japanese events. (Film releases, concerts, exhibitions, shows, etc.)
Leader in information on Japan both on paper and digital.
日本に関心を持つヨーロッパの方々への情報発信に、各誌をご利用いただければ幸いです。
Please consider to use ZOOM as a media to reach the European audience interested in Japan.
各誌発行概要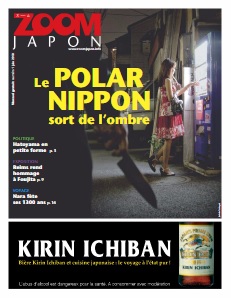 ZOOM JAPON
創刊日:2010年6月1日
発行日:毎月1日(1月、8月を除く年10回刊)
体裁:天地297mm × 左右210mm(A4サイズ)、全28〜40ページ
発行部数:7万〜15万部
フランス国内配布先:850カ所以上
ウェブサイト:www.zoomjapon.info
使用言語:フランス語
発行元:Editions ILYFUNET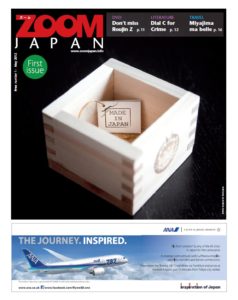 ZOOM JAPAN(イギリス版・英語)
創刊日:2012年5月15日
発行日:毎月15日(1月、8月を除く年10回刊)
体裁:天地297mm × 左右210mm(A4サイズ)、全20〜32ページ
発行部数:3万5千部
イギリス国内配布先:約350カ所
ウェブサイト:www.zoomjapan.info
使用言語:英語
発行元:a-Concept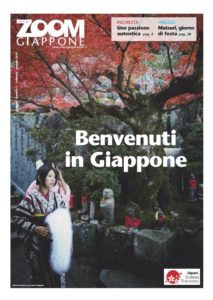 ZOOM GIAPPONE(イタリア版・イタリア語)
創刊日:2016年2月11日
発行日:2月、5月、9月、12月(年4回発行)
体裁:天地297mm × 左右210mm(A4サイズ)、全40ページ
発行部数:3万部
イタリア国内配布先:約350カ所
ウェブサイト:zoomgiappone.info
使用言語:イタリア語
発行元:Editions ILYFUNET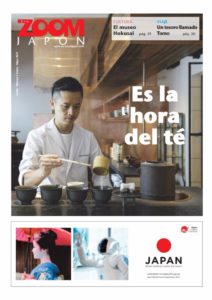 ZOOM JAPÓN(スペイン版・スペイン語)
創刊日:2017年1月18日
◎発行部数:5万部
体裁:左右210 × 天地297(A4サイズ)、全44ページ
発行部数:5万部
スペイン国内配布先:300カ所以上
ウェブサイト:es.zoomjapon.info
使用言語:スペイン語
発行元:Editions ILYFUNET

広告掲載のお問い合わせ・お申し込み Advertisement Inquiries
ヨーロッパ窓口
France:
Editions Ilyfunet (Japanese / French / Italian / Spanish)
yoshi@ilyfunet.com – Tel : +33 (0)1 47 00 11 33
UK: A-Concept (Japanese / English)
zoomjapan@a-concept.co.uk – Tel : +44 (0)20 7092 9019
日本窓口
さえら株式会社 (日本語 / フランス語 / 英語)
zoom@saelat.com – Tel & Fax : +81 (0) 75-741-7565