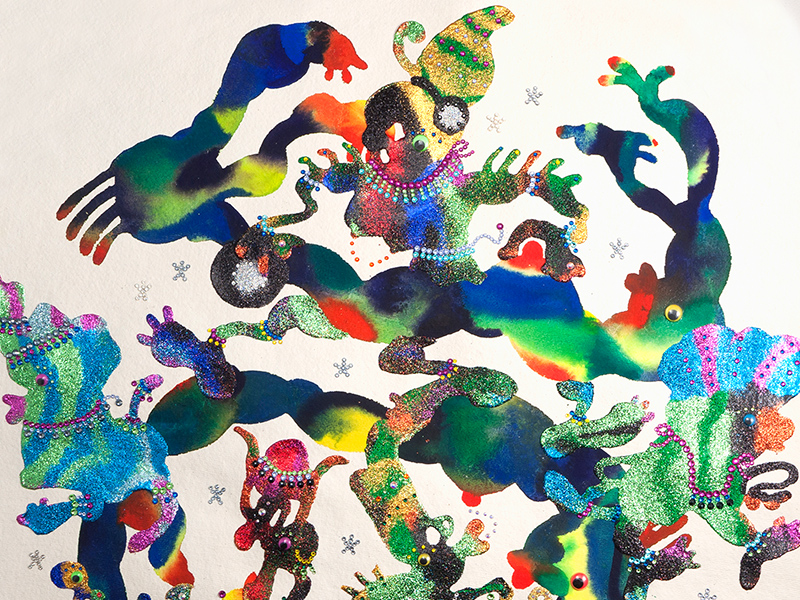 AKIKO BAN: Innervisions
DATES: 14th – 25th February 2019
PRIVATE VIEW: Wednesday 13th February 18:00 – 20:00
(Please contact us via info@sway-gallery.com if you wish to attend)
ARTIST TALK: Saturday 23rd February 15:00 – 16:00
The Sway Gallery London is pleased to announce Innervisions, an exhibition by Akiko Ban, a Japanese interdisciplinary artist based in London. This exhibition presents Ban's latest sculptures and drawings that explore to establish a primal, naturalistic and spiritual vista of the inner world of her creation.
Her artistic practice seeks to give lives to materials, generating individual bodies which she believes have their own existence. These ritual objects and environments were inspired by contemporary culture, music, fashion and her own daily experiences. She presents art work as a means of expressing her personal mythology which embodies the essence of the world she lives in.
By employing fluid materials such as water, ink, plaster and fabric, Ban intends to spark a moment emerging through the interactions between material, time, environment and herself. Each piece is a unique and improvised rapidly and responsively. She calls this process manifestation of entity, it takes place when her unconsciousness is in tune with the integrated materials. Prior to her creation, she carefully studies the materials logically and intuitively until they start to form a part of her entity, which later allows her to work spontaneously. Her background as a trained Japanese calligrapher helps her access the state of unconsciousness yet sensory acute state during which the work brings the generation process.
For her new sculptures, she carefully paints, decorates and presents them along with her lively water colours and glitter drawings in order to activate her ritual environment.
ARTIST BIOGRAPHY:
Akiko Ban was born in 1975 in Tokyo, Japan. In 2002 she moved to London and studied BA in Drawing at Camberwell College of Arts (2003-2006) and MFA in Sculpture at the Slade School of Fine Art (2006-2008).
Her practice is cross-disciplinary, and collaborated with choreographer, dancers, musician, fashion brand, designers and other artists. She has recently launched her on-going project, MYSTIC FORMS, a hand crafted jewellery collection, with a graphic and digital media designer Taiyo Nagano in 2015, exploring the relationship between art and body to endeavour the idea of Wearable Art. She also worked as a visiting tutor at Camberwell College of Arts (2016-2017)
Ban's previous solo exhibitions include Revelry in Paradise 楽園の宴, Matsudo, Japan (2014), Mystic Parade百鬼夜行, matohu, Tokyo, Japan (2013), Alive, Bicha Gallery, London (2012). Group shows include A History of Drawing, Camberwell College of Arts (2018), Summer Exhibition, Royal Academy of Arts (2016), SIXTY, LUBOMIROV/ANGUS-HUGHES, Athens, Greece (2016), I Never Lied To You, Camberwell College of Arts (2015).
Projects include MYSTIC FORMS, Hand crafted Jewellery collection (2015-current), The Playground, Rambert Dance, London (2018), Create your own YOKAI spirit, Watercolor painting workshop for children, Nagareyama, Japan (2015-2018), Fashion product design for Japanese animation Evangelion (2015), Cover design drawing for Power To The People "World Peace EP" presented by Basement Jaxx (2014), In Conversation with Akiko Ban Revelry in Paradise, Artist talk, Ace & Lion, London (2014), Paradise AIR, Artist in Residence, Matsudo, Japan (2014), Hat and Accessories Design for matohu 2013-14AW collection "AWAI" (2013).
INTERESTING LINKS:
Website: http://akikoban.net/
Instagram: https://www.instagram.com/akikobanuk/
Facebook: https://www.facebook.com/Akiko-Ban-429066390520928/
OPENING HOURS:
MON-FRI 11:00-19:00
SATURDAY 23rd February 12:00-18:00
SUN by appointment (buyers only)
FREE ENTRANCE
*All the artworks will be for sale*