Autumn bijoux – Japanese finest – edit. 3; 2-30 November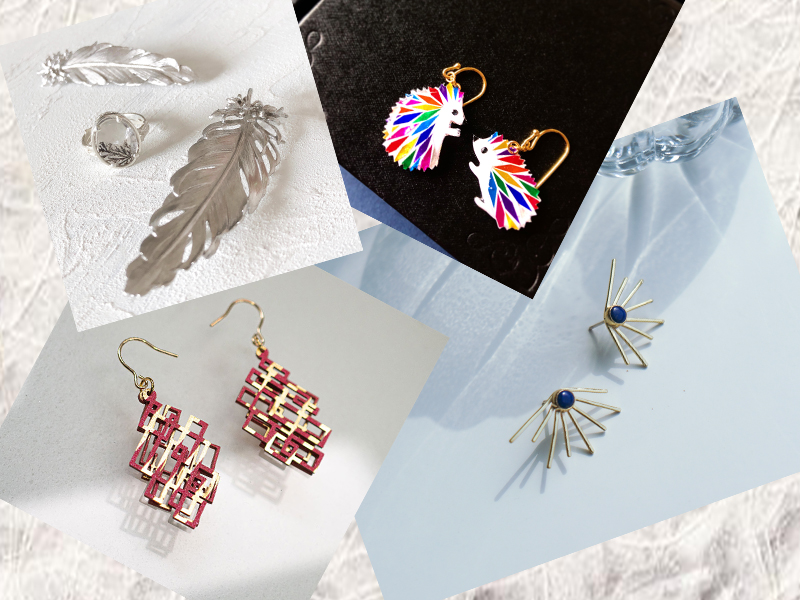 The third and final edition of the autumn jewellery pop up at Sway Gallery London
Participating artisans: Arawa, C/T, NISSHODO, Ripplyrill
ARAWA
"Now in my fifth year, I am a self-taught brand using my own specialist techniques and knowledge to create unique jewellery; my customers often liken my pieces to talismans, worn to protect and charm.
I'd been looking to exhibit my work overseas for some time. Many of my pieces have dual-faced designs, with two different sides that can be worn. The beauty of the Japanese word "yureru" (ゆれる), or "swaying" in English, often inspires me. So, it's a wonderful coincidence to be collaborating with Sway Gallery.
The concept for the jewellery is inspired by kanji顕, taken from the creator's name. It has many meanings – noble, outstanding or distinguished, bright decoration.
The pieces also feature cherry blossom to embody the wearer's divine beauty and grace, and create a spiritual connection with Japan."
C/T
Each and every piece of C/T is handcrafted in accordance with the concept "simple, bold and sensitive".
Chikako Tokashiki
Born in 1983 in Nagasaki Prefecture.
Completed the Metalworking Course at the Akita Municipal Junior College of Arts and Crafts after which she learnt metal engraving technique.
She founded her own brand C/T in spring 2019 and currently lives in Fukuoka Prefecture.
NISSHODO
Where traditional techniques meet state-of-the-art technology
Founded in 1976, Nisshodo are a Kawaguchi-based company that originally specialised in manufacturing envelopes. In recent years they have produced innovative and intricately designed paper goods, such as LED greeting cards and laser-engraved business cards, as well as the popular 3D Lovepop cards.
Their original accessory brand, karupi, combines artisanal paper techniques dating over 40 years with the latest technology in paper printing, die cutting, foil stamping and leather processing. The results are lightweight, luxurious and Japanese-style accessories, that are also eco-friendly.
From the materials to the manufacturing methods, each piece is carefully handcrafted using naturally derived sources to produce beautiful, durable and sustainable jewellery.
Ripplyrill
"The theme of Ripplyrill jewellery – to be clad in scenery"
The five senses engrave a myriad of sceneries into our memory, lacing them with the feelings experienced in each moment. And all those sceneries are beautiful but impermanent. My idea was to give such moments a physical expression and turn them into objects we can wear. That is how I started to fashion natural sceneries in both concrete and abstract way, as if I was drawing, and make jewellery using metals, natural stones, thread and leather.
You can wear it as a part of your memory which is a loving motif that symbolizes you. The exciting colourations and shapes will guide you into a dazzling future. Ripplyrill jewellery is suitable both for formal and everyday occasions and it is comfortable to wear. The artisan produces each piece carefully and hopes the easy-going design of Ripplyrill, characterised by its discreet originality, once worn, will help the wearer to stay true to themselves.
Artisan profile: Yoshie Shibata
Born in Hokkaido and raised in Oita Prefecture.
Completed the Japanese Painting Studies at Musashino Art University.
Worked in the fields of fashion, design, illustration, drawing and music.
While living in Tokyo, she found out jewellery making was her genuine passion.
After moving to Hokkaido, she published four books about jewellery making with beads.
In 2015, to enhance the quality of her jewellery, she started using chasing technique.
Caring about health of our customers and staff, we will be adhering to the social distancing measure guidelines.
OPENING HOURS:
MON-FRI 11:00 – 19:00
SAT 12:00 – 18:00
SUN closed
Details
Starts On
02/11/2020 - 11:00
Ends On
30/11/2020 - 19:00
Event Categories