Tayu Tau – pop up show by SAKI&Bitches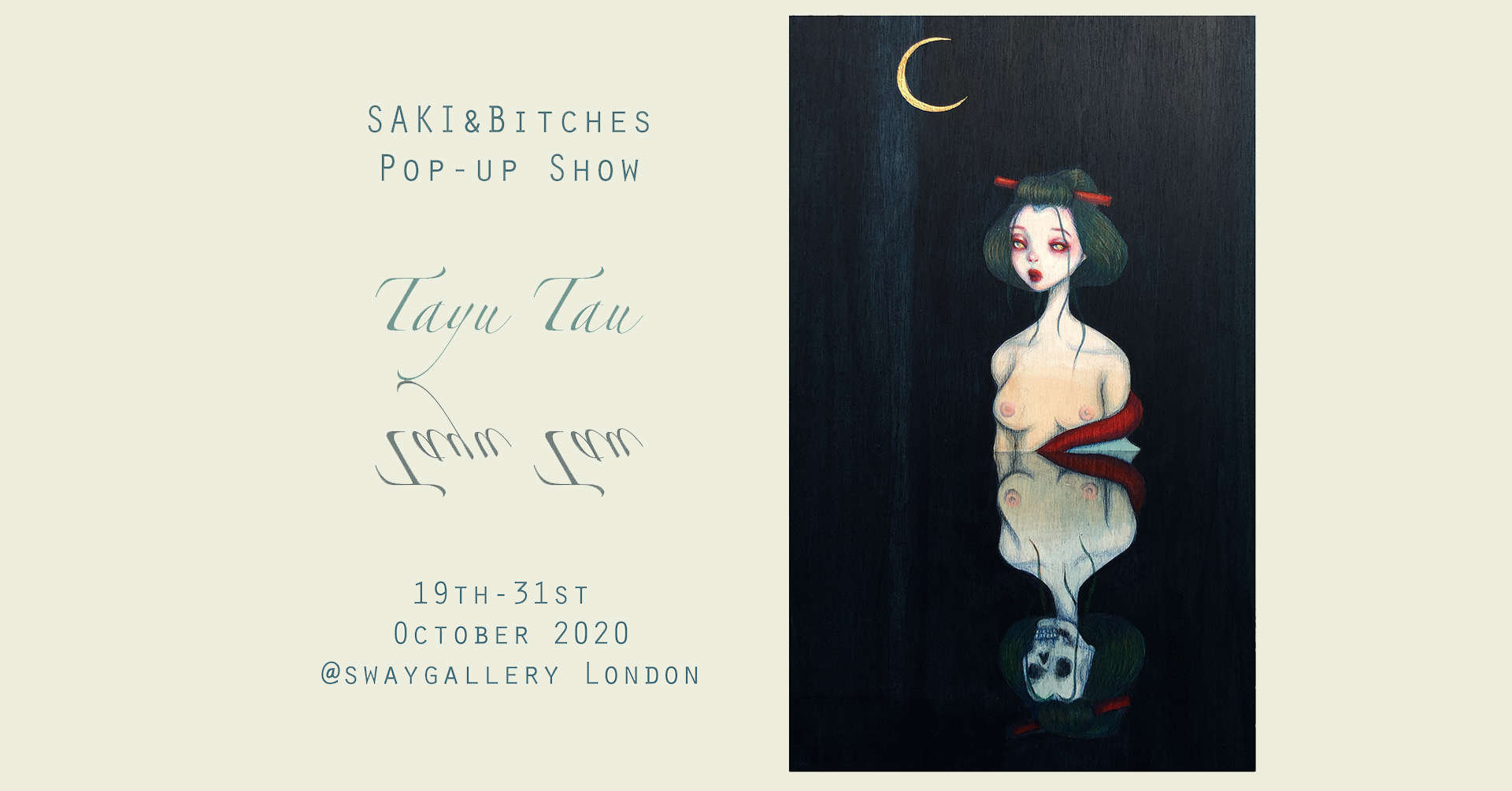 Tayu Tau – pop up show by SAKI&Bitches
DATES: 19th -31st October 2020
𝐂𝐚𝐫𝐢𝐧𝐠 𝐚𝐛𝐨𝐮𝐭 𝐡𝐞𝐚𝐥𝐭𝐡 𝐨𝐟 𝐨𝐮𝐫 𝐜𝐮𝐬𝐭𝐨𝐦𝐞𝐫𝐬 𝐚𝐧𝐝 𝐬𝐭𝐚𝐟𝐟, 𝐰𝐞 𝐰𝐢𝐥𝐥 𝐛𝐞 𝐚𝐝𝐡𝐞𝐫𝐢𝐧𝐠 𝐭𝐨 𝐭𝐡𝐞 𝐬𝐨𝐜𝐢𝐚𝐥 𝐝𝐢𝐬𝐭𝐚𝐧𝐜𝐢𝐧𝐠 𝐦𝐞𝐚𝐬𝐮𝐫𝐞 𝐠𝐮𝐢𝐝𝐞𝐥𝐢𝐧𝐞𝐬.
Following the very well-received exhibition Hana Machi at Sway Gallery in 2018, SAKI&Bitches is back, this time with the Tayu Tau pop-up show ('Tayu Tau' たゆたふ translates to 'float' in old Japanese). Tayu Tau will feature new original paintings, as well as various art prints, greeting cards and stickers by SAKI.
The new original artworks, in the form of delicate wood paintings, are all inspired by SAKI's lifetime art theme – Yoshiwara's "Oiran" – Edo / Tokyo's Courtesan. Oiran's lives, despite often being short and tragic, have gone down in the history, with their exceptional beauty being remembered even now, over 300 years later. Their images keep floating like sensual spectres that keep inspiring SAKI.
About SAKI&Bitches
SAKI&Bitches is a Tokyo-born Painter/Street artist, currently based in London. SAKI first started to experiment with the street art scene in 2009. Applying hand-drawn stickers to the streets of the East end of London.
SAKI's art did evolve and grow to full-scale portrait as she too grew.
Wondering and ever fascinated by the female form, she had no other ambition other than to celebrate it.
Having previously exhibited in Tokyo, London, and San Francisco, SAKI has no formal background, but she is an artist of exceptional scope. Able to turn a hand to many different styles and mediums on works produced on a wood, pencil sketch, glass and spray paint.
SAKI's art is unintentionally controversial and erotically sweet, it's plain twisted.
SAKI's glamorous Bitches keeps flirting around the world!
𝐎𝐏𝐄𝐍𝐈𝐍𝐆 𝐇𝐎𝐔𝐑𝐒:
𝐌𝐎𝐍-𝐅𝐑𝐈 𝟏𝟏:𝟎𝟎-𝟏𝟗:𝟎𝟎
𝐒𝐀𝐓 𝟏𝟐:𝟎𝟎-𝟏𝟖:𝟎𝟎
𝐒𝐔𝐍 𝐂𝐋𝐎𝐒𝐄𝐃
𝐅𝐑𝐄𝐄 𝐄𝐍𝐓𝐑𝐘
𝐀𝐋𝐋 𝐓𝐇𝐄 𝐀𝐑𝐓𝐖𝐎𝐑𝐊𝐒 𝐖𝐈𝐋𝐋 𝐁𝐄 𝐅𝐎𝐑 𝐒𝐀𝐋𝐄
Details
Starts On
19/10/2020 - 11:00
Ends On
31/10/2020 - 18:00
Event Categories