Tale of Tokushima – JAPAN-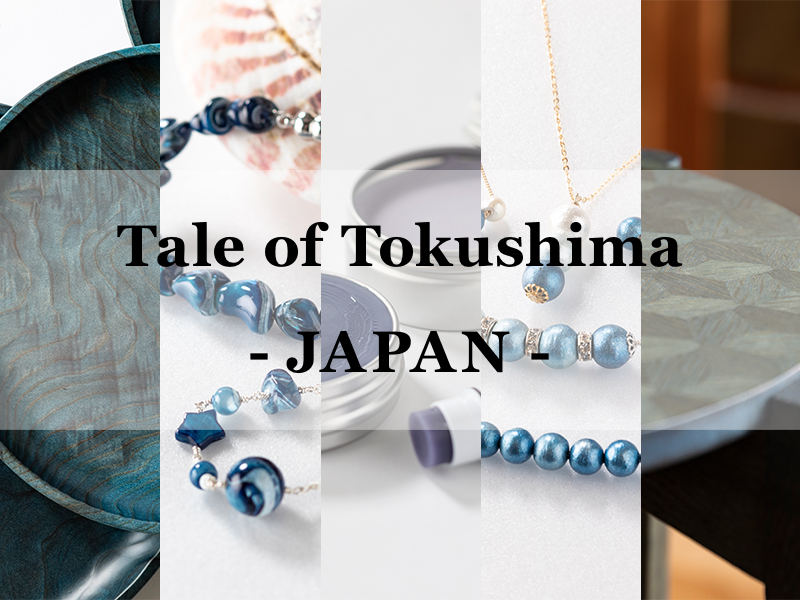 Tokushima is a long-standing water city.
Tokushima, a city of water for centuries, is home to the "Ai" culture, which has been integrated into people's lives along with its history and continues to fascinate people with its beautiful harmony.
The indigo produced in Tokushima is called "Awa Ai," which has been spun from ancient times and attracts attention as a world-class "Japan Blue," a color that symbolizes Japan.
Tokushima, the "origin of indigo," prospered thanks to "Awa Ai," and its unique culture, including "Awa Odori" and "Ningyo Joruri" (puppet theater), was born, and still lives with indigo.
In recent years, in addition to the indigo-dyeing techniques of Tokushima Prefecture, indigo has been utilized in new fields for environmental and health reasons.
We are pleased to invite you to visit us for an exhibition of products made with Tokushima Prefecture's "Awa Ai" indigo.
MORI KOUGEI: Designed plywood
Bon-arm Co.,LTD: "Japan Blue" woodworking products
Doing Now: Handmade skincare products
Atelier Athens: Florentine-style Jewellery
Beads jewelry Azu: Ruri beads jewellery
悠久の水都・徳島。
そこには歴史と共に生活に溶け込み、美しい調和で人々を魅了し続ける「藍」文化が今も息づく。
古より紡がれた徳島で作られる「藍」は「阿波藍」と呼ばれ、世界に誇る「JAPAN BLUE」として日本を象徴する色味として注目を集める。
「藍の源流」・徳島は「阿波藍」によって栄え、「阿波踊り」「人形浄瑠璃」など独自の文化が生まれ、今もなお"藍"と共に生きる。
近年は、徳島県の藍染め技術に加え、環境、健康面から、新たな分野で「藍」が活用されている。
INTERESTING LINK: WEBSITE
OPENING HOURS:
MON-FRI 11:00-19:00
SAT 12:00-18:00
SUN closed
Details
Starts On
27/01/2023 - 11:00
Ends On
10/02/2023 - 19:00
Event Categories