Tokyo 東京 – Ordinary people in Tokyo streets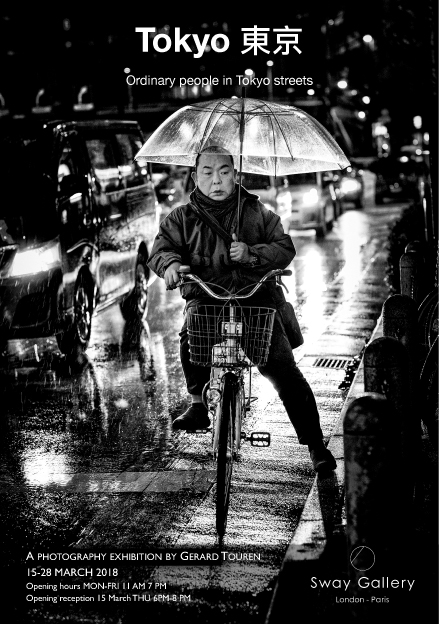 A photography exhibition by Gerard Touren
15-28 MARCH 2018
Opening hours MON-FRI 11 AM 7 PM 
Opening reception 15 March THU 6PM-8 PM
« In the streets of Tokyo, I did my best to engage with a population so different from all that I knew until then, and to spontaneously overcome the potential distance between me and my subjects, without compromising my quest for the "unusual" and "light" in my images. I did not fully manage to 'erase' this distance, as the respect of rules and the "other" prevail above all else for Tokyoites. 
Every single one of them, while moving in an incredibly conformed flow, appear like a solitary fragment of an expanding whole in constant motion, ignoring a confusing mix of lighting, audible announcements and flashing signs… hardly noticing the camera of a lost and unlikely westerner. »
Touren
This exhibition at Sway Gallery London is a selection of Gerard Touren's photographies of Tokyo. This is a double selection that puts the emphasis both on the subject of the image, and also the technical quality. In this way, the dual regard of this exhibition bridges our cultures.
Gerard Touren is a photographer living in Paris
After great success in Les rencontres d'Arles in July 2016 and Sway Gallery-Paris  June 2017, this exhibition is finally coming to Sway Gallery London.
15-28 MARCH 2018 Opening hours MON-FRI:11AM-7PM / Weekend: Appointment only
Opening reception 15 March THU 6PM-8 PM
Details
Starts On
15/03/2018 - 11:00
Ends On
28/03/2018 - 19:00
Event Categories