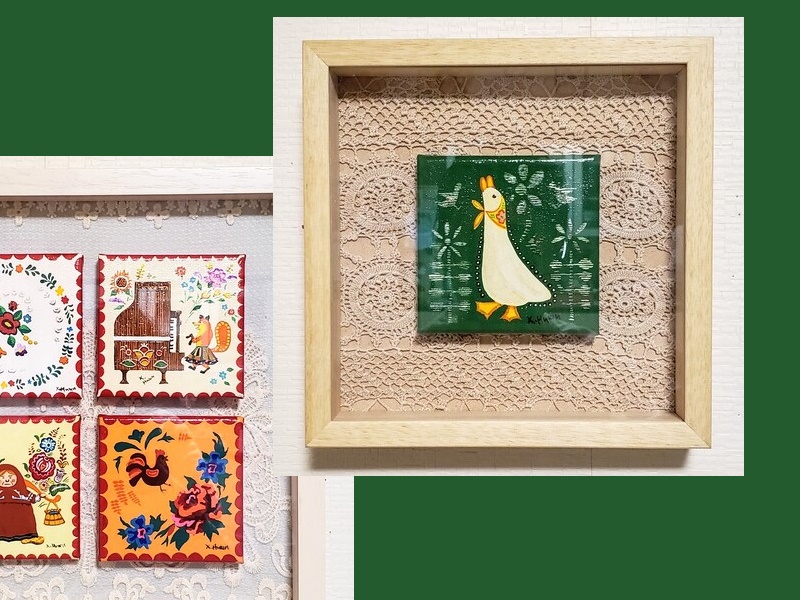 【24th January – 5th February 2022】
Sway Gallery is ushering the new 2022 with another exciting artist from Japan – Hinata!
Hinata has been strongly influenced by the Slavic cultures the rusticity of which mingles with the delicate nature of the Japanese art as well as the ever-present kawaii elements in her work.
This exhibition is, also, your last chance to see Ai Suzuki's and Akatsuki's art, introduced to the UK audience by the Sway Gallery in 2021.
The participating artists this time include:
Hinata Nishi
Ai Suzuki
Akatsuki
Takeshi Yamao
Yukiko the Witch
This small-scale exhibition will take place in the art section of Sway Gallery.
𝐂𝐚𝐫𝐢𝐧𝐠 𝐚𝐛𝐨𝐮𝐭 𝐡𝐞𝐚𝐥𝐭𝐡 𝐨𝐟 𝐨𝐮𝐫 𝐜𝐮𝐬𝐭𝐨𝐦𝐞𝐫𝐬 𝐚𝐧𝐝 𝐬𝐭𝐚𝐟𝐟, 𝐰𝐞 𝐰𝐢𝐥𝐥 𝐛𝐞 𝐚𝐝𝐡𝐞𝐫𝐢𝐧𝐠 𝐭𝐨 𝐭𝐡𝐞 𝐬𝐨𝐜𝐢𝐚𝐥 𝐝𝐢𝐬𝐭𝐚𝐧𝐜𝐢𝐧𝐠 𝐦𝐞𝐚𝐬𝐮𝐫𝐞 𝐠𝐮𝐢𝐝𝐞𝐥𝐢𝐧𝐞𝐬.
Hinata
Mesmerised by Russian picture books, Hinata made the Russian motives a perennial source of inspiration for her work. Delving ever deeper into the ocean of Slavic cultures, she found herself moved by all things Slavic such as the culture of Poland, eventually also drawing inspiration from non-Slavic lore such as that of Hungary and Romania. Hinata has strived to express herself by deftly wielding the folk-art motives of these countries. She zooms in on the common features found in all these traditions which, albeit hugely different from one another, draw on a common pool of East European influences. Hinata's forte is the ability to shine the light on these simultaneous differences and similarities enabling the viewer to spot the previously hidden parallels.
The artist's go-to technique is applying gouache on canvas. For this show, however, she has opted for materials such as lace and mat. A new take was necessary to foreground both the painting and its frame at the same time, making both components seamlessly fuse into a single work of art. Hinata's foremost ambition has always been the presentation of the East European folklore which she adores; recently, however, she has added an additional layer to her work: creating a new art form which will bind the frame and the framed into a single whole. The artist hopes this will lead to collaborations with sculptors who engrave frames and artisans who specialize in working in glass, embroidery and lace.
The exhibits were born out of the challenge and enjoyment of Hinata's artistic exploration of Eastern Europe. The artist hopes you will enjoy the journey to this region through her works.
EXHIBITION OPENING HOURS:
MON-FRI 11:00-19:00
SAT 12:00-18:00
SUN closed
Details
Starts On
24/01/2022 - 11:00
Ends On
05/02/2022 - 18:00
Event Categories