Japan Tide presents Chisayo Nakata Exhibition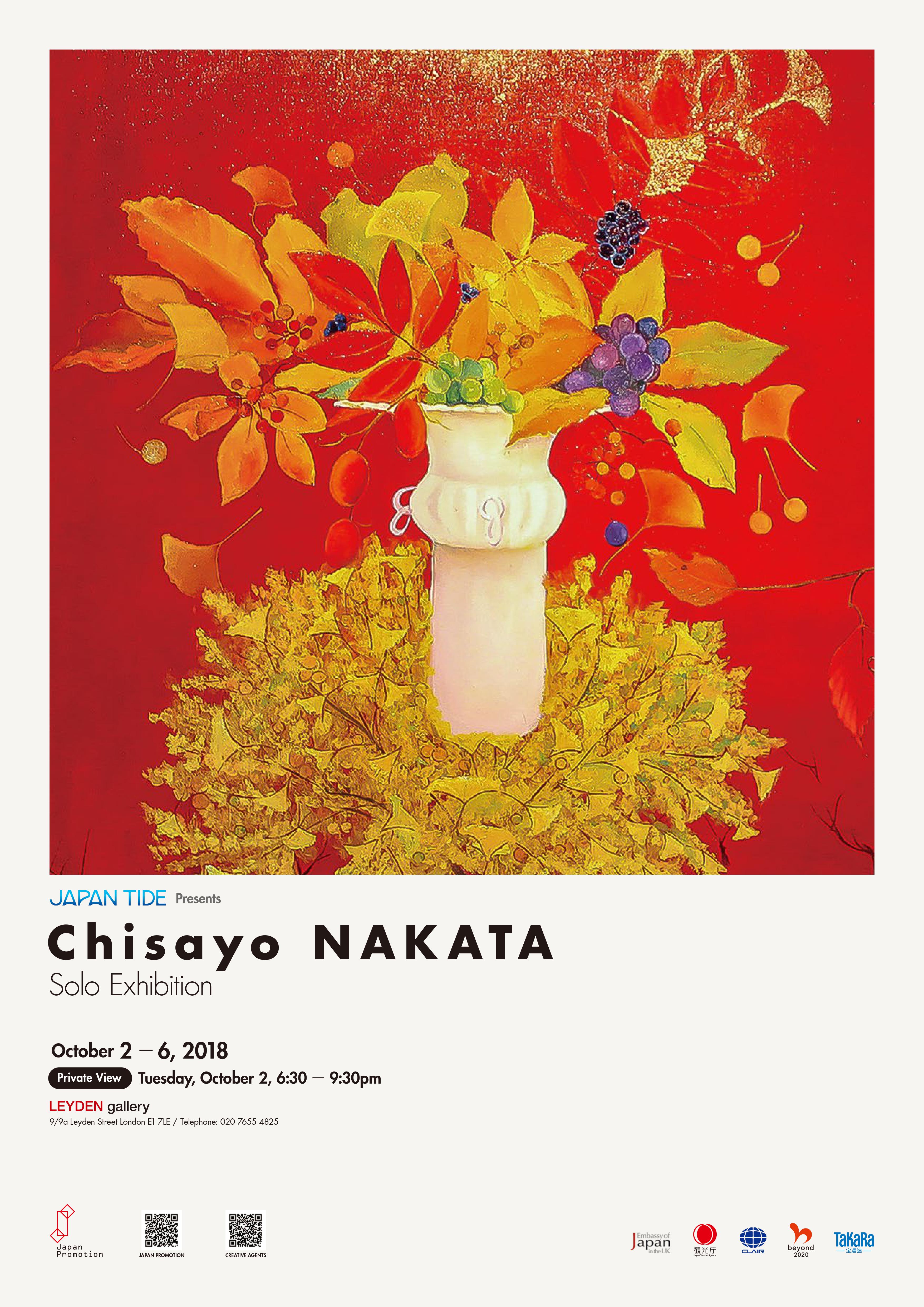 The exhibitions which focus on beauty of Japanese artworks will be held at Leyden Gallery in East London, where the central place of the contemporary arts. There will be an artist who shows the beautiful landscape of Japan by oil paintings and another artist, who portraits gorgeous women in kimono from 7th and 10th Century of Japan by Oshie (traditional craft work of padded cloth art). Both exhibitions will show you exquisite Japanese culture.
Don't miss those precious two weeks of exquisite Japanese art!
On the first week, we will be exhibiting works by oil painting artists, Chisayo Nakata
■Profile■
Born in 1942 in Ehime Prefecture. Nakata used to be an owner and the head chef of a local restaurant for over 40 years. Beside of being a restaurateur, she used to have a farm to grow vegetables. Around 20 years ago, she has found inspiration in the beautiful colours of the vegetables in her farm and started to consider how to preserve its beauty, which has led her to begun to take up oil paint. Depicting the imaginations in her head, she became skilled in creating delicate works by layering transparent hue. In 1995, she held her first solo exhibition in her birthplace of Aichi Prefecture. Following that, her works were shown in various countries including Sweden, Bulgaria, Thailand, and Monaco. In 2014, she had solo exhibitions in Paris, France and New York City, USA. Her works have been well received oversees, with an invite to show at Art Shopping (Carrousel du Louvre, Paris).
■Exhibition Duration / Private view ■
Tuesday, 2 October -Saturday,6 October 2018
Private View : 18:30~21:30 ,Tuesday, 2 October 2018 (Registration required at https://www.eventbrite.com/e/private-view-chisayo-nakata-japan-tide-exhibition-tickets-49581646038)
■Theme of the exhibition ■
Scenes of Carefree Dreams For many years, Chisayo Nakata worked alone, managing a Chinese restaurant in Ozu, Ehime Prefecture. It wasn't until the age of 70 that she began focusing on painting. She talks about the joy of working on oil paintings long into the night after closing the restaurant. Her landscapes are full of imagination and imagery drawn from a world of fairy tales. Full of passion for the carefree act of creation, the works strike the viewer with a sense of longing, like fading dreams that feel as though they are being lost to a busy reality. This exhibition includes the "Pleiades" series (in which flowers floating in space) along with other works that take a surreal approach in depicting the ocean floor. With an innocent sentimentality, the captivating paintings on display can be both enjoyed by adults and children alike.
Supported by: Japan Tourism Agency、beyond2020、CLAIR (Council of Local Authorities for International Relations)、Embassy of Japan in the UK
Sponsored by:TAKARA SHUZO INTERNATIONAL CO., LTD.
Details
Starts On
02/10/2018
Ends On
06/10/2018
Event Categories