Japan Tide presents Hima Ayuzawa Exhibition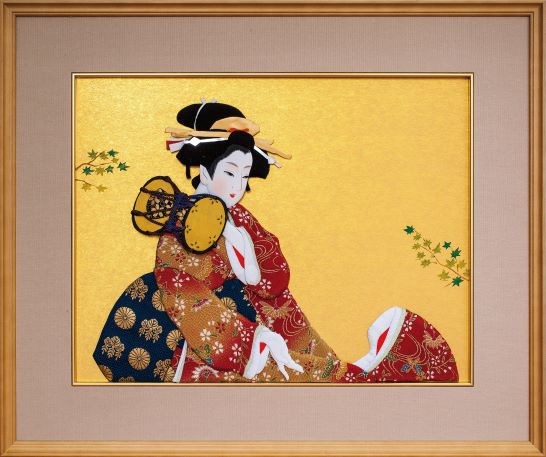 The exhibitions which focus on beauty of Japanese artworks will be held at Leyden Gallery in East London, where the central place of the contemporary arts. There will be an artist who shows the beautiful landscape of Japan by oil paintings and another artist, who portraits gorgeous women in kimono from 7th and 10th Century of Japan by Oshie (traditional craft work of padded cloth art). Both exhibitions will show you exquisite Japanese culture.
Don't miss those precious two weeks of exquisite Japanese art!
From the 9th Oct (Tues) we'll be exhibiting works of traditional Oshie artist, Hima Ayuzawa from Yamanashi
■Profile■
Born in 1956 in Yamanashi Prefecture. Since a young age, Ayuzawa began to create crafts such as knitting and doll making under her mother, who was a dressmaking teacher. At the age of 26, she was fascinated by the beautiful figure of a Kimekomi doll (wooden doll with Japanese costumes made from cloth with the edges). She taught herself the art of doll making, and after an apprenticeship at doll artist, Hisen Koike in her 30s, she became proficient in both doll making and Oshie (padded cloth art). In 2004, her piece, "The Ataka Checkpoint", which depicts a famous scene from the Kabuki, the Japanese traditional theatrical drama, " Kanjincho", was shown at the Louvre in Paris for the Beauty Unleashed Exhibition. Expertly crafted to the very last detail by using precious, antique kimono fabric and the creation of authentic Japanese traditional hairstyles, those pieces received high praises, and won the award. Since then, she continued to show the world of traditional Japanese culture between 7th and 10th century and have been winning awards in various countries, such as France, Australia, Russia, and the USA
■Exhibition duration / Private view ■
Tuesday, 9 October -Saturday,  13 October 2018
Private view : Tuesday, 9 October 2018 18:30-21.30
■Theme of the exhibition ■
Spirit of Japan -Creating a Refined World Through Handcrafts-
Hima Ayuzawa has been an oshie (traditional raised cloth) artist for 35 years. Influenced by her mother, who worked as a dressmaking teacher, she learned crafts from a young age. Wrapping colored cloth around each part results in bulging curved lines and a three-dimensional shape, giving the doll a lively appearance. Capturing the Japanese sense of harmony, the pieces resonate with an elegant atmosphere, with dignified characters from kabuki actors and notable figures from history. In addition to works depicting gorgeous women in kimono and gentle landscapes from the Heian era, which received acclaim in Paris, this exhibition will also showcase new works for the first time based on adorable animals such as chickens, monkeys and rabbits. We hope you enjoy the incredibly appealing world of oshie.
Supported by: Embassy of Japan in the UK / Japan Tourism Agency / beyond2020、CLAIR (Council of Local Authorities for International Relations)
Sponsored by: TAKARA SHUZO INTERNATIONAL CO., LTD.
Details
Starts On
09/10/2018
Ends On
13/10/2018
Event Categories