No11 [Interview] Welcome to our place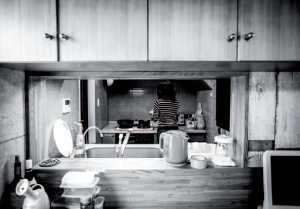 For some people, it's hard to imagine living any other way that in a shared house.
Cocoya Shibuya Usuki is a female-only, twostorey, four-bedroom share house not far from Shibuya Station in Tokyo. Eleven women – two of them from South Korea – currently live here. One of them was kind enough to talk to Zoom Japan about her experiences with house sharing. Her name is Ogawa Junko and she works as an accountant at a trading company in Tokyo.
How long have you lived at Cocoya Shibuya Usuki?
OgaWa Junko : I moved in when it opened last September. Before this I used to live in a different share house just 200 meters from here. Actually, my housesharing history goes back several years to when I was a university student.
What do you find most attractive about house sharing?
O. J. : As a student I lived in Australia for a year and noticed that nobody lived alone. All the local students lived together in rented flats, so I did the same. After that I joined an NGO and again found myself living with other people. Eventually I got so used to sharing my living space with other housemates that now I find it difficult to live alone. It's great when I come home and there is someone to chat with. We also have parties, go out together and sometimes we even organize weekend trips outside Tokyo. Another thing is that I can live in central Tokyo cheaply. This particular house is within walking distance of the trendy districts of Daikanyama and Ebisu, so it's perfect when I want to go shopping or have fun. Last but not least, if you happen to have a foreigner as a housemate, you have a wonderful opportunity to learn about their culture or even learn a new language. In the past I lived with several people from English-speaking countries and my conversation skills have improved enormously because I had a chance to practise every day.
I've noticed there are only two toilets and one bathroom for 11 people. Isn't it a little inconvenient, especially considering that women take a long time getting ready in the morning?
O. J. : Not really. The youngest tenant is a 19-year-old student and the oldest is 33. We all do different things and have different habits and schedules so it never really gets crowded. The one exception is on Saturday nights when we have a party at home and go to bed at about the same time, but even that is not a big problem.
Is this share house similar to the one where you used to live?
O. J. : The other one was actually bigger. In particular, there was a 35-square-metre-wide living room. Besides that it was open to both men and women while this one is female-only.
I guess when men and women live together romantic relationships can easily develop, like in the recently aired TV drama "Share House Lovers".
O. J. : Well, it depends. Even before moving into a share house I experienced communal living with both men and women but usually our relationship remained on a friendship level. I actually had a romantic episode only once, with a foreign guy living with me. The problem is that if you break up it's hard to keep living under the same roof. Perhaps that's why love stories are not as common as many people think. In some cases people try to keep their love a secret because they are afraid the other tenants may feel embarrassed or not like the situation. That said, I know a couple who met while living in a share house. They fell in love with each other, got married and are still living in the same place. But more than a chance for romance, the great thing about sharing a place with other people is that you become like a big family and those ties can last for years, even when someone moves to another place or even another country.
Interview by G. S.
Photo: Kondo Keiichi