No19 [Interview] Meet a hard rock vampire!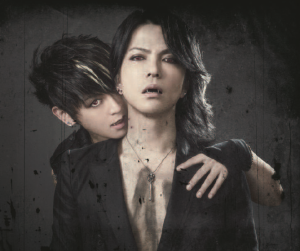 This month we took a walk on the dark side of Japanese rock and tracked down Hyde to ask him how preparations were going.
This is your second time playing in London, so what were your impressions of the audience last time and what kind of expectations do you have for your upcoming performance?
Hyde : Last time I was feeling a bit unwell but everyone really had a good time so I enjoyed it a lot! This time the stage is a bit bigger, so I am happy that I will be able to give my usual style of performance.
Are there any differences in how you get motivated or a different vibe you feel when doing live performances inside Japan and those abroad?
H. : Once a fire has worked up to a raging blaze then a splash of water won't extinguish it but while it is still just a spark even a light breeze can blow it out. Outside of Japan I am still a new face after all!
You have had great success with L'arc en Ciel and also as a solo artist and with VAMPS, and I am sure that you have different emotional attachments to and recollections of each of them but what is different about you when you play solo or with VAMPS?
H. : I'm a sleazy vampire ya'know. Can't really show that to the kiddies…
I hear that just before coming over to the U.K. L'arc played the Japanese National Olympic Stadium, so how do you switch your focus over to doing VAMPS so quickly?
H. : I switch over pretty naturally. But doing the V sign has become quite a habit now so I think I might bring it out without thinking while playing with L'arc one day!
At the moment, what kind of split is there between performing with L'arc and your solo work (VAMPS)?
H. : We are not really working as L'arc much these days. Everyone says that is my fault but it
really isn't.
Do you ever think of living abroad in the future?
H. : I could do that at any time but I think that I probably won't.
If not then what reasons would you have for staying in Japan?
H. : I am used to the culture there so I would probably feel a bit sad and lonely if it was not around me.
If you were to do it, where would you think of going to live?
H. : LA or London
Could you tell us about the secret to your youth and vitality or any other secrets you may have?!
H. : I drink the blood of my fans of course! And secrets are secrets!
You still look very youthful anyway, but have you ever had any episodes abroad where people thought you were younger than you are? (For example in the U.K. those under 25 have to carry proof of their age to drink in public but many Japanese women look younger so are sometimes asked to show proof of age even after turning 40!)
H. : Yeah, there are times when I can't drink without showing an ID. Probably because I don't age anymore!!
There are many, many Hyde fans among the readership of Zoom Japan so do you have any messages for those who will be coming to see you in London or anything you think they should particularly look forward to?
H. : KOKO is a really cute venue and we are planning on filming a DVD of the show so I really want to give a perfect performance!
Zoom Japan is read by lots of people who have an interest in Japanese culture and music so could you say something to our readers to express the beauty of Japan and what is great about it?
H. : Japanese people seem shy but it is not quite that simple. It is a problem when people misunderstand that. In Japan the virtue of accommodating others while holding back yourself is stressed a lot and that is not simple shyness. This is why when there are disasters we don't steal from each other and all come together.
If you have any free time while you are in the U.K. for your performance, is there anywhere in particular that you would like to visit?
H. : I would like to see the studio where they made the Harry Potter films!
I am sure that in the future you will not only be playing again in the U.K. but also have your eyes set on the rest of Europe. Please could you let us know of your plans and goals for the future?
H. : I would bet on people around the world liking our music and taking it into their hearts. I should also really start looking for a girlfriend soon!
Interview by Y.F.
REFERENCE
FOUNDED IN 2008, by HYDE (L'Arc-en-Ciel) and
K.A.Z. (Oblivion Dust), VAMPS have played
numerous sell-out tours all around the world and
are returning to London on the 28th of March for
another much-anticipated show.