No31 [Music] Worldwide success – SCANDAL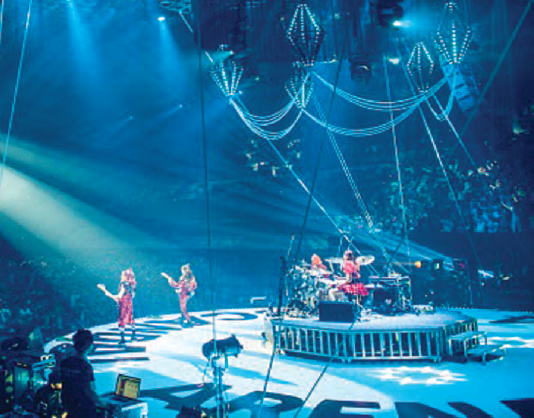 This girl-band who are not only popular in Japan but all around the world, are finally going on a world tour, including London.
How were the group first formed?
Scandal : All four of us used to attend the same vocal and dance school in Osaka in 2006. Although we did not do any training to play instruments there, one of our teachers suggested we should take up instruments and that was how the band was first
formed.
Where was the most memorable live performance you have ever done?
Scandal : Since we formed the group it was always a big dream to play at the Osaka Castle hall and the other big venues in Osaka, and when I finally performed a one man live show there I felt that it was my most memorable performance yet. However, I think that our experience with the current world tour has topped that and is our new number one. All the time we are performing there is a feeling that this will be something we won't forget for the rest of our lives.
This is your first ever world tour, so is there anything in particular that you are trying to be aware of?
Scandal : When doing the MC sections, we really like being able to say something in the local languages of the countries we visit. Of course, we want to do the basic greetings and stuff, but we also want to be a bit more proactive and say more on top of that. For the last gig in Paris, all the band members practiced really hard. We had studied some English in Japan but French was pretty difficult. But it was great fun, and we want to be able to say even more next time we come here.
Which country have you had the most fun in?
Scandal :We have only just started the tour at the moment and have only been to London and Paris so far, so I think we still have it all to come.
Is there anywhere else you would be interested in going to that is not on your tour schedule this time around?
Scandal : There are loads of places. We get messages on Twitter from places in South America like Chile, Argentina and Brazil, and they look like fun places to go, so we would like to visit that area someday. When we were eating dinner last night, some of the staff recommended Spain and Morocco too. I would love to go to Spain.
Congratulations on the limited edition European release of your new "best of collection" album. Could you please tell us a bit more about the thinking behind which songs were chosen for the album?
Scandal : Thank you. For this album we are releasing under the JPU Records label and we asked the guys at JPU to listen to all of our music to date and pick the ones they felt would work best for European fans and those which were liked the best there.
I hear that they chose one of SCANDAL's songs for the theme song to Pokemon the movie XY. You have created the themes for many popular anime, but what inspired you to start writing anime music in the first place?
Scandal : At the start we simply felt that the music we make and the overall image of animation fitted well together, and so arranged it so we could do some anime themes. Pokemon was an anime that we had all watched since we were very young and we all had very strong memories of it, so we really wanted to work on that. When we were approached to do the Pokemon movie theme, they explained what kind of image they were looking for in great detail and Tomomi wrote the lyrics to fit with that vision.
Do you all personally like anime then?
Scandal :We love anime. Our favourite is Pokemon and we have all been fans since we were really small. And Sailor Moon too. Recently Sailor Moon has had a remake done in Japan, and there is a new series, so we are watching it again now. It really makes us feel nostalgic seeing it.
Could we please have a message for the readers of Zoom Japan?
Scandal : This is our first time here in the U.K. and we really did not expect to spend such an intense, crazy night here, so we are overjoyed. We really feel that we have to come back here again, so please keep on supporting us!
Interview by Agnes Rita Kovats
Reference: JPU Records