No.80 [PASSION] Words of an avid reader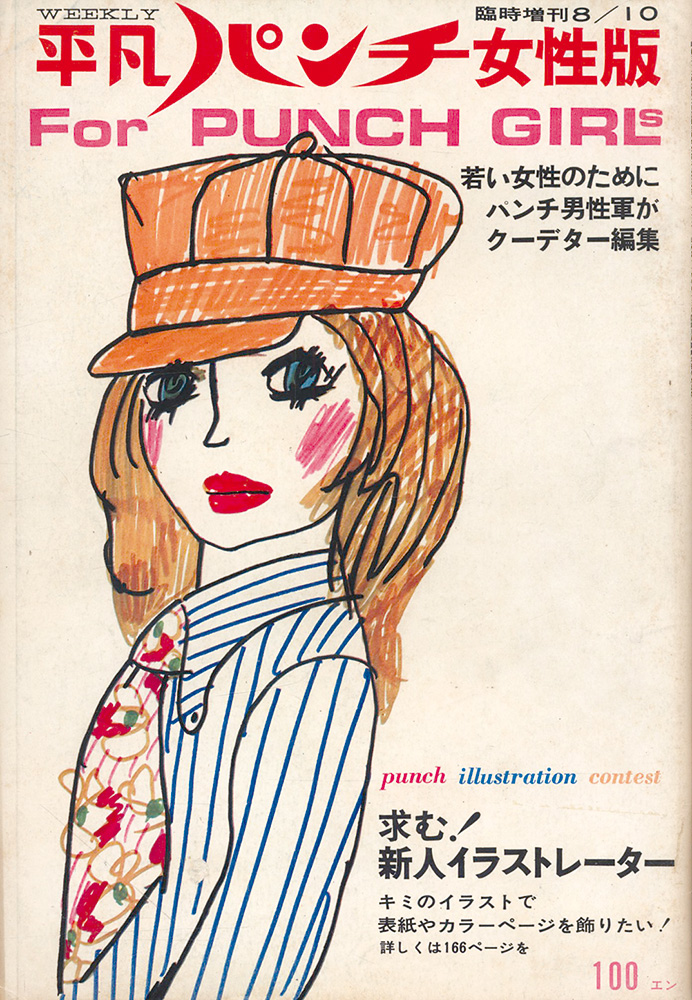 Launched in 1966, Heibon Panchi Joseiban led the way for An An, and MIZUMOTO Akemi became a fan.
MIZUMOTO Akemi has been a fan of An An since it began. She tells us about her love for the magazine.
For many women, the appearance of An An magazine on the newsstands in March 1970 was a breath of fresh air in Japan's rather conservative publishing market. One of its readers was MIZUMOTO Akemi.
Born and raised in Kyoto, MIZUMOTO was still in middle school when she discovered An An. The magazine's target readership was girls in their late teens up to their mid-20s, but MIZUMOTO was so impressed that she became an instant fan and a faithful reader for years to come. "I found copies of Heibon Punch Women's Edition (An An's precursor) in a second-hand bookshop," she says. "It must have been around May or June 1970, which means five or six issues of An An had already been published. At the time I was interested in fashion but was not an avid magazine reader. I think the only other publication I read regularly was fashion magazine Fukuso." After graduating from high school, MIZUMOTO took on several jobs before working for a fashion brand, which deepened her interest in clothes and women's magazines.
The 1970s were a watershed in Japanese fashion, with MIYAKE Issey presenting his collection in New York and Kenzo's clothes being featured on the cover of Elle magazine. In the rapidly changing local scene, American culture and sports (e.g. tennis and surfing) became increasingly popular in Japan, thus creating a market for casual fashion such as padded jackets and trainers. Jeans, in particular, began to be treated as designer items by Japanese manufacturers, starting a trend that continues to this day.
On the other hand, new magazines such as An An were responsible for popularizing so-called New Trad fashion: following in the steps of the Miyuki Tribe of the mid-60s, which favoured a more conservative, preppy look, An An frequently featured in its pages long dresses and luxury bags from designers such as Gucci and Hermes.
From the very beginning, what distinguished An An from the competition was its striking look and design, thanks to the groundbreaking work of art director HORIUCHI Seiichi and a host of talented photographers and designers. "For me, it represented a fresh new take on women's magazines," MIZUMOTO says. "That's what I liked about it. I especially loved its visual element; all those beautiful colour pictures." Additionally, An An also became famous for the quality of its written content. To be sure, the articles and stories it featured were a departure from the usual magazine fare that tended to focus on entertainment gossip and pieces about the Imperial family. "Even as a teenager, I always preferred sedentary hobbies such as watching films and reading," MIZUMOTO says. "Being very young, I didn't know much about life. In that respect, the articles and columns I read in An An taught me a lot. A columnist I really liked was MIYAKE Kikuko, and I especially enjoyed her style. She often wrote things like how to enjoy your life as a single or how to cook simple but tasty food. Another writer I was particularly fond of is SHIBUSAWA Tatsuhiko." Novelist and art critic SHIBUSAWA was known as a translator who helped introduce French literature to Japanese readers. Indeed, his first works for An An were translations of Charles Perrault's Little Red Riding Hood and Puss in Boots. In the 1980s, SHIBUSAWA would go on to become an author with a cult following thanks to his fantasy novels and essays about eroticism and black magic. In the 1970s however, he was still an outsider; a controversial figure who had supported the Communist Party and had been involved in a scandal following his translation of de Sade's Juliette for which he was prosecuted for public obscenity.
From September 1970, SHIBUSAWA began to travel extensively in Europe. These trips became the subject of a series of travelogues he contributed to An An. "I remember his pieces about Germany, when he visited Bavaria and wrote about Ludwig II," MIZUMOTO says. "To a young Japanese girl like me, it was like being introduced to a fairytale world."
Travel reports were among An An's more popular features, combining clever texts by a number of renowned writers, colourful photos and the equally beautiful maps drawn by HORIUCHI who was SHIBUSAWA's close friend. These stories, together with similar articles appearing in Nonno magazine, were behind the birth of the "An- Non tribe" phenomenon: unmarried young women around 20-25 years old who travelled alone or in small groups, both in and outside Japan. The new role played by women in the travel market found its soundtrack in YAMAGUCHIMomoe's 1978 single, "Iihi tabidachi" [Good Day Trip].
While MIZUMOTO admits that she has never travelled a lot, she has always been fond of An An's "travel special" issues. "They opened a window on a completely new world," she says. "For me it was a chance to discover new places and vicariously experience the excitement of travelling to faraway destinations. You could say I've always been an armchair tourist."
MIZUMOTO has spent her entire life in Kyoto. "Many people from around the country want to move to Tokyo," she says. "That's understandable because Tokyo is the centre of everything – politics, culture, trade. But I've always preferred Kyoto. I travel to Tokyo once in a while, but I would never live there. I like Kyoto because it's more compact and everything is more or less within walking distance." However, MIZUMOTO has seen her hometown gradually change from a relatively small, people- friendly city full of traditional wooden buildings to a sprawling sea of reinforced concrete. "The city that I grew up in as a child can hardly be found now," she says. "The beautiful temples and gardens are still there, but they are separated by glass and cement. Unfortunately, the magical place that was featured in the pages of An An is no more. It's also noisier and more crowded, what with all the tourists coming from all over the world. On the other hand, now that the tourists have disappeared because of the coronavirus, it feels a little lonely."
MIZUMOTO admits that she has lost interest in reading magazines. "I may buy one if it features a story I want to read, but I'm not a regular reader," she says. "That's especially true of fashion magazines. When I was young, they were much better. They were real magazines, with a sharper editorial viewpoint. Now they look and feel like catalogues." The same thing happened with An An. MIZUMOTO bought it regularly for the first two decades it was published, but later she devoted herself mainly to reading books. "In fact, An An has changed a lot," she says. "In the 1970s they wrote about Western superstars such as Elton John and Serge Gainsbourg. It had a lot more substance. Now, young readers seem to be interested only in Japanese boy idols. Just look at those covers. I would rather re-read the old issues from the 1970s. I have kept most of them. I treasure them."
GIANNI SIMONE