No43 [A good idea] Tonki sets the ton(e)katsu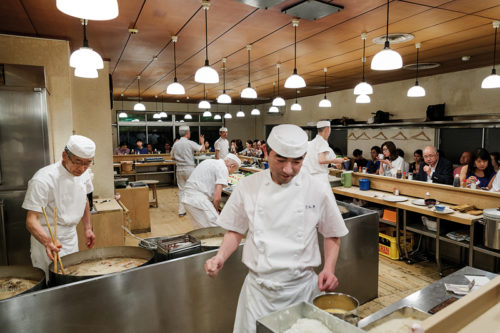 This restaurant, situated in the heart of Meguro, is considered to be one of the best.
You have to hand it to the Japanese: When it comes to cooking, simplicity is their forte. While a French or Italian chef will try to amaze you with a multi-dish menu, the Japanese have enough confidence to put a small heap of cold noodles, a few pieces of raw fish or a piece of fried pork with a seemingly unattractive side-dish of plain shredded cabbage in front of you (and sometimes expect quite a lot of money for it). Quite a different approach indeed.
And speaking of fried pork, when you ask anyone who lives in Tokyo where to find the best tonkatsu, Tonki inevitably features on many people's short list. The place is unique in many regards. Firstly, they don't serve lunch. They open at 4pm, but the somewhat weird opening time (who wants to eat fried pork in the middle of the afternoon anyway? Is that a late lunch or a very early dinner?) should not fool you because the place is always packed.
Tonki's second unique feature is its minimalist approach to cooking. Some of the best Japanese cuisine (and traditional culture, for that matter) is a simple, no-frills affair and Tonki applies this rigorous approach to tonkatsu. Unlike other restaurants, which offer all sorts of cuts and variations, at Tonki you only really have two options: either the more popular rosu katsu (fatty pork loin) or hire katsu (lean pork filet). They're both the same price and, of course, come with rice, miso soup (a hearty tonjiru with as much pork in it as tofu), raw shredded cabbage and pickles. There is actually a third option: kushi katsu (small cuts of pork, breaded and deep-fried on wooden skewers along with chunks of onion), which is a good alternative if you want to taste the meat but you worry about your cholesterol levels.
Finally, and most importantly, what really sets it apart is the taste of Tonki's meat. Their tonkatsu is very different from what's usually on offer and this has been a point of contention for years between their detractors and hardcore fans. The fact is, Tonki's meat is not as crispy as other cutlets and the crust is more like a thick, crisp dark-brown batter than the usual light, golden coloured bread crumbs. As for the meat itself, the slow-cooking process means that it's not as juicy or tender on the inside as most typical tonkatsu is. It has a very real and unpretentious taste, closer to authentic home cooking, which is probably why regulars keep going back to this 70-year-old establishment for a good down-to-earth meal. Interestingly, most of the customers at Tonki are the kind of middle-aged Japanese who grew up when deep-fried breaded pork was not considered to be a gourmet item – and they like it this way. Regardless of where you stand on tonkatsu orthodoxy though, you really should try this all-time classic at least once.
The place is quite easy to find: From Meguro station's west exit (JR Yamanote Line), cross Meguro-dori to the Meguro Hilltop Walk Tower. Turn right down the hill then take the first street to the left by a pachinko parlour. Tonki is on your right about 70 metres further on. From the outside it looks as simple and traditional as the menu, starting with its well-worn wooden sliding doors. It's the same inside; quite large and spacious but also plain and unadorned. The current building actually dates from the 1970s, even though Tonki opened on this very site in 1939. There are no tables, just a single counter with some 35 seats from where you can watch the chefs cooking right in front of you, which is always part of the fun. Though the place is always full, it's remarkably quiet. There's no background music to distract you and the patrons have no time to chat. After all, they are only here to eat, and are kindly invited to leave as soon as they have finished. This is definitely not a place to take someone on a date.
When your tonkatsu finally arrives, you should drizzle a bit of the special sauce over the top. This is a mixture of ketchup, Worcester sauce, sake, mirin (sweet rice wine), ginger, garlic and sugar, and is famous in its own right. If you like it you may want to buy a bottle or ten on your way out.
Practical Information
Tonki 1-1-2 Shimo Meguro, Meguro-ku, Tokyo, 153-0064
Tel. 03-3491-9928
Open Wednesday to Sunday from 16.00 to 22.45.
Closed on Tuesday and the 3rd Sunday of the month.
JEAN DEROME