No5 [Interview] Interview with Hotei Tomoyasu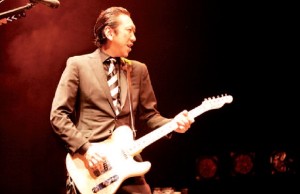 Since August this year, legendary guitarist Hotei Tomoyasu has shifted his base from Japan to London and on Tuesday the 18th of December he will be performing his first ever solo live show here.
You moved to London recently but I understand that you have visited the city many times before. What were your impressions when you came here for the first time?
Hotei Tomoyasu : London is the birthplace of so many rock legends, such as David Bowie whom I personally revere, and for someone like me, who grew up listening to rock records from the age of 14, it really is a city of dreams. Soon after I had made my debut in Japan I came here for the first time and it was indeed like having a dream come true for me.
What made you decide to move your base to London?
H. T. : Last year was my 30th year in the music career and I also turned fifty this year. That was an illustrious turning point in my career and was one of the main catalysts for the move. Also, during my 30th anniversary concert, right after I had sung 'Dreamin', one of my favourite BOØWY songs, I turned to the audience and asked them, "Are you still following your dreams?" This question was also somewhat directed at myself, and brought back memories of the first time that I came to London. My dream was always to travel the world with my guitar and I realised that I wanted to continue following that dream.
What impressions do you get from the current music scene in Japan?
H. T. : These days the technology involved in making music has come on a long way and pieces are put together electronically, using pre-created, finished sounds, so I kind of feel that the personal touch and musician's individuality is being lost. When I was 14, I taught myself to play the guitar in my own unique way and searched out the kinds of sounds that I liked and the chords that I liked to play myself. That process of trying and experimenting to see how you can produce your own sound is fascinating and it is a great shame to think if it is completely disappearing. There is definitely something important missing today for an old soak like me! (Laughs)
I hear that among the many different areas of music that you are involved in you also provide music for the anime world. What exactly have you done along those lines?
H. T. : I did the theme song "STILL ALIVE" for "Fist of the North Star 2010". Also, the weeping sound made by the Ohmu in Nausicaa of the Valley of the Wind was actually made with my guitar.
Please could you tell us about the concept for your live concert in London on the 18th of December and why you are so enthusiastic about it?
H. T. : "Battle without Honour or Humanity", the theme song that I did for Quentin Tarentino's film Kill Bill is pretty well known among British people. That song really shows off the dynamism that the guitar can produce. The London concert will feature roughly half guitar tracks like this and half pieces with vocals. I will be singing in both English and Japanese. There are many great musicians in London so I am really excited about doing a live concert here. I would love it if everyone came along to hear my own style of music that takes the fundamental vibrancy of the guitar and has absorbed things into that from all kinds of other genres such as funk and electronica. I want for British people interested in Japanese culture, as well as those who may never even have heard of me to be able to listen to my music straight up. There will also doubtless be those in their late thirties and forties working at Japanese firms over here who heard my music when they were growing up in their youth. I really would like for all those people to come together, with me giving it my all up on the stage, and experience the atmosphere as one. I am confident that my guitar sound can deliver excitement and satisfaction to everyone who comes! This live show will be the first page in the second chapter of my long career as a musician. I can't wait to see what kind of opening I can make for this new story with all my fans. I have done many thousands of concerts over the years but getting up on this one will be surely an unforgettable experience for me.
Finally, do you have any messages for the readers of Zoom Japan?
H. T. : Those Brits who have an interest in Japan's culture really have a deep understanding of the good aspects of Japan that Japanese people are so oft to forget. I am very happy that thanks to people like them I can now eat excellent sushi here in London and that Japanese culture is flourishing here. I am one of many Japanese guitarists who grew up being influenced by the magnificent rock and roll coming out of the U.K. and I am now here to showcase Japan's rock and roll on British soil. Get your friends together and come along to see the show!
Interview by Yoshiki Van
PROFILE
HOTEI TOMOYASU. One of the most prominent guitarists representing Japanese rock, Hotei Tomoyasu debuted in 1981 as guitarist for legendary
rock band BOØWY. He started a solo career after the band split, as well as forming COMPLEX with Kikkawa Koji and works as a producer, lyricist and songwriter, achieving numerous million selling hits. His activities encompass a wide variety of fields, including creating music for film soundtracks and appearing in commercials. Hotei held a concert to mark his 30th year as an artist in 2011 and moved to London in August 2012.