No.133 [TRAVEL] Waiting for the Big One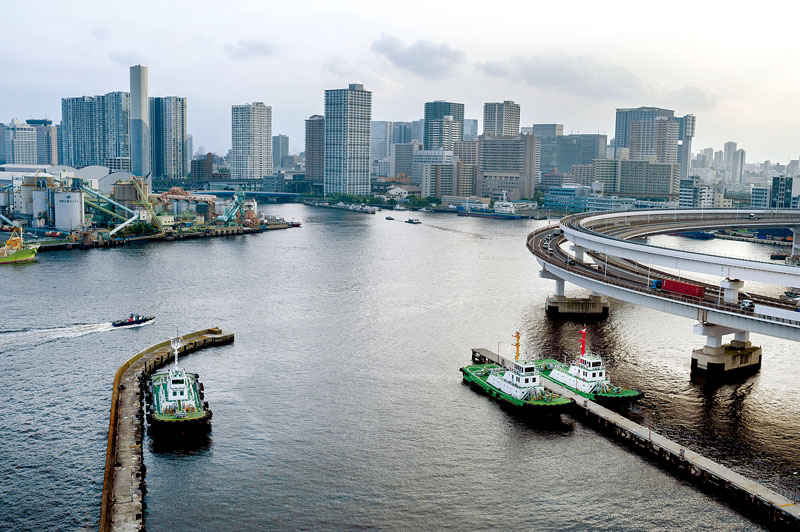 It's like one of those long awaited lottery numbers that everybody is hoping for but never come, week after week, month after month. The Big One. The great Tokyo earthquake that the experts assure us is coming. According to the latest estimates, there is a 70% chance that a major earthquake is going to hit Tokyo in the next 25-30 years.
After all, not only is the Japanese archipelago located in an area where several continental and oceanic plates meet but Tokyo is uniquely located where three tectonic plates converge and push into each other beneath the city, causing megathrust earthquakes.
Yet, the Japanese capital has not experienced any disastrous seismic movements in the last 100 years, while unexpected tragedies have occurred in places that were considered "above suspicion" (e.g. the Kobe-Osaka region in 1995). If we look at recent history, in the 11 years that followed the magnitude 9.1 Tohoku earthquake on 11 March 2011 (not counting related aftershocks), Japan has been hit by seven earthquakes with a magnitude greater than or equal to 7.0: five in Tohoku (three of them in Fukushima), one in Kumamoto and one near the Ogasawara archipelago. In the same period, the strongest tremor to affect the Kanto region was a 5.9 M-earthquake that hit Chiba in October 2021, but only caused minor damage and no deaths.
However, the fact remains that any thoughts or conversation about the Big One are not about "if" but "when" it's coming. Both the government and local authorities have devised (and continue to fine-tune and update) plans to deal with it, and while Tokyoites are not hysterical about it and go about their normal lives, the earthquake is constantly in their thoughts.
Predictably, popular culture has also tackled the subject. In 1980, Nippon TV produced Tokyo Great Earthquake Magnitude 8.1, a TV movie starring Chiba Shin'ichi, while in 2009, Tachibana Masaki directed Tokyo Magnitude 8.0, an eleven-part TV anime series that was broadcasted by Fuji TV.
This latter, besides being an excellent anime work with a solid story, well-developed characters and good animation, is a scary reminder of what could happen when Tokyo is finally struck by a major earthquake. This is the story of 13-year-old Mirai and her nine-year-old brother Yuki who one day visit a robot exhibition in Odaiba – an artificial island in Tokyo Bay – unaccompanied by their parents who are busy working. Just when they are about to leave the museum (the real-life Miraikan), the earth starts shaking. It's immediately clear that this is not the usual kind of tremor but something much more serious. The buildings suffer major damage, the Rainbow Bridge vibrates as if it were made of paper, fires break out in numerous places. Stranded some 20 kilometres from their home in Setagaya Ward, the two siblings are rescued by Mari, a young woman who promises she will help them get back to their parents.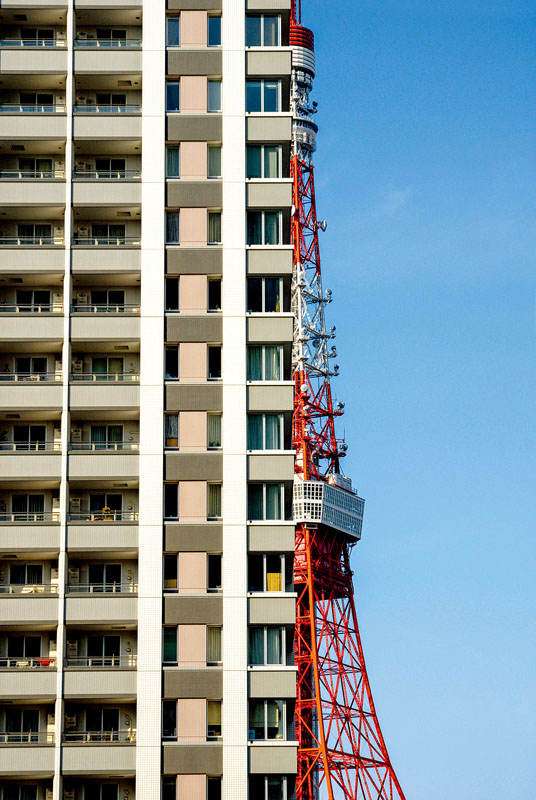 An interesting feature of the series is the many cases in which the so-called community-minded, law-abiding Japanese lose their temper and forget the simplest rules of human interaction. Indeed, it's only natural for human nature to turn ugly when in distress. On the other hand, recent major disasters have shown that most Japanese are able to keep their temper and selfishness in check even in those circumstances.
When such major disasters occur, all public transport systems (trains, buses, subways) grind to a halt and many people who are in public places, in school or at their workplace at the time of the earthquake often opt to return home on foot. That's what Mari and the kids decide to do, and episodes 4 to 9 are devoted to their trek through the south side of Tokyo, from Hinode Pier to Sangenjaya (the last stretch of the kids' journey is in a truck). During their odyssey, they witness the Rainbow Bridge and Tokyo Tower collapse and have a few close calls of their own.
At 10.5 kilometres, the walk between Hinode Pier and Sangenjaya is far from impossible, but the presence of two tired, hungry and sick children complicates things and often reduces the walk to a crawl. Obviously, they need to eat, and they get food supplies, first at a convenience store and then at a distribution point in Shiba Park, near the Tokyo Tower before spending the night in a school (by coincidence, it's Mirai's junior high) turned evacuation centre.
While refugee shelters located in each district have food and water supplies, they're built with only the residents in mind. Therefore, in such circumstances, the problem arises of how to deal with all those people who actually don't live there. In such emergencies, other places such as convenience stores, gas stations and sometimes even family restaurants offer help by distributing necessary goods for free besides providing disaster-related information and the use of their toilets.
The practice of building elementary and junior high schools and parks side by side was established soon after the 1923 Great Kanto Earthquake. Creating parks was considered to be an important factor in order to establish a disaster-resistant city. The Tokyo Municipal Park Division, led by Inoshita Kiyoshi, treated schools as local community facilities and built fireproof and earthquake-resistant reinforced concrete school buildings and small parks as both evacuation centres and buffer zones. During the reconstruction, such places were established in 52 locations throughout Tokyo. Even today, wherever possible, schools and parks are built following the original blueprint, with at least 40% of the outside perimeter being planted with evergreen trees with excellent fireproof, soundproof and dustproof qualities.
Due to the merging and closing of schools due to a declining birthrate, many of those 52 parks were either closed or reduced in size, while more schools were opened in the suburbs where most Tokyoites now live. One surviving example of a post-earthquake park is Motomachi in Bunkyo Ward, which is believed to have been preserved in its original form.
Both Mari and Mirai have a mobile phone, but, as predicted, they can neither make phone calls nor send messages to their families. Since the making of this anime, a messaging system has been devised for leaving short messages using either a mobile phone or a public telephone.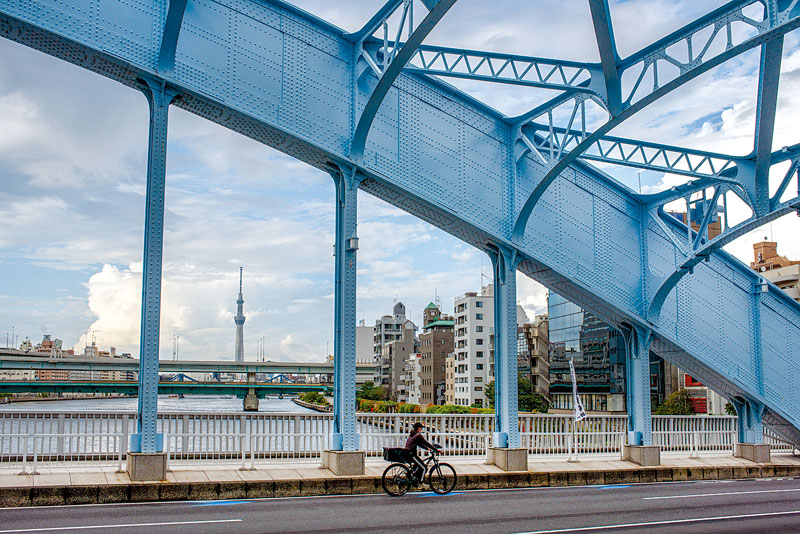 While our protagonists can't contact their families, they can access the internet and see the news. That's how, in episode 8, they discover the estimated tally of the disaster: 180,000 people dead or nearly twice the casualties of the Great Kanto Earthquake. Luckily, this figure now seems to be overly pessimistic: according to a new estimate of the damage conducted in May 2022 by the Central Disaster Prevention Council of the Tokyo Metropolitan Government, an earthquake of magnitude 6 or stronger whose epicentere is located directly under central Tokyo (striking on a winter evening, with a wind speed of 8m/s) is expected to affect about 60% of the ward area.
It is assumed that 194,431 buildings will be damaged (82,000 by the earthquake, 112,000 by fires), 6,148 people will die, 93,435 will be injured, and the disaster will result in nearly three million evacuees. All those figures, by the way, are significantly smaller than the previous survey in which, for instance, it was estimated that nearly 10,000 people would die. Moreover, the Metropolitan Government has set a goal of roughly halving damage to people and buildings by the fiscal year 2030.
In his 2014 book, When the Earth Roars: Lessons from the History of Earthquakes in Japan, professor Gregory Smits suggested that disasters have done little to bring about change in Japan's response arrangements to disasters, describing the current official "earthquake bureaucracy" as redundant and confusing, and suggesting that the public has little idea what the many stakeholders do. This may be true, and indeed, the earthquakes in Kobe (1995) and Tohoku (2011) have exposed shortcomings in the disaster response network. On the other hand, both the national and local authorities have recently taken steps in making people aware of what to expect in the event of a major earthquake, and what to do both before and after the event.
Last September, for instance, the Tokyo Metropolitan Government announced the results of the Regional Risk Measurement Survey for Earthquakes, in which it ranked the 23 special wards in central Tokyo according to their safety. Starting in 1975, this study has been conducted every five years, and the ninth and latest survey has covered 5,192 towns and cities, showing the risk of earthquakes in each region in terms of building collapse, fire, coefficient of difficulty in rescue activities and overall risk. Each ward's earthquake risk was evaluated from a variety of perspectives, including location, topography, geology, town structure and proximity to the sea.
Not surprisingly, the safest areas are those on the west and northwest side of Tokyo – the suburbs and the so-called Yamanote area. They have characteristics such as good ground that is not too soft and prone to shake, with a low possibility of liquefaction, many buildings that are earthquake-resistant and not densely packed, and being located inland so they're not damaged by tsunamis.
Conversely, the dangerous areas are the northern, eastern, and southern wards as they are characterized by unstable ground, liquefaction-prone geology, densely packed old wooden houses, and in some cases at risk of a tsunami. In this respect, the worst located of the 23 central wards are Arakawa, Sumida and Adachi. They are traditionally working-class districts situated on both sides of Tokyo's two main rivers, the Sumida-gawa and the Ara-kawa. In general, the closer to Tokyo Bay and the eastern suburbs the higher the risk.
Travellers who visit Tokyo will be happy to know that many of the major tourist spots are on relatively safe ground. Shibuya is the 4th safest ward in Tokyo, Toshima (where Ikebukuro is located) is at number 5, while Shinjuku and Suginami (Koenji, Asagaya) are at number 6 and 10 respectively. At the other end of the spectrum, Taito Ward, where both Asakusa and Ueno are located, is considered the fifth riskiest place to be when the Big One strikes.
As far as Tokyo residents are concerned, special attention has been devoted to high-rise tower blocks. These apartment blocks have increased in the last few years, and in the fiscal year 2020 there were approximately 3,500 high-rise buildings in Tokyo that were 45 metres (15 storeys) or higher, an increase of 43% from 10 years previously. According to the Tokyo Metropolitan Government, all apartment blocks that meet the new earthquake resistance standards from June 1981 are designed not to collapse even in a large-scale earthquake with a seismic intensity of 6 upper to 7.
According to the Metropolitan Government, the approximately 4,700 evacuation centres in Tokyo can accommodate approximately 3.18 million people (as of April 2022). On the other hand, about 9 million people live in shared housing such as apartment blocks. Evacuation centres will face shortages of supplies, deteriorating sanitary conditions and the spread of infectious diseases. That's why the authorities are encouraging people who live in residential tower blocks to stay at home. The concept of "evacuation at home" was included for the first time in the new regional disaster prevention plan.
While those buildings are highly resistant to earthquakes, there's a risk that they will become an isolated island when lifts stop working. Therefore, residents are actively encouraged to stockpile emergency supplies so that they can evacuate at home, and seminars will be held to improve their level of disaster preparedness. Specifically, the Tokyo Metropolitan Government proposes the installation of emergency power sources to operate lifts, the creation of a disaster prevention manual, and the stockpiling of water and food for about three days.
But what if one is caught away from home at the time of the earthquake? The daytime population of central Tokyo is about 16 million, and it's estimated that more than 4.5 million people will be left stranded and unable to return home. This was the situation following the March 2011 earthquake in Tohoku. In other words, though the epicentre was not in the Tokyo metropolitan area, trains stopped, mobile phone reception was disrupted, and the streets were jammed with people and cars. In such a situation, authorities and experts are now encouraging people to stay where they are instead of embarking on a mass exodus to reach their homes.
In typical Japanese fashion, bilingual videos have been produced featuring two not-so-cute characters: a buck-toothed dinosaur called Gachapin and a red yeti named Mukku. In these videos, Gachapin and Mukku explain in an easy-to-understand manner the dangers of everyone going home at the same time in the event of a disaster. Basically, if a disaster occurs while you are inside a building, you should not rush outside in a panic. The first 72 hours after a disaster are critical for saving lives, and if people stream out onto the roads, emergency vehicles can't get through to save lives. Also, the risk of being crushed by a surging crowd increases in such an event.
Gachapin and Mukku go on to explain that the best thing to do is to wait at a nearby temporary shelter (schools, hotels, commercial facilities, libraries, etc.) for up to 72 hours. The Tokyo Metropolitan Government has created the Disaster Preparedness Tokyo app for smartphones. This app is available in Japanese, English, Chinese and Korean. In addition to providing information on evacuation centres and temporary shelters in Tokyo, it has various functions that will be useful in the event of a disaster. Once you have a safe place to wait, you can confirm family and friends are safe.
People who regularly commute to work and study are also encouraged to always carry a few useful items with them such as a spare battery for their smartphone, their regular medicines, cold weather gear, etc. Last but not least, experts advise carrying an electric torch and a bottle of water. As a major quake is immediately followed by a massive blackout, a torch can be very useful. As for the water, one of the worst things that can happen besides being injured is finding yourself trapped in a lift. In case of a major quake in Tokyo, the lifts in about 30,000 buildings are estimated to stop automatically for safety reasons. Some people will likely spend 2-3 days inside one of them, and having some water with them will greatly improve their chances of suviving.
Gianni Simone
---
To learn more on the subject, check out our other articles :
No. 133 [FOCUS] Great Kanto Earthquake
No.133 [HISTORY] The dark side of the earthquake