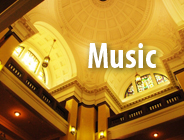 Akiko Ono launched her successful career after winning numerous prizes in prestigious competitions such as The Yehudi Menuhin and the Forval-Scholarship Stradivarius Competitions. She made her debut with Yehudi Menuhin and the Essen Philharmonic Orchestra at the UNICEF Gala Concert in Germany in 1998.
In the same year she was invited by Vanessa Redgrave to perform at the – UN Headquarter in New York to celebrate the 50th Anniversary of the 'Universal Declaration of Human Rights.
She has performed throughout the world with numerous famous orchestras including the London Chamber Orchestra, the Weimar Staatskapelle and the Tokyo Symphony Orchestra in prestigious venues such as the Wigmore Hall, Royal Festival Hall, Carnegie Hall and the Tokyo Metropolitan Festival Hall.
Details
Starts On
17/05/2018 - 19:00
Event Categories