Autumn bijoux – Japanese finest – jewellery pop-up edit.2; 1-31 October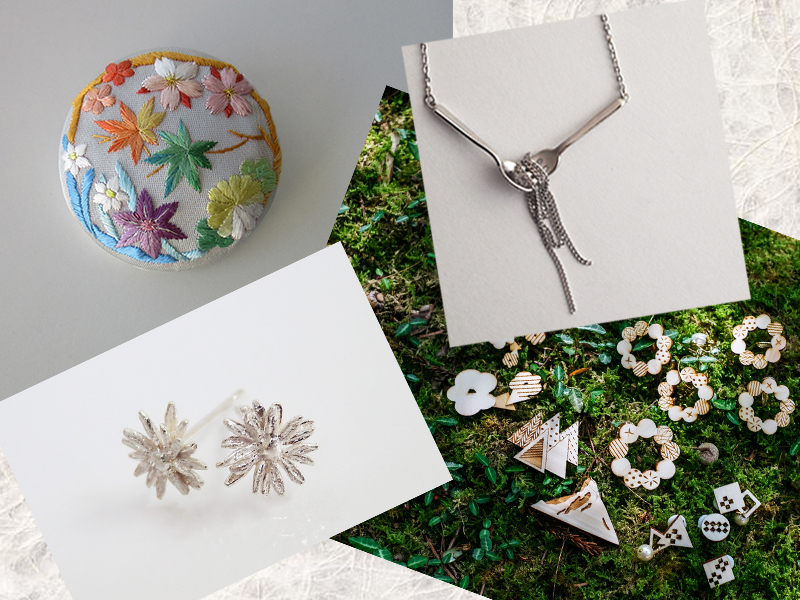 Participating artisans: A:, Ainsel, Little Branch, tukusi
A:
A: is a jewellery brand founded by two creators born and raised in an old part of Tokyo associated with craftsmanship. It was established in 2010 in Akihabara, Tokyo, after its founders completed the apprenticeship in metal carving under an accomplished jewellery artisan.
Their concept "Humour for design" narrates stories from everyday life with motives such as food, cutlery and tools adorning their jewellery.
The brand name "A:" originates from the exclamation "Ah!" that we use when impressed or surprised (the colon following the letter is here to indicate that the preceding vowel is long). The artisans, therefore, create jewellery that inspires us to share our impressions when our eyes catch the sight of their creation just like when we say "ah" wishing a memorable sight remained embedded in our memory.
Jewellery that we want to wear, to show and to talk about!
The artisans say they would like their work to be something that connects people and makes them enjoy their fashion choices even more.
Generating ideas on a daily basis, the artists wish to touch many people with their humour.
Ainsel
Story of Ainsel
Ainsel is an Anglian fairy whose name means "my own self".
As the word suggests, I derive the inspiration for my work from the world of nature – be it butterflies, flowers or anything classical.
It would make me happy if, wearing one of my pieces, you present yourself bewitchingly the way fairies do.
Brand concept
This delicate and elegant silver jewellery is inspired by the enchanting world of nature and Western antiques.
The experience of living in the UK informs my creative work. I find inspiration in everyday life and the world of nature and wish to deliver everyone joy and happiness through my work. The uniqueness of each piece is something I am absolutely dedicated to! As a founder of the brand, I take care of the entire creative process: from moulding to finishing as well as designing each piece.
Designer: Natsuko Miyazaki
Studied design at the Faculty of Art and Design at Kyushu Sangyo University.
Having worked as a designer in Japan, she moved to the UK and completed a short jewellery design course at Central Saint Martins.
Returning to Japan, she continued creating jewellery as a self-taught artist and in 2004 founded the brand "Ainsel". In the process she shifted her focus from fashion jewellery to the jewellery made of silver.
Little Branch
What is Little Branch?
Little Branch is a brand to provide many products from forests in Ehime for your everyday life. Please feel the fruitful natures of Ehime.
About accessories made from Hinoki(Japanese cypress) in Ehime
Ehime is one of major producing areas of Hinoki in Japan. Hinoki has a white and soft surface.And it also has an amazing aroma that has been loved by Japanese people from long ago. We have used them for building materials, furniture and other many things in Japan. But now, in the modern and urban life, we are losing the opportunity to use wood in Japan. I make Hinoki accessories without any coating to provide the opportunity to feel wood as it is.
The accessories are designed with the nature of Ehime(such as the sea, waves, Hinoki leaves, mountains and so on) and special products of Ehime(traditional fabric (called Iyo-kasuri), agricultural products(such as oranges) and so on). The accessories are made to be light so they do not put weight on your ears. The accessory's package is made by Washi(Japanese traditional paper) that is a special product of Uchiko, Ehime.
About Hinoki Essential oil
The essential oil is extracted from Hinoki leaves and trunks that are gathered by foresters in the forest of Ehime. You can tell from the scent of the oil that the leaves and trunks each have a different scent.
tukusi
The Japanese kimono has always been my passion. I admired, in particular, the embroidery adorning the garment itself or the obi belts. This inspired me to take up embroidery and begin a career as an artisan in 2014.
I turn embroidery into jewellery so that we can easily use and enjoy it in our modern life. The beautiful and delicate lustre of silk stands out in particular when used to create earrings, brooches and rings.
In my work, you will encounter breathtaking natural scenery from Japan or expressive animals – all of this I strive to depict vividly. It would make me happy if the jewellery in front of you brightened you up, bringing a bit of joy into your life.
Please feel free to touch and browse; I hope you will like it.
Caring about health of our customers and staff, we will be adhering to the social distancing measure guidelines.
OPENING HOURS:
MON-FRI 11:00-19:00
SAT 12:00-18:00
SUN closed
Details
Starts On
01/10/2020 - 11:00
Ends On
31/10/2020 - 18:00
Event Categories