Hiroko Inoue and Kisyu Miyata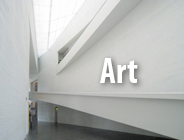 When the cultural organisation Japan Tide approached Leyden Gallery with the concept of an exhibition of promoting older Japanese women artists (all in their 70s) it was a perfect match as Leyden Gallery has for the last five years been building a reputation of supporting Women Artists, working with International Artists and also of being an intergenerational gallery space with a range of exciting events to match their exhibition programme.
Hiroko Inoue
Born in Hokkaido, Japan (1949). Although she studied Science at University Hiroko Hiroko also maintained a life-long study of arts and crafts.
She has studied both hat making and hand-drawn Yuzen (Traditional dying techniques in Japan). Hiroko also went on to work in fashion illustration in the USA. Inoue is involved in a wide range of creative fields, for example, decoupage, textile and fashion accessories. She has set up her own fashion brand and has expanded her creativity into designing stage costume for a ballet company in Japan.
For this show – her first solo exhibition outside of Japan (since Paris, France three years ago), she will be showing her fantastic worldview titled Space, Nature and Providence for which she has used Acrylic paint and pastels.
Kishu Miyata
Born in the Toyama prefecture in 1938 and raised in Tokyo. Kishu studied Shoga (Japanese Ink Painting) since her childhood. She is now a director and a judge of the National Association of Ink Drawing & Painting. She has invented her own style of ink art by using fibre glass and Gansai (Traditional Japanese pigments).
After she was awarded a Minister of International Trade and Industry Prize in Japan, she has actively presented her work in more than 50 exhibitions overseas. During the time of her solo shows in Paris and New York, her eccentric work has attracted attention as a new age of Ink art.
Details
Starts On
29/05/2018 - 00:00
Ends On
02/06/2018 - 00:00
Event Categories