No7 [Interview] Ichimura Masachika Interview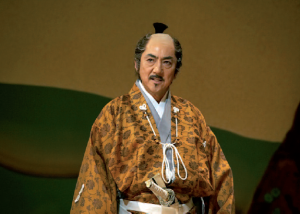 Zoom Japan have managed to get an exclusive interview with Ichimura Masachika, star of the play: Anjin: The Shogun and The English Samurai that is showing in London from Thursday the 31st of January to Saturday the 9th of February 2013.
Firstly, what was it that made you want to become a musical and stage actor?
Ichimura Masachika : I was an only child and was brought up in an environment where those around me would be delighted and praise me whenever I did something. I can remember being very happy whenever I entertained people and brought them joy. The catalyst that made me become an actor though came when I was in the third year of high school and saw a play called "Otto to Yobareru Nihonjin" (A Japanese man called Otto) by famed playwright Kinoshita Junji. In those short two to three hours I was enchanted by a world in which you could live exciting adventures and decided there and then that I would enter that world and
bring joy to many people through it.
You have played many varied parts in your career, such as Alan in Equus, Anderson, the phantom from Phantom of the Opera and Richard the 3rd. Even just among this selection there really are a great variety of different character types. Looking back, what would you say the most memorable role was for you?
I. M. : I particularly remember the productions I did when I was in the Gekidan Shiki group, such as West Side Story, Phantom of the Opera, Equus and The Elephant Man. Of the plays I appeared in after becoming a free agent I have deeply emotional recollections of Miss Saigon, Fiddler on the Roof and Richard the Third. I have appeared in a lot of Shakespeare and other plays written in Britain you know!
You have an image as a through and through stage actor but have also appeared in films and done voiceover work for anime. How do you view your work outside of the stage?
I. M. : There are some things that you just cannot do on a stage and can only be realised through film. I am always busy with my stage work but I do think of the world of film and television as within my territory too, and always make sure that I do at least one thing for that every year.
I recall many times where you have worked together with Kaga Takeshi and Yamaguchi Yuichiro, going back to the time when you were all members of Gekidan Shiki. Do you think that there a kind of affinity or compatibility between certain actors when they are working?
I. M. : I have known Mr. Kaga for a very long time and we both debuted at around the same time so I would say that he is a very good comrade of mine. Mr. Yamaguchi on the other hand is a pure musical actor and is junior to me in the industry. We have worked together many times in the past and I would like to do so again. I think you can say that we all have a pretty good affinity with each other.
You always appear so youthful and do not seem to have changed much since your Gekidan Shiki days. What in particular do you take care on when looking after yourself?
I. M. :Not overindulging in food and drink and exercising to get a sweat up I would say! I have also given up smoking. To keep in top condition I always try to avoid doing things that would put undue stress on my body. Apart from my work obviously.
Are there any differences in the attitude towards acting and training for the stage between Japanese and British actors?
I. M. : For British actors it is a given that you will be able to act, sing and dance. I think they all have a very thorough grounding in the basics of the stage. There are those in Japan that have built up the basics but an individual's potential and natural affinity is what is seen as important there. That point of view is different I feel.
With the opening of Anjin in London this coming January, please could you say a few words for the British audiences who are looking forward to the show and maybe let them know what to look out for?
I. M. : This is a story set 400 years ago, at the time of Shakespeare, when a lone Englishman washed up in Japan during its warring states period and encountered Shogun Tokugawa Ieyasu. Tokugawa had many dreams and learned a lot from meeting him.
It is a man's tale of meeting, sadness, friendship and parting. I hope audiences can enjoy this unique meeting of Britain and Japan.
Interview by Van Yoshiki
PROFILE
ICHIMURA MASACHIKA. Debuted in 1973 in the Gekidan Shiki production of Jesus Christ Superstar before going on to perform in such diverse formats as musicals, straight plays and one man shows. Not limiting himself to Japan, Ichimura has also given acclaimed performances around the world. Lauded for his sublime acting skills, he has received many awards and in 2007 received the Medal of Honour with Purple Ribbon the in the name of Emperor Akihito.
SHOW INFORMATION
ANJIN: THE SHOGUN AND THE ENGLISH SAMURAI
Thursday the 31st of January to Saturday the 9th of February 2013
Venue : Sadler's Wells
For more information : www.sadlerswells.com