No14 [Mascot] The Kumamon bear – happiness, made in Japan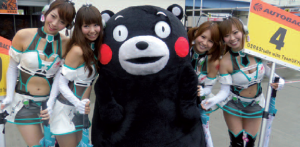 One of the hundreds of friendly mascot characters in Japan, this adorable bear from Kumamoto prefecture who has captured the hearts of a nation came to Europe last July.
On the fifth floor of the Loft department store in Shibuya, one of Tokyo's most vibrant districts, the first time visitor might be taken by surprise. It is populated by "kyarakuta", also called "yurukyara". The word was borrowed from the English word character to describe these imaginary figures from Japanese popular culture. Some are heroes in animated films, others represent brands or local authorities. Such is the case for Kumamon, who takes up a great deal of space at Loft. The black bear with red cheeks has become one of Japan's favourite characters. It was created in 2011 for the inauguration of the express train line on Kyushu Island, in the south of the country. Kumamon's mission was to represent Kumamoto, one of the cities on the railway, and attract tourists. However, the mascot ended up doing far more. In the space of a few months, it conquered the hearts of most Japanese people. According to a study published by the Research Centre on Regional Economy in April 2013, 87 % of people questioned know about Kumamon and 91% associate it with Kumamoto. Its great success in terms of image also translates into substantial commercial success. The turnover generated by the character reached 25.5 billion yen in its first year of existence (£167 million).
Kumamon comes in a variety of forms at Loft. As a smartphone shell, a classic stuffed toy, as figurines and as stationery, the black bear fills several shelves. Its main asset is being kawaii (cute) – a notion that has travelled beyond Japan's borders. The word hasn't made it into the dictionary yet, but it can sometimes be found in magazines to describe objects, clothes and an aesthetic inspired by Japanese pop culture.
In July 2013 Kumamon appeared in France during Japan Expo, the yearly Japanese pop culture event that takes place in Paris and attracts over 200,000 visitors. Its presence was a reminder of how influential these characters are throughout the world. According to a yearly BBC World Service poll on the image that different countries project, Japan has figured in the top four over the past few years. Japan doesn't owe this achievement to its practically non-existent diplomacy, but to the friendly faces of dozens of kyarakuta that have been appearing over the past two decades. The Pokemon video game characters were Japan's best ambassadors at the start of the 21st century. As well as their presence on TV screens and Game Boys, they could also be found on the sides of All Nippon Airways fleet of 747 planes that travel worldwide. Now it's Kumamon's turn to promote the image of the Land of the Rising Sun across the world. Japan Airlines uses it on their meal trays. In Asia where relations between Japan and its neighbours are sometimes tense, characters such as Kumamon help smooth things over. This is especially true in China where young people are very attached to such kawaii (pronounced as keai in mandarin Chinese) characters, and are often less inclined to demonstrate against Japan when diplomatic relations deteriorate. On the 5th floor of Loft, a Chinese couple stroll among the Kumamon products. The signs are that turnover generated by the red-cheeked bear will continue to grow. "He's really so cute," says the young woman about the Kumamon stuffed toy she has just handed to her partner. Just like them, millions of tourists come to Japan and bring back products inspired by the kyarakuta that cities use to help seduce visitors. During the first six months of 2013 Japan attracted 4.0 million tourists, 22.8% more than the previous year during the same period. So it isn't surprising that Kumamon has such a big smile.
Odaira Namihei