No14 [Event] Brighton, in tune with Tokyo again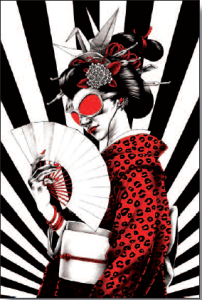 The Brighton Japan festival intends to leave its mark for the sixth year running and this time is introducing a more international dimension.
Brighton he yokoso! is what to say in Japanese to welcome visitors to this famous English seaside town. Despite its English location, Brighton will be adopting its best Japanese accent from the 13th to the 22nd of September for the Brighton Japan Festival. What was just a modest one-day meeting about Japanese culture six years ago, has been transformed into an unmissable event that takes place over several days and attracts thousands of people. Last year's event attracted 25,000 visitors. This growing enthusiasm can be attributed to the rise in popularity of Japanese pop culture in Britain, although it seemed this phenomenon had passed the country by compared to the rest of the Europe. In France, Japan Expo is in its 14th year and attracts over 200,000 visitors. Brighton Japan Festival might become as popular one day and is responding to the British public's growing passion for Japanese culture. The event's increase in visitors has meant a change of location, with the organizers deciding to move it to the beautiful gardens of Old Steine, near the Palace Pier on the sea front. This is already a major attraction for tourists, who will now also be able to find out about Japanese culture. One of this event's aims is to offer a rich and varied programme of surprises. As its organizers say, "Our mission is to make Brighton Japan a platform for Japanese performers and artists to promote themselves in the UK and Europe. Japanese bands will converge on Brighton Japan, Harajuku-style, to vie with each other for media and audience attention". This ambition is reflected in the very eclectic programme of events. On the 16th of September the pianist Aisa Ijiri, one of her generation's most gifted musicians, will be playing alongside Ts'ui, a band that mixes traditional instruments (shakuhachi, koto) with more modern instruments as well as foreign rhythms. On the 18th of September, Taiko Meantime will turn the traditional rhythm of Japanese drums into an exhilarating experience for the audience. Mark Alcock, the band's leader, promises a musical journey – a journey that demands the utmost levels of physicality and athleticism from his players. But music is not all that is on offer at Brighton Japan Festival. It is also a place where you can get to know about Japanese cinema, which is under-represented in the British film scene. Again, eclecticism guided the choice of films. On the 13th of September, lovers of disturbing and powerful films will be able to enjoy Tetsuo Shinya Tsujamoto and Audition by Takashi Miike. A week later, studio Ghibli and their famous representative Hayao Miyazaki will be in the spotlight with two animation films: Ponyo and Spirited Away. Two classics which Guardian film writer Peter Bradshaw said left jim "feeling lighter than air" some years ago.
As an important part of Japanese popular culture, animation is well represented at Brighton Japan Festival – as is fashion. Starting on the 14th of September there will be a special focus on Tokyo's street styles, including the Harajuku district which is at its heart. " Direct from the captivating and unique streets of Tokyo, Brighton Japan brings you a weekend of Fashion, Manga, Cosplay and music. Experience the vibrant and creative culture of Harajuku with the street style fashion show, on stage transformations and amazing stalls and traders. Delve into the dynamic and exciting world of Cosplay with our Cosparade competition and Cosplay ball. Get creative at one of our workshops on everything from creating and customizing your costume to special effects makeup and Manga artistry," say the organizers. The next day, manga and JPop workshops will allow everyone to express their creativity. One of the aims of this event is also to include the visitors in creative activities. Last but not least, Japan's biggest video games will also be there. With such a programme, there is no doubt Brighton Japan Festival will attract plenty of visitors again this year. Welcome to Brighton!
G. B.