No19 [Interview] Colorful, the story of a family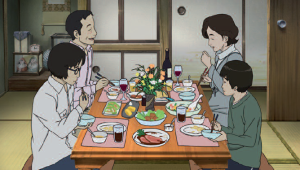 © 2010 ETO MORI / FUJI TELEVISION NETWORK, INC. / SUNRISE INC. / DENTSU INC. / ANIPLEX INC./SONY MUSIC ENTERTAINMENT (JAPAN) INC. / TOHO CO., LTD. ALL RIGHTS RESERVED
You can discover Hara Keiichi's fabulous film during The Japan Foundation Touring Film Programme.
Could you tell us about the origins of Colorful?
Hara Keiichi: I was still working on my previous film, Summer Days with Coo, when the person who subsequently became the director of the Sunrise Studio introduced herself and asked me to read Mori Eto's novel. She wanted me to adapt it. Sunrise is known for its action and robot films.
Weren't you surprised that they contacted you about a film that has nothing to do with that genre?
H. K.: Yes, indeed. I was quite surprised by their approach. I wondered if the studio wanted to offer me the chance to make a robot film, which I wasn't at all ready for. But I was just as surprised to find out that somebody at Sunrise had wanted to adapt this book for a long time.
Again, with Colorful you express your love of making realistic films. How do you explain this need to anchor your films to real life?
H. K.: I do actually attach a lot of importance to scenes inspired by real life experiences. I work hard on the details. I think it's due to the influence that many films and directors have had on me. I appreciated their work on the details of the lives they decided to describe, and I think it encourages me now to recreate similar situations that make the viewer reflect on their own existence. I like those kinds of films because they have a lot to say about the society in which live and how we're part of it.
Which directors influenced you, exactly?
H. K.: The most famous are Ozu and Mizoguchi. But my favourite by far is Kinoshita Keisuke, for his films 24 Eyes (1954) and Immortal love (1961).
In Colorful, Makoto, the main character, is a very ordinary person. Wasn't that a problem for a film produced by Sunrise? Weren't they expecting something more unusual?
H. K.: Sunrise gave me carte blanche with this project. They never asked me to change the characters, or for more action. And the person in charge of the character design at Sunrise was the person who handed Colorful to me and asked me to direct it. She introduced me to Yamagata Atsushi, the character designer. We immediately got along.
What is striking in this film, is the care put into the setting. you're used to choosing places that really exist to set your stories in aren't you?
H. K.: Indeed, it is quite characteristic of most of my films. For Colorful, when I started thinking about the setting, I realized that the neighbourhood in which I live, Futako-Tamagawa in Tokyo, would be perfect for this story. Of course, it was practical for me. So I used it a lot for the film. Every time I had a doubt about a detail of the setting, all I needed to do was to get on my bike and go and see for myself. Drawing inspiration from real places allows me to have more ideas and develop some freedom from the story. For example, the tramway part doesn't exist in the novel, I was able to add it because it existed in reality. One day, when biking over this bridge, I stopped and realized that it was a perfect place for the film to end. Yet when you reach the highest spot on the bridge, the landscape isn't that beautiful. It's not an exceptional place but I decided that it was the best place for the film because of its open view and its continuous flow of cars. I immediately thought it was the best place to end the story.
Family is one of the main themes at the heart of Colorful isn't it?
H. K.: I'm interested in this topic because family is a complex element and relations between individuals at the heart of the family setting are you can discover Hara Keiichi's fabulous film during The Japan Foundation Touring Film Programme. MOVIES Colorful, the story of a family particularly interesting to watch. The family is a much richer subject than relations between friends or colleagues. The family is full of dramatic elements that can enrich the stories I wish to use for my films. My aim with animated films isn't to describe a fantasy world. I'm interested in describing the relations between individuals. Family is perfect for that. In some ways you could, we could say that the topic I chose to work with is fantastic compared to what usually appears in animation (laughs).
Having seen Colorful, why make an animated film rather than a film with real actors?
H. K.: I've never really wanted to shoot films, it's animation I've always been attracted to. I don't have any problems with respect to classical cinema but since I've been doing animation I often have real images in mind when creating my films. But when I see the rushes, I realize that I'm actually making an animation film (laughs).
So ultimately, do you do animation because the characters are easier to work with than real actors?
H. K.: I have nothing against shooting liveaction films. But with my personality, I am more inclined to make animated films because I have more time to think about each scene. The time pressure is easier to deal with when working on an animated film than on a classical shoot. And the characters in an animation don't have the same experience as the actors that appear as different characters in other films. That is something to appreciate and it makes things easier.
Interview by Gabriel Bernard