No2 [Interview] Miyazaki at the BFI Southbank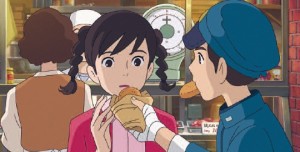 Copyright Studios Ghibli
On June 8th at 6 pm, during a weekend dedicated to anime, the BFI Southbank will be presenting Miyazaki's long awaited From Up on Poppy Hill. The director reveals the secrets of how it was made.
There were five years between the making of Takes from Earthsea and From Up on Poppy Hill. Why have you waited so long before making your second feature film?
Miyazaki Goro: Five years. That is a long time [he laughs]. I hesitated a lot before deciding to direct another feature film. After Takes from Earthsea, I went back to work at the Ghibli museum and hid away there.
What were you hiding from?
M. G.: I was hiding from my producer Suzuki Toshio. If I had been in the studio, he would have pestered me about starting a second movie. And, as a director, I think it is harder to make a second movie than to direct one the first time round. A second feature film confirms your desire for a career as a director. It implies continuing to make movies and, above all, having your work judged more severely. All of this added to my hesitation. I was really scared of the moment I would be asked to direct a second film.
How did From Up on Poppy Hill come together?
M. G.: After Ponyo was released (2008), my father, Miyazaki Hayao, decided that the Ghibli studios would produce another two films by young directors over a three year period. First came The Secret World of Arrietty (2010), then From Up on Poppy Hill.
What was your reaction when your father submitted the project to you?
M. G.: I already knew the manga from which the movie is adapted. I read it as a child. So when I was told about this project, I remembered reading it and how I had wanted to make something from it. My father had been interested in this story for a long time. It was quite moving, because I could remember the discussions he used to have with friends about it thirty years ago, on how a shojo (a manga for young girls) could or couldn't be adapted into a movie. So I was honored when I found out he had decided to entrust me with a project so dear to him.
You were born in 1967 and the story takes place in 1963, at a time before you were born. How did you prepare for that? Did your father help you with the setting?
M. G.:My father gave me ideas on how to make that period look as realistic as possible. He pointed me in the right direction. For example, he reminded me that there were still many pine trees back then, not all the roads were covered in tarmac, and the boundary between the street and what lay beyond wasn't as well defined as it is today with pavements everywhere. He also gave me advice on food and interior design. But I didn't want to end up with an oldfashioned or sepia-coloured impression of that time, even if it is set fifty years ago. And, as, my father told me, a story set in the past also relates to current day events. And the present day is always beautiful. I believe that not sticking to the past is what gives this movie its charm and makes it interesting.
Does this film express the current Japanese nostalgia for the sixties?
M. G.: No, because my idea wasn't to make a nostalgic movie. The movie isn't meant to idealize that period, because I have very little sympathy for the sixties' generation.
War is ever-present in your movie.
M. G.: I believe that 1963, when the movie is set, is an important transition period between two moments in Japan's History. Before 1963, it was the post-war period, during which Japan was being rebuilt. After 1963, is when the country started to experience strong economic growth. From that time onwards, everything revolved around money in Japanese everyday life. That is why I chose to set the story in 1963. I didn't want to tell a story relating to corruption. It is also no surprise that the war is part of the story's background as it was still very common in everyday conversation. Japanese were warvictims, and it had obvious consequences on teenagers' lives. Inevitably.
Concerning the characters, in Umi's case, I was wondering if you had been inspired by female movie stars in the 50s and 60s, such as Yoshinaga Sayuri.
M. G.: Yes indeed. I watched many movies dating back to that period, particularly those by Nikkatsu, who was specialized in youth movies (seishun eiga). In a way, I wanted to recreate the charm of those movies in From Up on the Poppy Hill. That is probably why Umi reminds you of Yoshinaga Sayuri.
On the other hand though, the other lead character, Shun, seems less inspired by one of these seishun eiga.
M. G.: Yes, maybe because Shun is closer to me (he laughs). Boys of that age are often uneasy with girls, and in society more generally. Although passionate, they find it difficult to express passions. I believe that is what Shun is like.
Is that what you are like?
M. G.:Maybe [he laughs]. When my father saw the movie for the first time, he told me he hadn't imagined Shun to be as clumsy as that. And he added: "That's the spitting image of Goro!"
Interview by Gabriel Bernard
INFORMATION
From 8th to 10th June, the BFI Southbank will be dedicated to anime. As well as From Up on the Poppy Hill, Full Metal Alchemist 2 (2011), with special guests director Murata Kazuya and producer Minami Masahiko for Q&A, and The Princess and the Pilot (2011), will have their UK premieres. Gintama: the Movie (2010) and Shinkai Makoto's latest film Children Who Chase Lost Voices from Deep Below (2011) are also part of the program. Don't miss this!
www.bfi.org.uk/southbank