No6 [Interview]Tha Blue Herb, alive and kicking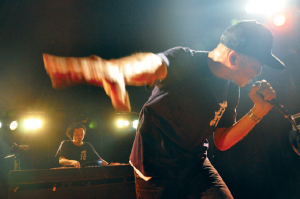 From left to right, O.N.O. the beat maker, and Boss, the MC (master of ceremony). The two members of Tha Blue Herb.
You are from Hokkaido. Your regional roots are often said to be very important to you. Why is that?
Boss : It's very simple. This is where we were born, where we grew up, and where we still live today. Before we formed Tha Blue Herb, all hip hop business was concentrated in Tokyo. Labels, producers, media, everything took place in the capital. If people from outside the capital wanted to break through, they needed to forget about their past and their origins, move to Tokyo and do rap there. We would see the MCs (masters of ceremony) come from the capital to perform in Hokkaido and have girls fall for them. In some way, it looked like the setting up of a system of submission. It was just unbearable. If someone didn't accept you, there was no chance of recording any music. We couldn't tolerate such a system. In Hokkaido, there were all kinds of music we could study. We were inspired by a lot of it. By making music that could only have come from this area, we were able to turn the situation around, so that not all decisions would be made in Tokyo anymore. Since then, a similar trend has been developing in other parts of Japan. There are many lovely places in this country. And although we have friends all over the country, we always like to come back to Hokkaido, to Sapporo, this city covered in snow, where I like to write.
What are the topics that inspire you?
Boss : It all depends on the moment. I'm obviously very interested in the situation that Japan is in today, and its future. Japan is a quiet country, but it comes at a price, which is having a controlled society. It's a country with some wonderful traditions, but there are also many things that are old fashioned and should not be accepted anymore. Then there is our neighbour, to the west, that is slowly waking up with the appetite of a dragon. As you can see, we have all we need in terms of inspiration.
I imagine you meet many Japanese musicians and you listen to a lot of them as well. How do you feel about Imawano Kiyoshiro?
Boss : We perform many concerts. It's always a great opportunity to meet musicians with great talent. But I don't listen to that many of them back home. I have piles of CDs that I have bought, but I haven't listened to all of them (laughs). On the other hand, I often listen to Imawano Kiyoshiro. I often play his cover of John Lennon's Imagine with my friends after a party, when the sun is about to rise over Hokkaido.
Your own compositions are well known in Hokkaido and the rest of Japan. Don't you think Tha Blue Herb's songs could be exported? Would you come to Britain if you were invited?
Boss : Of course! However, you must remember we are rappers. Many foreign rappers perform in Japan, and the Japanese audience doesn't always understand what they are on about. But if you do it well, you can still succeed in conveying something. That is all that counts. That is why I would really like Tha Blue Herb to perform in France. There is the language barrier, which isn't easy to overcome. But if we perform properly, we can get over it. The message just isn't conveyed as instantaneously. I know we have some listeners in Great Britain. We have had messages from British people who have told us they like our music and that they listen to our music regularly. That's very cool. So all we need now is to take an additional step forward. It would be great if a skilful French rapper translated our songs.
Interview by Gabriel Bernard
Photo: Tha Blue Herb