No20 [Music] Yoshiki back to England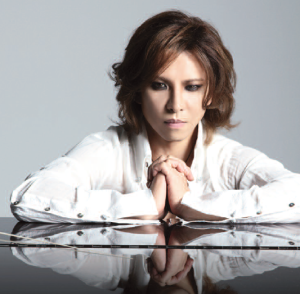 Considered as one of Japan's most influential artists, the founder of XJapan will be in London just for one night.
 
Tell us about your memories of London and any interesting episodes you had here.
Yoshiki: The first place I ever went abroad was London. At the time, X (now X Japan) was signed to Sony Records and they told all of the band members that we could go to any country we liked. Everyone chose America but I came to London and then on to Paris. I had a fascination with the punk scene in London and so I went to lots of shops selling punk clothing and remember being impressed at how cool everything looked.
You are currently doing a solo tour and, unlike when touring with X Japan, there are no other band members travelling the world together with you, so do you sometimes get lonely?
Y.: Well, I get a bit nervous. (Laughs) so I really appreciate the support of all my fans.
What can we expect from your concert tour?
Y.: I will be playing some of the X Japan songs as well as newer songs like a piece I wrote for his majesty the Emperor and the song I wrote for last year's Golden Globe awards. I also want to include some conversations with the audience between the music. I will be bringing along a big video screen so I think it will be pretty high tech for a classical concert! There will be pieces that I only play in London so you can look forward to those!
Are X Japan planning any new songs and concert tours?
Y.: We are indeed… The plans have not fully come together yet but I think we will start moving into gear around autumn.
You are currently based in Los Angeles but are there ever times when you miss life in Japan?
Y.: Recently I have been travelling to Tokyo around once a month so I don't really start to miss it all that much. It actually feels more like I am living all over the world rather than just living in LA. I am always very busy travelling around the planet but I really am grateful that I can be in this position.
Have you thought of moving to live in Europe or in London in the future?
Y.: I think I will be coming here (London and Europe) a bit more frequently in the future.
You were recently visiting the areas hit by the great Tohoku earthquake disaster. What was your purpose in going there?
Y.: I run a charity organisation but I don't just want to send money and recently went to see what people need it and where, and also to find out what kinds of jobs everyone is doing to help. When I saw the children who lost their parents it impressed on me that I have to try my hardest for them as well, and I received some of their courage.
From your perspective, what do you think everyone can do to help with the rebuilding from the disasters?
Y.: I think it is very important that each person involved looks carefully at defining the problems faced in the recovery.
This is going back quite a bit, but in August 1992 there was a press conference held at the Rockefella building in New York, looking to X Japan's future activities overseas world debut , and at that conference you said that you wanted to show the world "Heart and Spirit". Do you think that you have gotten that message across by now?
Y.: Not yet…… I think I am still in the process of doing that.
So what message do you want to get across with your current world tour then?
Y.: I want everyone to see the different barriers that you come up against when a rock musician does classical!
Put simply?
Y.: Love.
Lastly,Please could you tell all of ZOOM JAPAN's readers about your favourite holiday destination place and what you think is the appeal attraction of Japan?
Y.: A place that I like to visit is Kyoto but Kyoto is my favourite place! It is pretty difficult to sum up what is appealing the attraction about Japan (and the Japanese people) in words… I think it is having empathy for other people in our hearts.
Interview by Yuko Fujiwara