No19 [Revolution] A reinvented bookstore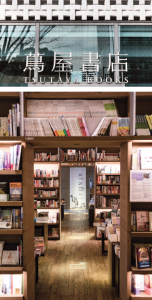 Not only is it architecturally remarkable, Tsutaya Daikanyama also owes its success to its original business model.
This place made the Flavorwire website's list of the 20 most beautiful bookstores in the world. While probably not as amazing and eye-catching as most of the other shops featured on that list, book, music and film retail giant Tsutaya's recent addition has a subdued charm based on clean design and a clever use of light and shadows. Indeed, Tokyo based Klein Dytham Architecture (the same firm who built Shiseido the Ginza) received an award at the World Architecture Festival for this project. Spread across three connecting buildings (a total of 12,000 square metres), the gargantuan TSite also houses camera, bicycle, pet and stationery shops besides a Starbucks, a Family Mart and a couple of cafes, but we are mainly interested in the book side of the business, so we'll make a bee line for the fashionable bookstore. Before entering though, we have time to admire the building's stylish facade, which cleverly sports a myriad of interlocking white Ts from – Tsutaya's logo. The 140,000 books in stock (mostly in Japanese but with an interesting English-language selection) are scattered around the three buildings and divided into six areas: humanities and literature, architecture and interiors, art and design, cars, food, and travel, and there are also a number of rare collectors' items (in the Anjin lounge bar on the second floor of building no. 2 you can admire a 1958 edition of J.D. Salinger's "The Catcher in the Rye" on sale for 147,000 yen).
The travel section even features a travel desk in case you have the urge to book a trip after leafing through all those guides. The choice of periodicals and music albums on sale reflects the unique concept behind the project, which generally seems to appeal to a more mature clientele than the usual trendy youngsters who normally flock to this area. For instance, the music section features many vinyl records from the 1950s and '60s and you can choose from 30,000 back issues of magazines dating to the 1970s. Such venerable titles as the now defunct Heibon Punch can also be read at leisure while sitting on the lounge bar's plush leather seats. This is arguably the best looking area in the whole shop and features some beautifully clever touches like the stacks of books that form the base of the counter and the sidetables. Tsutaya is mainly famous for renting music and movies all over Japan and this shop stocks close to 80,000 DVDs and 100,000 CDs. In other words, the store seems to be pushing a business model that is rapidly disappearing in many other countries, thus generally bucking all recent trends. This said, Japan is probably one of the last places where such an approach can actually be successful, considering the continual expansion of the generation of over 50s with lots of money, eager to spend it on luxury goods. In order to accommodate both their tastes and those of other customers, Tsutaya has mixed many different things together under the same roof in order to create original juxtapositions. So in the travel section they not only sell guidebooks but even bags and travel-themed DVDs, while in the food area actual food is sold alongside cookbooks and food-themed magazines. Likewise, the English books are not crammed into one space but liberally mixed with those written in the local language. Whatever your tastes, be sure to enjoy the hunt!
J. D.
Photo: Jérémie Souteyrat