No23 [Focus] Mascot planet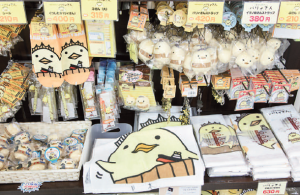 After becoming Japan's favourite little characters, the rest of the world is now falling for this army of cheerful town mascots.
You simply cannot miss them. Mascots are everywhere. Kyara (from the English word "character"), as they are known in Japan, have invaded the urban landscape, TV and advertising as never before. There are two broad types: yuru kyara, the somewhat clumsy mascots loved by the Japanese and the Gotouchi kyara, or regional mascots that represent a city or a region. Whatever their genre, mascots are now found everywhere in Japan. It isn't a recent phenomenon, but the number of these characters has increased considerably over the past four years, as if the Japanese need to find some comfort not available to them through traditional methods. This is the considered opinion of Koyama Kundo, creator of Kumamon, the most famous mascot of the past few years. He believes that these characters have replaced the politicians, who have turned their attention to matters far away from the preoccupations of ordinary people. Kyara are developed both in commercial and institutional contexts, as was the case with Kumamon, although the character designs themselves are often created anonymously, such as Funasshi, who now unofficially represents the city of Funahashi in Chiba Prefecture, east of Tokyo.
It was an anonymous inhabitant if the city who dreamed up this unisex pear-shaped (nashi means pear in Japanese) mascot. This energetic and talkative character soon gained a fan club and became one of the archipelago's most popular mascots. Despite the fact that the local authorities refuse to recognize him as an official mascot (for reasons related to controlling their image), one must admit that he has greatly contributed to the city's popularity. In August 2013, Funasshi was elected number one mascot in Japan, thus defeating Kumamon. Mascots also mean business. Funasshi, who doesn't officially represent any local authority, still generated a turnover of 868 million yen in 2013. His frequent presence on TV has also contributed to this success. As for Kumamon, Kumamoto's official kyara, his turnover is even more considerable, totalling 29 billion yen. The black bear that everybody falls for was even praised by the Emperor when he travelled to the prefecture in October. The revenues they generate increase the further away the mascots become known from their region of origin, which is why they take part in regional and national competitions all over the country. The city of Hanyu in Saitama Prefecture, north of Tokyo, organizes the International Summit of Mascots (Sekai kyarakuta samitto in Hanyu). When it was held last year on the 23rd and 24th of November, 450,000 people travelled to see 452 yuru kyara compete for their regions. When it next takes place on the 22nd and 23rd of November 2014, the organizers are expecting an even larger audience for the event, which is attracting the highest levels of attention. In the same way that mascots are able to seduce the Japanese, they can also help improve Japan's image abroad, which is all the more important at this time in the country's history, when the Japanese government is in need of support. While it is in the midst of economic recovery under the leadership of Prime Minister Abe Shinzo, the Land of the Rising Sun is also in conflict with its closest neighbours, particularly China.
The territorial disagreement related to the Senkaku Islands (called Daoyu in China), as well as their different approaches to their common history, have both led to an unprecedented war of words. On the diplomatic level, Japan still lacks experience and confidence in comparison to China, but it has a strong advantage thanks to its popular culture, with successes such as Japan Expo in France, and Hyper Japan in Great Britain, that promote a positive image to a foreign audience. In addition to other famous cultural products like manga, the mascots also have their role to play when presented at these events, both to promote their region of origin, and indirectly, Japan as a whole. The mascots aren't just cute looking characters; their role is an important one. In November 2013, Harvard University organized a seminar called "Political Economy of Kumamon", during which the governor of Kumamoto Prefecture, Kabashima Ikuo, explained his vision of the world. "After 2008's financial crisis, I realized that we needed to change our values, and to promote happiness as essential," he explained as he illustrated the key role played by Kumamon. It may appear anecdotal, but this represents a huge challenge. According to the BBC, which organizes a poll every year to find the world's most popular countries, Japan's international popularity is decreasing slightly. The Land of the Rising Sun is now in 5th place, after dropping two places since 2013. Abe Shinzo's decision last December to visit the Yasukuni sanctuary, where war criminals are honoured, may have had an influence on global perceptions and somewhat tarnished Japan's reputation. That's probably why the Liberal Democratic Party (LDP), of which Mr Abe is president, launched a competition for a mascot inspired by the Prime Minister and Ishiba Shigeru, its general secretary, in an attempt to make the government's policies seem more sympathetic. In any case, mascots will surely continue to reign over the archipelago. Recently, Aoki Sadashige published a book that perfectly describes these characters' influence. Kyarakuta Pawa [The power of the mascots, pub. NHK Shuppan shinsho, not available in English] stresses the fact that this phenomenon is not about to disappear, because people have become deeply psychologically attached to these yuru kyara with whom they interact daily.
Odaira Namihei
Photo: Jérémie Souteyrat