No23 [Focus] Characters who serve the public interest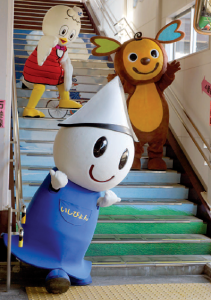 In Ishinomaki, in the region ravaged by 2011's tsunami, mascots are a source of comfort.
They have been the height of fashion lately, and one can bear witness to the birth of an increasing variety of mascots in Japan. Not only are there mascots for each prefecture, but also for different cities and villages, even for shops and individual town neighbourhoods. Of course, they are very kawaii (cute), but they all have their own peculiar of gait, their own way of speaking and their own particular appearance, which at first glance sometimes looks pretty ugly. Even so, these mascots bring smiles to Japanese faces every day. In the region of Ishinomaki, some of the local mascots are just as cute as others that are more wellknown across Japan. The Ishipyons represent the city of Ishinomaki and are a couple made up of Ishipyon and his girlfriend Ishipi. They are in great demand for local events, and are always surrounded by a flock of beaming children. Ishipyon was born in 2008 on the occasion of the third anniversary of the expansion of Ishinomaki (by merging with nearby towns). After a public competition, this particular mascot was the one selected out of 429, with his head depicting a stone (ishi) and a fish in his hand representing the town's motto "Culinary diversity, emotion, Ishinomaki".
Ishipi, Ishipyon's partner, was born the following year and they became a blue and pink couple, and immediately seduced the city's residents. Ishipyon is irresistible when he claps his hands and cheers everyone on. With his short, stubby arms outstretched, he is adorable. Meanwhile, Ishipi is crazy about stir-fry noodles, Ishinomaki's local specialty. She also boasts about being much better at clapping than her boyfriend. They both love children and dream of travelling abroad and making their town into a tourist destination. Two songs were also composed in their honour, Ishinomaki guruguru jankenpon [Rock-paper-scissors-Ishinomaki whirl winds] and Makisen Oritara [When you step off Ishinomaki's train], to which they both dance joyfully with the children, pretending to stumble for everyone's entertainment. As their name suggests, the Ishipyons both skip about (pyon is onomatopoeic for a skip) and when you meet them in the street, you can't help but laugh. Let's also meet Ito and Ina, the mascots for the town of Higashi-Matsushima. The first has a sweet tooth, the second is timid and both have enormous eyes. Ito and his little sister Ina have become so famous they sometimes appear in TV commercials. Ito came into existence first, in 2005, one year after the expansion of Higashi-Matsushima.
His name is made up from the first part of the word "east" as it would be pronounced in Japanese phonetics (The "Higashi" in the town's name means east) and the second part of the word "heart" (pronounced haato in Japanese). Their ears are like the cherry tree petals that form the town's emblem, while their blue and green colours represent the sea and nature. The hair on their heads stands up like a signal when they find some good things to eat or fun events to attend. Their faces are the shape of the hiragana character ひ(hi), the first syllable of the town's name, literally representing the fact that they are the face of the town. In 2010, after an "investigation" led by the local council, it was discovered that Ito had a little sister called Ina. Following the investigation, it was also revealed that Ito is a small 5 year old elf who loves food. He especially enjoys seafood and local produce from the fields. He never misses a neighbourhood celebration and one of his talents is understanding the local Higashi-Matsushima dialect. His little sister Ina is a very timid girl. Because she would listen to her brother tell stories about the town, she decided to go there and discover it herself. Let's now talk about Onagawa's celebrity character. With his white, translucent feathers, his sailor's cap and his yellow beak, Shiparu-chan, 23 years old, is this neighbourhood's mascot. If he disappeared after the earthquake, it was because he'd flown to the southern islands where he made an effort to spruce himself up before coming back with a bang.
His transformation was astonishing as he suddenly started to talk when he became the neighbourhood's mascot. As he is a real chatterbox, he is often told to "shut his beak"! Born on Ashijima Island, well known for its black-tailed seagull sanctuary, his name is made up of the words shi (a Japanese pronunciation of the English word "sea") and the word paru (a pronunciation of the English word "pal"). He appears to be a boy, but sometimes as if by magic, he suddenly turns into a female character. Unlike other seagulls, known for defending their territory, he is kind hearted and dislikes conflicts, to the point where he sometimes lets go of his prey. He also has a habit of adding paru at the end of every word, as with ganparu instead of ganbaru ("to do one's best"). As I wrote this feature, I was greatly surprised by the large diversity of mascots present in the Ishinomaki region. It is no exaggeration to say that the whole region of Ishinomaki is a real treasure trove of lively characters. They came into being due to many different circumstances and the stories around their births are often a little ridiculous, but they all have the common aim of sharing the warmth the people who helped create them experienced, and demonstrating their wish to share this affection. That's why mascots make people smile and laugh. This feature was written with the help of Ishinomaki's JR railway station. It was an opportunity to bring together the major mascots of Ishinomaki region, cheerful characters bring joy to all who see them.
Ohmi Shun
Photo: WATANABE Yûki – Ishinomaki Hibi Shimbun