No28 [Focus] Japan has lost its way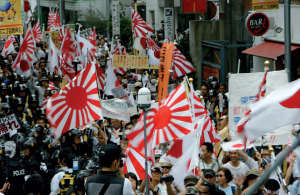 Relations between Japan and North Korea are complex, and the situation weighs increasingly heavily on Japanese society.
On the 13th of January, TV news programmes featured a couple named Mr and Mrs Yokota (see page 8-9). For 37 years, Shigeru and Sakie have been fighting for the return of their daughter who was kidnapped by North Korean agents. After several months of silence while negotiations resumed between Tokyo and Pyongyang, these two long suffering parents, whose bravery can only be admired, decided to hold press conferences once again in order to raise awareness about the return of Japanese citizens who have been kidnapped by North Korea. Over the past fifteen years they have held more than 1,400 such meetings and despite their advanced age they have maintained the desire and hope of one day seeing their daughter again, who turned 50 last year. For several months they had taken a back seat while negotiations between the Japanese and North Korean governments took place. At first the informal negotiations were held in secret, but they took a new turn when Pyongyang reopened their files on those who had been kidnapped, files that had remained closed for a decade or more. After making great progress in 2002, when several people were allowed to return home, North Korea had decided to take a stronger stance against Japan and to pursue its nuclear programme, which in turn led to Japan and its allies hardening their attitudes towards North Korea. In addition to the United Nations sanctions, Japan added its own, preventing any bilateral negotiations for many months.
The situation changed after Abe Shinzo's Liberal- Democrat party's victory in the December 2012 elections. The new Prime Minister, who was very closely involved in the 2002 negotiations, considers the kidnapping cases important, even mentioning in September 2012 that the "government's mission will not be concluded" until the whole truth is revealed, including uncovering the details of Yokota Megumi's complex case. He launched a wide ranging awareness campaign throughout the archipelago, putting up large posters in public spaces with the slogan "Rachi kanarazu torimodusu" (We must definitely bring back the abducted). However, while the Japanese authorities piled on the pressure, the North Korean regime reversed their foreign policy towards Japan. It was an opportunistic change connected to a combination of internal and external demands. Facing serious financial trouble, Pyongyang is seeking to have the sanctions lifted, at least partially, because its relations with China, its main trading partner, are not as good as they used to be. Kim Jong-un, the North Korean leader, did not hesitate to execute his uncle Jang Song-thaek, whom he considered too lenient towards Beijing. Building on the tensions between China and Japan, Pyongyang opened the door and allowed Megumi's parents to meet their Korean grandchild in Mongolia. They also promised to reactivate the Special Investigative Committee responsible for shedding light on the cases of abducted people, and promised results. In response, Tokyo lifted its sanctions on direct trade and money transfers between the two countries.
However, promises from North Korea are often unreliable and the agreed reports have still not arrived. This is the situation as of today, and it doesn't fail to worry the Yakota family, who agreed to the use of a photo of Megumi on official posters about Japanese nationals abducted by North Korea. The question is far from being resolved, especially as it's not the only subject of dispute between Japan and North Korea. If Abe Shinzo's return to power helped put the issue of the abducted back on the agenda, his nationalistic ethos has also reawakened, if not encouraged, anti-Korean racism. The number of demonstrations by various extremist groups denouncing the presence of Koreans on Japanese territory has multiplied, taking to the streets in Shin-Okubo district, Tokyo, where a significant part of the Korean community lives. Hate speech on the Internet and social networks has become so intense that the United Nation's Committee on the Elimination of Racial Discrimination started to examine this issue last summer. On the 9th of December, the Japanese Supreme Court ruled that such demonstrations against Koreans on national soil were inciting racial discrimination. Several local authorities, including Saitama, just north of Tokyo, or Tottori prefecture next to the Sea of Japan, where North Korean boats are allowed to dock at the port of Sakai Minato, have requested that the government take legal action to fight these racist incitements aimed at Koreans, although success has yet to achieved. Another subject of contention with the North Korean community presently living in Japan concerns the issue of funding for Korean cultural schools, which are paid for in part by both the North Korean and the Japanese governments. There are around 70 of these institutions throughout the country and you can identify them by the portraits of North Korean leaders hanging in the classrooms, the traditional 'chima jeaogori' costume worn by the female pupils, and the hallmarks of the type of schooling in force north of the 38th parallel. On the whole, the education in these establishments resembles that taught in Japanese high schools and 40% of the students that graduate pursue higher education in the archipelago. There are numerous Korean schools as they cater for a community of 500,000, but today, these schools have only 8,000 students compared to 40,000 back in the early 1960s. Buoyed on by the renewed efforts for the return of those who were kidnapped and the resurgence of anti-Korean feeling, the Japanese government has announced its decision to challenge funding for these schools, thus threatening the existence of those that were founded after the war by Koreans who settled throughout the archipelago during the Japanese colonization of the Korean peninsula (1910-1945). Abe Shinzo has revoked subsidies for those families who enrol their children in establishments other than Japanese schools, while Osaka prefecture, where most of the Korean community lives, has suspended 185 million yen in funding, which used to be allocated to Korean schools within its jurisdiction. In this intolerant environment, the writer Murakami Haruki, who has even opened a temporary website to answer questions from his readers, has shared his concern about the hate speech that is spreading across the country. They are sensible words, but will not resolve this complex issue with so many dimensions: historical (colonization, forced work), geopolitical (Cold War, North Korean nuclear programmme), and nationalistic. Has Japan lost its way?
Odaira Namihei
Photo: DR