[Vol.8] Sushi Taste-Test ( Itsu vs. Wasabi )
If you've ever wondered if you can eat really great sushi in London, well, the answer is that you can. If (and it's a huge if) you have the money.
There's Michelin-starred The Araki, where the sushi omakase course is just £300, minus drinks. Even if you don't spend that much, there are other places where you can get pretty great sushi for around £70 or £100. But, I'm sure that all of us would prefer some good sushi that we could eat every day. So, we've scoured London in search of reasonably-priced sushi to compare with the supermarket sushi we have already tested for you.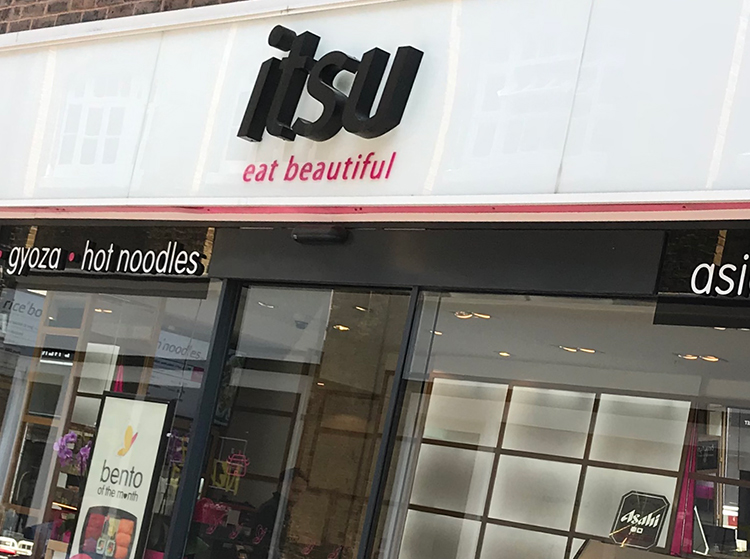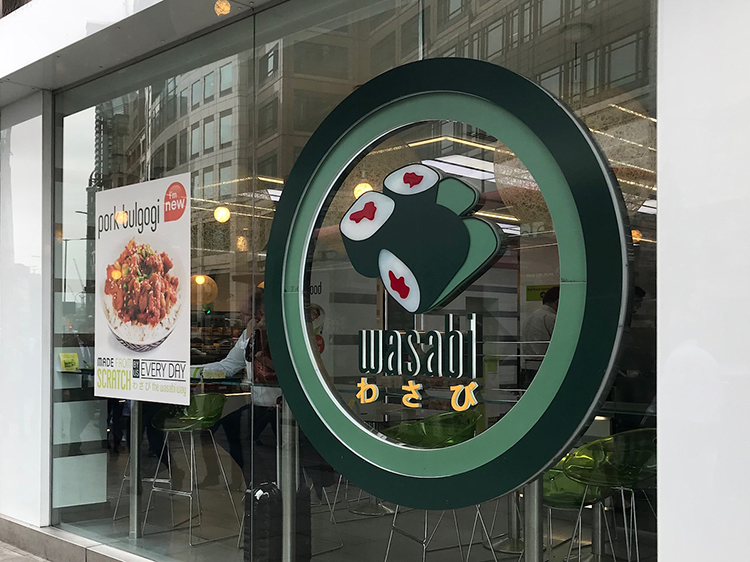 This time, we have focused on two high-street sushi chains, Itsu and Wasabi. Japanese food has a healthy image, and that has played a big role in the way that sushi is perceived in the UK. Itsu is a great example as their sushi really emphasizes this healthy aspect and the calories are indicated prominently on all its takeaway boxes. In terms of the neta, i.e. the bits of fish that sit on top of the rice, Itsu keeps things super simple. Salmon, prawns, and tuna. That's it.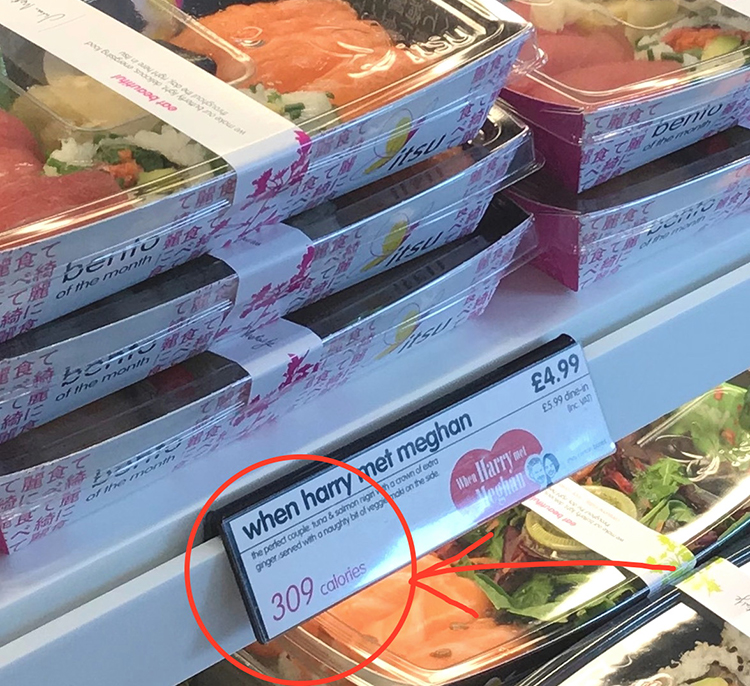 In Japan you also commonly see mackerel, squid, salmon roe, shellfish, and the neta tend to change with the season. But, if you think about the dangers of wasted fish, Itsu idea to focus on just three varieties is a smart one.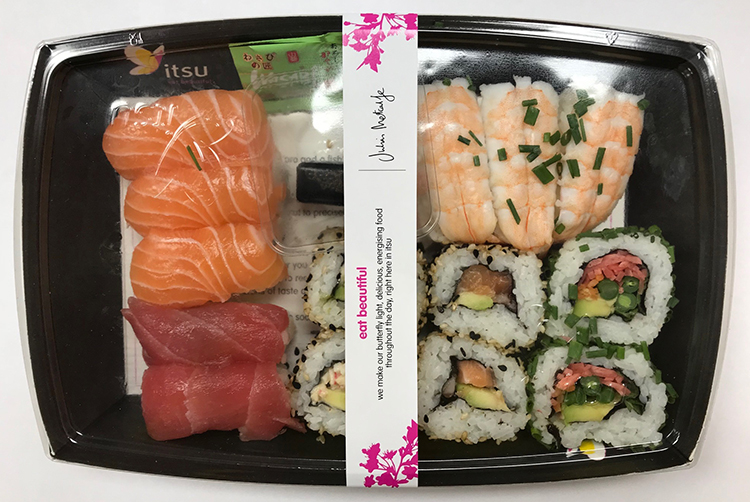 £7.99
One of Wasabi's selling points when it first opened was that you could choose which types you wanted and put together your own sushi takeaway box.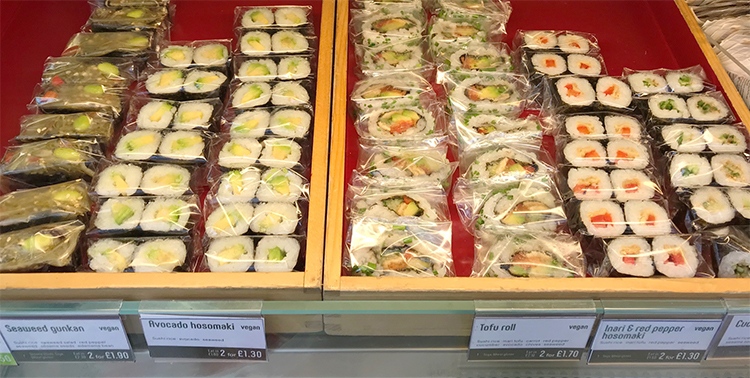 Over time, they have come to focus mainly on pre-packed boxes. But, one crucial difference with Itsu is that their boxes have a wider variety of neta.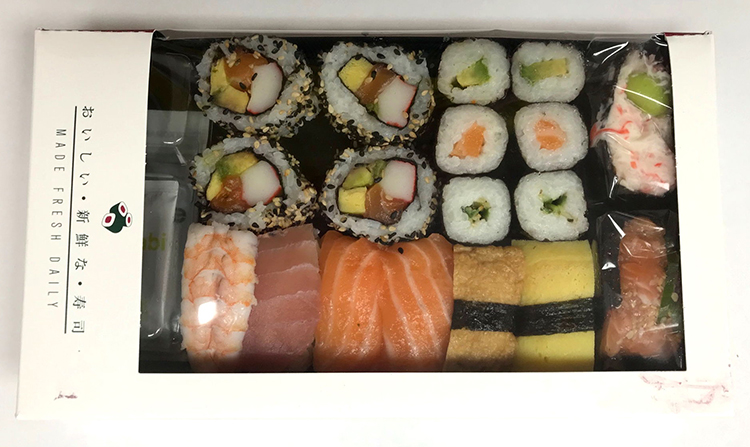 £8.10
We started with the salmon nigiri. This time, it's not smoked salmon so our expectations are high.
Visually they look very similar, and there is hardly any difference in taste either. But what does grab our attention is how amazingly thinly the salmon has been sliced. Is this possibly the secret to selling reasonably priced sushi??
Itsu's salmon nigiri already has some wasabi on the rice. The rice is a bit on the hard side.
On the other hand, the salmon nigiri from Wasabi has no wasabi on it (LOL), and the rice is soft.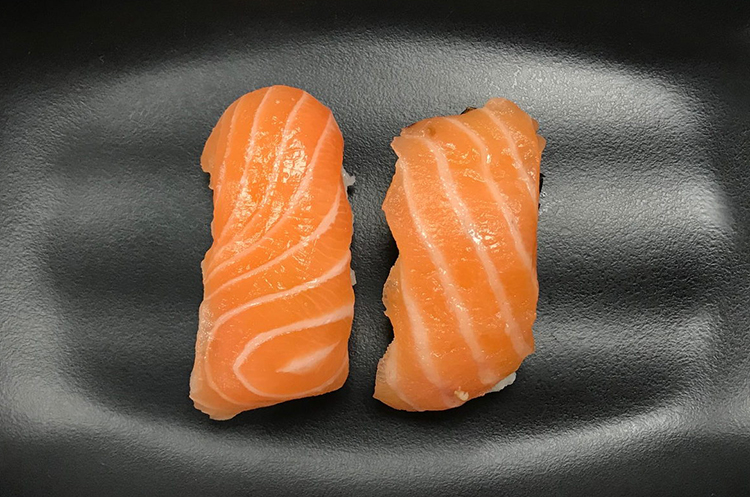 Left: itsu    Right: wasabi
Next we moved to the tuna nigiri. The colour of Itsu's akami (the cheapest grade of sushi tuna) was good and it looked tasty. Wasabi's tuna, on the other hand, looked washed out and pink and really not that appetizing. Please note the colour and don't get it mixed up with the more expensive chu-toro tuna!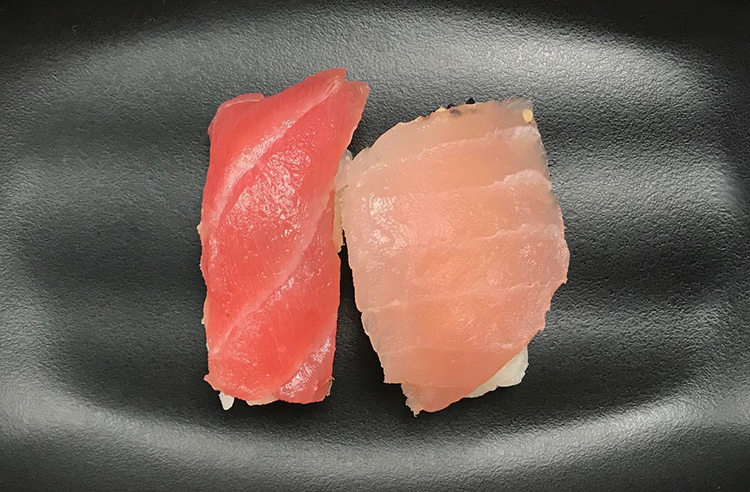 Left: itsu    Right: wasabi
On the other hand, fish is a natural product, so the condition of the fish will vary day to day, depending on what the company has been able to source. So, it's impossible to judge with just one tasting. There are lot of different types of tuna in the sea, but in terms of taste here, they were both very similar.
With the prawns, Itsu went down the fusion sushi route, and theirs is dotted with chives.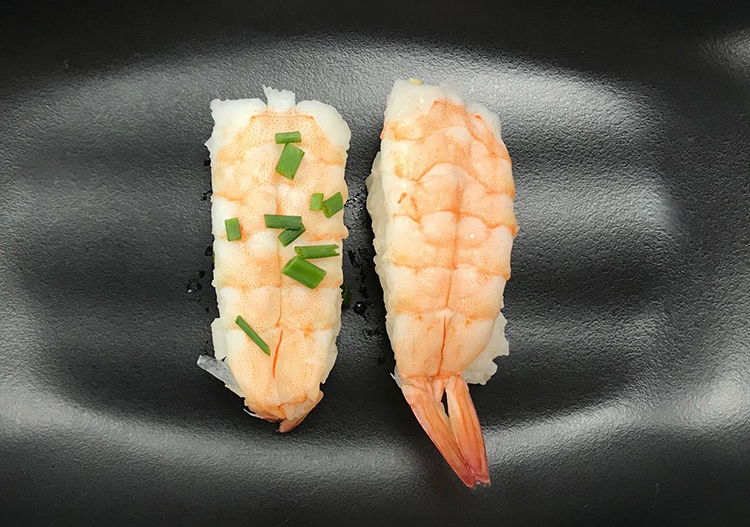 Left: itsu    Right: wasabi
Turning to Wasabi with their wider range of neta, they have egg, inari pockets (made from tofu), crab sticks with mayonnaise, chopped salmon, etc. They're trying hard, but to be honest, some of their ideas are a little uninspiring.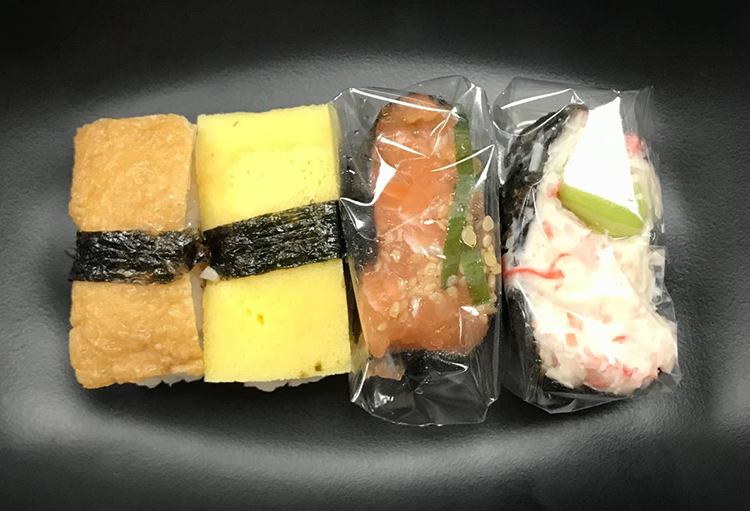 form left  inari pockets, egg, chopped salmon, and crab sticks with mayonnaise.
In terms of price, both the similarly priced sets we bought at Itsu and Wasabi contained eight pieces. Our final conclusion was that if we're paying the same price, instead of Wasabi's thin egg and inari pockets, we'd prefer to eat more salmon and tuna from Itsu.
Up next time will be the roll sushi taste test!
To be continued.