No.71 [EXPERIENCE] Hinomaru's gamble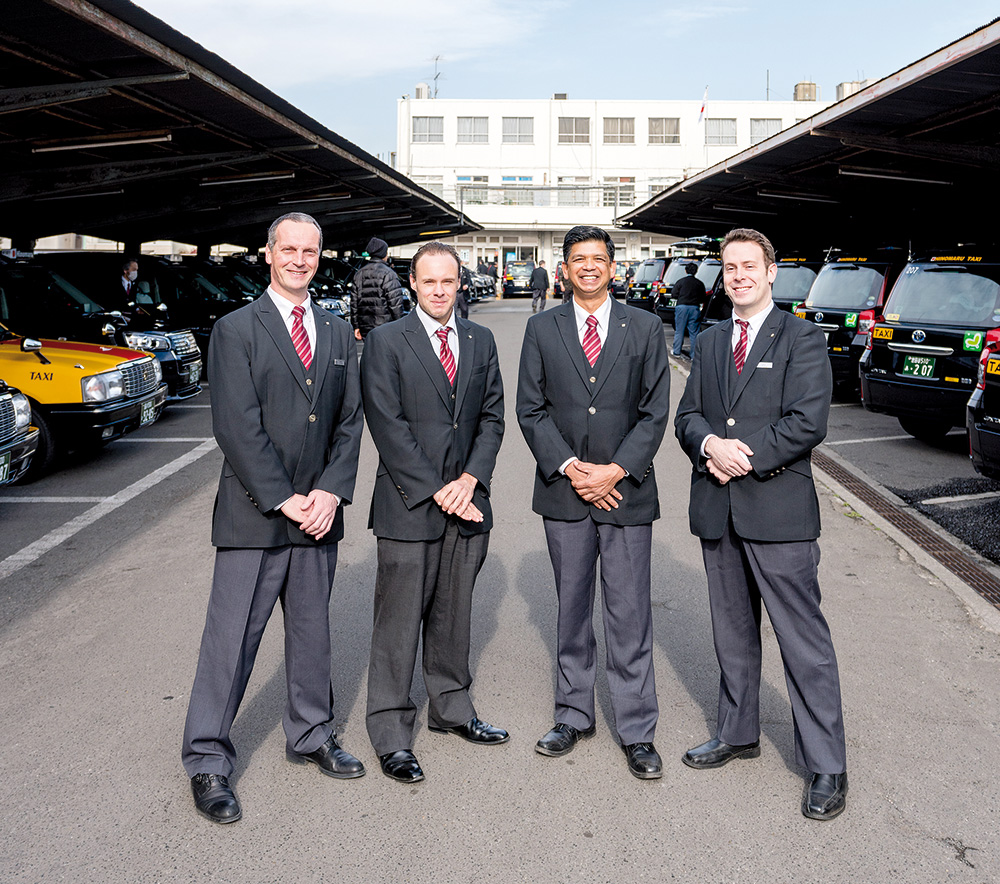 This Tokyo taxi company has begun to recruit foreign drivers with a certain degree of success.
It's 07.30, and people are milling around Hinomaru Kotsu Co.'s Setagaya depot. Drivers are bustling in and out of the office building, checking their cars, taking breathalyser tests and adding the last touches before they drive off to work.
Hinomaru is a taxi company which operates in Tokyo and Kanagawa Prefecture, and Setagaya is one of four depots located in the Japanese capital. In spring 2017, Hinomaru made the news when it began actively recruiting foreign drivers. "before that, we already had a few employees from China," says OTSU Kazumi, the company's human resources manager, "but we decided to push for more because foreigners have a very positive attitude and are proving to be a great asset."
In July 2017, there were only five non-Japanese drivers. Currently their number has risen to 37 from 22 different countries including 11 from China.
Hinomaru thinks they will come in handy chauffeuring the increasing number of overseas tourists, especially during next year's Olympic Games. In the meantime though, 98% of their clients are Japanese.
This morning, four foreigners are ready to start working. Manjula Amarakoon is from Sri Lanka and has lived in Japan for the last 21 years. He doesn't have much time to talk because he still has to take the breathalyser test and inspect his vehicle. "I applied for this job because I thought it was easy work and I could do a lot of sightseeing while drive around Tokyo," he says laughing. "Then I found out it was actually hard work. In the beginning it was difficult to find my way around, but I got used to the job and now I'm finally enjoying myself."
Canadian-born Alex Lipson moved to Tokyo last August from Shizuoka Prefecture, where he worked as an english teacher and translator. His first day on the job was on 30 November which makes him the veteran among the four, so he volunteers to explain what it takes to be- come a taxi driver in Japan. "Obviously, you need to have a valid driver's license, not necessarily issued in Japan," he says. "Our paid training typically lasts three or four months. The first step is to pass the Tokyo Association of Driving Geography examination, which allows you to work in the city. You have to memorise the names and locations of around 80 Tokyo roads, as well as intersections and major landmarks. "Then you must obtain a Type-2 driver's license, which you need to transport passengers. Last but not least, there's a test about legal requirements and by-laws. I honestly learned more in a few months at Hinomaru than I did in four years of university in Canada."
Unlike Lipson, Frenchman Martial Millet has been working for only one month after completing his training. "I was living in Yamagata and working in a factory, but then my wife decided to move back to Tokyo," he says. "At first, I worked in a hotel, but it was quite hard for me. Then I saw that Hinomaru was hiring foreigners and I applied for the job."
Tokyo's layout is complicated; it's not built on a grid system like Kyoto or Manhattan, and dealing with it is still difficult for Millet who finds it hard to remember all the backstreets and shortcuts, but he's quite happy with his new job. "Like around 80% of the drivers, I do kakujitsu kinmu, which means I work every other day," he says. "The rest either do hiru kinmu (working 11-hour day shifts, 22 times a month) or yakin (night shifts).
"In theory, most people only work 11 days a month, but one working day for us lasts 19-21 hours. We check in at 07.30 for roll call and must return here by 04.30 on the following day when we check the day's earnings and clean our car before going home. During the day you have to rest for at least three hours. Of course, it's a driving job, so we don't drive if we are tired or don't feel well, because that's dangerous. "I like this system because, in a sense, you are your own boss; you choose when to work and when you want to take a break."
The fourth taxi driver is American Francis Karl Gurtlinger who lived for many years in Ishikawa Prefecture before moving to Tokyo after he read Hinomaru's recruiting advertisement. "My Japanese was already pretty good when I joined Hinomaru because back in Ishikawa I used to interact with the locals every day and all my friends were Japanese," Gurtlinger says. "However, I had to learn many new work- related terms in order to pass the tests. Having a good knowledge of kanji and the written language is essential because all the tests are in Japanese. For the Type-2 driver's license test, for example, you have 50 minutes to answer 95 questions, and need to score at least 90 points.
"even when you are on the job, you need to learn how to use the car navigation system in Japanese, which at times can be tricky when you have to spell the place and building names." All the drivers agree that though driving a taxi all day can be hard, they enjoy meeting new people and seeing new neighbourhoods. "You have a chance to meet people from all parts of society," Lipson says, "and I'd say 98-99% of the people I've encountered so far have been great. Lessons in driver etiquette and customer relations are part of the curriculum, but as long as you have good communication skills you can establish a good relationship with your customers." Lipson subscribes to ichi-go ichi-e, a popular Japanese idiom that describes how you should treasure each and every encounter.
Gurtlinger says that some Japanese customers are glad to see a foreign taxi driver. "They see us as a sort of good luck charm," he says. "They seem to be quite forgiving even when we make a mistake, perhaps because we are foreigners. Once in a while we may have a problem – which is part of this job – but I regard even those as good learning experiences.
"Drunken customers are the only real problem. For example, if someone who's been drinking falls asleep, you mustn't touch him, no matter what. You must go to the nearest police station instead, and ask for help."
Probably the only thing about which the drivers have mixed feelings is the financial side of their job. Once the training period is over and they begin work, drivers are guaranteed a monthly salary of 300,000 yen (just over £2,100) for the first six months or 250,000 yen (just over £1,750) for the first year, but only if they fulfil certain requirements that include providing a guarantor. In any case, once the salaried period is over, they are paid on commission, receiving between 52% and 62% of their takings.
"I didn't have a guarantor," Gurtlinger says, "so I was paid on commission from the start. beginners earn about 180-190,000 yen (£1,260 – £1,330) per month. On average, more experienced drivers take about 50,000 yen (£350) a day and they take home around 230,000 (£1,610) a month.
"It's a pretty hard job for that money. It's not worth it, to be honest. I think they should pay us more – something around 350,000 yen (£2,450) – for the kind of hours we work. To be frank, I came here thinking I would earn more. I was very upset because when I did the first interview I heard I would earn a guaranteed 250-300,000 yen (£1,750 – £2,100). So I feel like I was conned into coming here."
Hinomaru's OTSU says that, so far, the company has been very impressed by the foreign drivers' performance, and hopes to have a 100 foreign drivers before the start of the Olympic Games. "The very fact they live in Japan means they like the country," he says. "This makes them the ideal people to present what's good about Japanese culture."
It just remains to be seen how long the company will be able to keep them for. Some of them, for instance, see their job at Hinomaru as training for what they really want to do. "I love Ishikawa and I want to go back there someday," Gurtlinger says. "It's not easy to travel around the Noto Peninsula, which is where I used to live. It's a very rural area, and bus the service ends at 20.30 or 21.00. So I plan to go back, open a minshuku (country inn) and start a sightseeing taxi business."
J. D.