No.74 [PROMENADE] Encountering Tateishi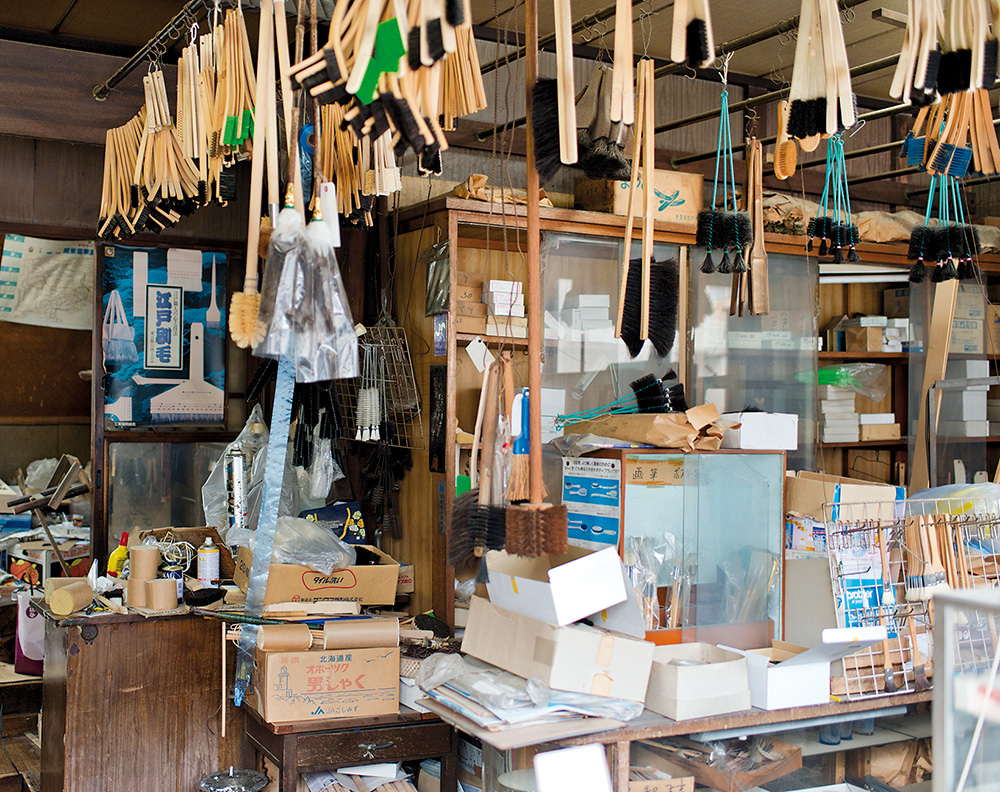 A traditional brush factory.
Much of the district's architecture from the 1950s and 60s has been preserved, even though it risks disappearing soon.
Katsushika is a multi-faceted area, and each one of its districts attracts a different kind of person: nature lovers stroll around Mizumoto Park and Horikiri, film buffs visit shibamata and manga otaku head to Kameari. Then there's Tateishi, arguably Katsu-shika's most "deep-rooted" neighbourhood – the one that more than any other has stayed uncompromisingly true to its working-class origins. Now that the original Tokyo shitamachi (Asakusa, Nihonbashi, Kanda) is little more than a tourist trap, a trip to Tateishi offers a unique opportunity to experience what is left of that culture.
As soon as we get off the train, we find ourselves at the entrance to one of Tateishi's most popular places, the Nakamise shopping arcade. However, it's still too early to stuff ourselves with food, so we follow the railway until we reach suwa-jinja, a shinto shrine dating back to the late eighteenth century. From there we proceed south-east until we reach Hon-Okudo Bridge, one of the many bridges spanning the Nakagawa. This is actually the new one, built in 1988. The original version was completed in the 1930s. It was from that bridge that manga artist Tsuge Tadao (see article p.10- 11) used to jump into the river with his friends, back in the late 1940s.
The Nakagawa is a wide, placid river that cuts through Katsushika and snakes its way around Tateishi before joining the even wider Arakawa. during the 1960s, unchecked industrial development in the area had turned it into a health hazard, but now that the river has been cleaned up, many animal species have made the Nakagawa their home again, among them crabs, turtles and freshwater prawns.
even today, this is a rather busy waterway, and watching boats and barges going up and down from the river bank or the bridge itself – perhaps while munching on something bought at Nakamise – is a nice way to spend the day. Just watch out for the seagulls.
After walking upriver for a while along the left bank, we move away from the riverbank to learn more about where the neighbourhood's name comes from. Tateishi (standing stone) comes from a stone monument or signpost that has been at its present location for at least 600 years. during the edo period (1603 – 1868), the locals began to worship the stone as an embodiment of the deity Inari. It was originally about 50 – 60 cm high, but then people began to chip off pieces, which they used as talisman against disease. Nowadays, the surviving stone stands only about 4 cm from the ground and is surrounded by a stone fence.
Not far from the famous stone we find the Katsushika Tax Office. The building (a pretty boring-looking grey cube) was erected on the site of the old blood bank where Tsuge used to work. Tateishi, like nearby senju and Koiwa, was infamous for its red-light district. Lots of men who lived in Tateishi after the war were chronically poor factory workers and assorted crooks. They would sell their blood for money, then, with a few yen in their pockets, they would head to the brothels, but not before downing some booze to gather courage and lose their inhibitions.
The brothels disappeared a long time ago, but the bars are still there and are frequented by an increasingly varied clientele, including people from out of town, women and a few foreign tourists. so let's go and find these famed watering holes that are clustered around the station.
On the way back we pass through a residential district. until about 1980, Tateishi was home to numerous small, family-owned factories. Many of these have since closed, and small apartment houses now occupy their former sites. The closer we get to the station the more we notice rickety old buildings kept together with corrugated iron and blue tarpaulin. Many shops and bars are closed and have a notice on their front door saying that they have gone for good. The sad news is that the railway company and the local authorities have decided that Tateishi has to move with the times and needs a bit of renovation, like a couple of high rise buildings on the north side of the station.
Close by, you'll also find Nonbee Yokocho, a couple of short streets packed with tiny bars whose history goes all the way back to the early 1950s. The original shops in the area actually sold clothes, potted plants and other goods, but were gradually replaced by the current bars, turning these alleyways into a sort of poor relation of shinjuku's famed golden gai. The main difference between the two is that, here, you'll find hardly any writers, artists or other intellectuals (real or otherwise). After all, this is first and foremost a working-class area and the bars' patrons only want to have a good time and a laugh to go with their motsu yaki (roast giblets, the area's specialty) and highballs. singing – karaoke style – is another common pastime, and Tateishi even has its own local susan Boyle: TAMAI-san, shirakawa's owner and mama-san. exploring the narrow passages around Nonbe Yokocho, especially during the day when the bars are still closed, is like time-travelling. The area has survived completely untouched by "progress", and it looks exactly as it did during the tough postwar years.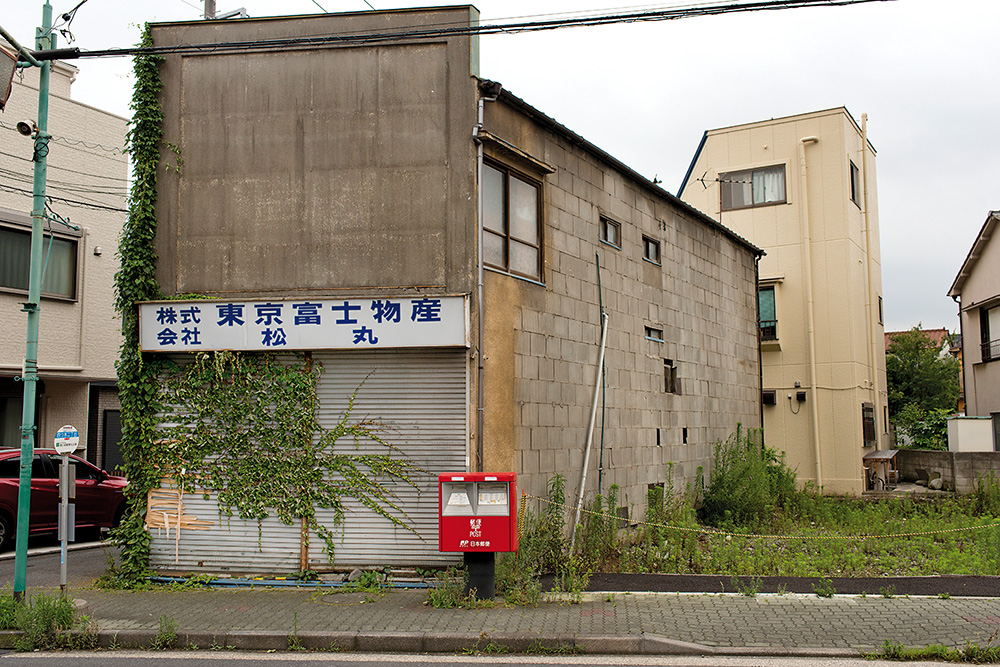 Just like here in Yotsugi, the Tateishi district is seeing its network of small businesses gradually disappear.
Finally, let's cross the railway and go back to our starting point, Nakamise. It's time to eat something. This old-fashioned shopping street is all that's left of the postwar blackmarket area that for years was populated by small-time thugs, war veterans often missing an arm or a leg (or both) and other shady types. Today, you'll find only izakaya (pubs), stand-up bars, cheap diners, and shops selling groceries, clothes and toys.
If you prefer to take your food home, fried chicken, deli food and oden (food stewed in soy-flavoured broth) are some of Tateishi's more popular dishes. However, the small local eating places are certainly worth a visit. The food served in most of them is by no means refined haute cuisine, but is worth trying nonetheless. We're talking about cheap home-style cooking or, as it's called in Japan, B-kyu gurume (Bgrade cuisine). But, as I said, food is only part of the pleasure. even more important is the atmosphere you breathe in these places. With the right people and an entertaining owner/cook to enliven the evening, food and booze taste even better.
some local favourites around the station are Mitsuwa, edokko and uchida. And don't forget to wash down the food with a couple of highballs – no added ice, as the experts say.
Enjoy.
J. D.