No62 [FOCUS] Oga, the wild coast
One of the most scenic areas in the country, the Oga Peninsula is really worth a visit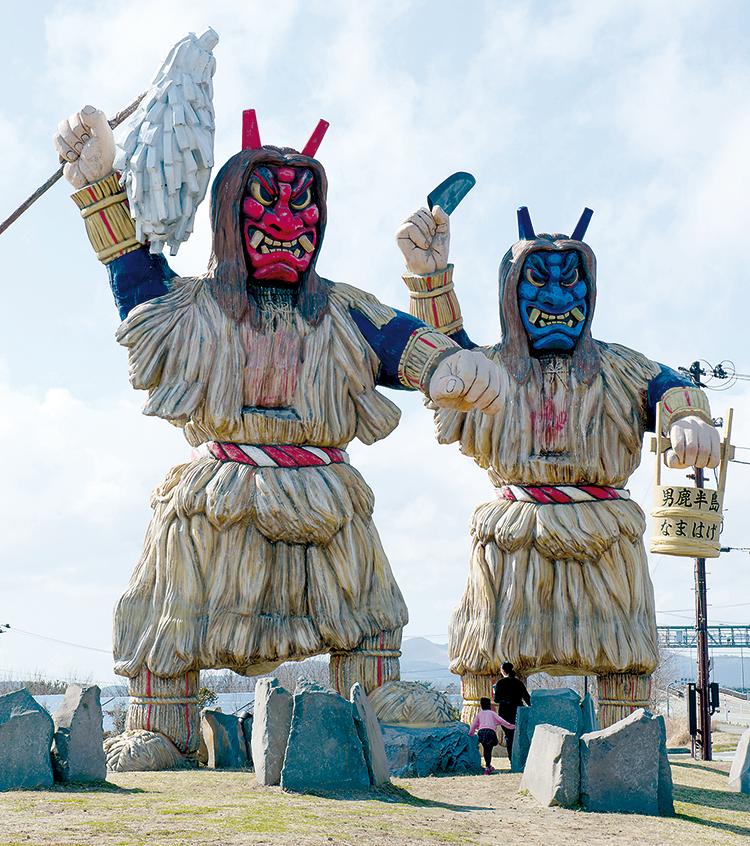 Namahage are omnipresent on the Oga Peninsula.
Why are you going to Oga? There's nothing there." The woman in her 60s sitting next to me on the shinkansen to Akita was born on the Oga Peninsula, Akita Prefecture. Like many from the region, she relocated to the city long ago, leaving empty wooden homes and ageing fishermen behind. She's surprised, she thinks that we're probably the only passengers on the train heading to that unlikely destination. The woman travels to her family house once a year to meet her relatives, who all live elsewhere now. I'm travelling to see a place that I know I'll fall in love with, although I have never been there before.
Oga Hanto, Akita Prefecture, is an axe-shaped piece of land protruding into the sea of Japan. There are few tourist attractions, and even fewer facilities. It's not a very popular travel destination. Yet, the Oga Peninsula is one of the most scenic places in Japan, with its rugged coastline and rough sea, its forests, volcanic lakes, hot-springs, and deserted mountain trails leading to shrines. Like other depopulated areas of rural Japan, there are not many people around, let alone tourists. Instead, there's plenty of wind and sea. And stories, especially folktales. These are the reasons why I am heading there.
"Clap your hands three times, and we will come over from the mountains." The guttural voice comes from a tall man covered in straw. His hands are big and rough, his face covered by a devilish mask: he's a Namahage. The demon is facing a small audience of children and parents watching the reenactment of an ancient tradition inside a reconstructed folk house at the Oga Shinzan Folklore Museum. On New Year's Eve, villagers dressed as demons do the round of Oga households to scold "disobedient children and lazy wives", and receive food and drink in exchange.
The Namahage tradition is in decline, but there are efforts to keep it alive. At the Namahage Museum, there's an impressive array of life-size ogre figures, clad in different costumes and masks. Namahage replicas, big and small, are everywhere in Oga: from the 10 metre high statues greeting visitors at the entrance of the peninsula, to the Namahage faces spitting thermal water in the Oga Onsen Village.
The Namahage are associated with a number of different sites across Oga. As the legend goes, the 999 steps leading up the mountain to Akagami Shrine Goshado were built by the Namahage themselves. Surrounded by giant cedar trees, the Shinzan Shrine hosts the Namahage Festival every winter. Here, young villagers gather to wear masks that have been purified by a Shinto priest, thus becoming Namahage.
Driving around Oga is a breathtaking experience. The road twists up and down between mountains and sea along the coast, which is dotted with fishing villages and gnarled pine trees, passing strange rock formations and the occasional ghost town of abandoned hotels and restaurant complexes. There are some scenic spots along the way where it's worth stopping, from the rotating observatory of Mount Kanpu, offering 360 degree panoramic view, to the moonlike landscapes of Unosaki beach, Godzilla Rock and Cape Nyudo. Aquarium Gao, with over 2,000 marine creatures swimming in its gigantic sea-water tank, is also worth a visit.
One more reason to stop along the road is to try the fishermen eateries where locals have lunch, like Kasen-ya or Sandaime Hotaru. The super-fresh sashimi or the grilled hata-hata, a local fish, won't disappoint you. For a glorious end to the visit, it's best to stay overnight at one of the ryokan in the Onsen Village, such as Yuzankaku or Banseikaku. Here, you can sample the traditional ishiyaki cuisine: seafood cooked by immersing a hot stone into a pot, then served in a cedar barrel. Portions are huge in Oga, so onsen (hot spring) are mandatory after dinner. Off season, it's not unusual to have the whole rotenburo (open-air bath) to yourself.
If you're on a budget, Hotel Moroi, the only hotel in Oga City, is a convenient alternative to a ryokan. It's dilapidated, but its Showa period (1926-89) decor retains some charm. Booking is not necessary as it's almost always empty. As for shopping, make sure not to miss the old fishing memorabilia and antique shop nearby. If it happens to be open, you can buy anything from glass fishing floats to iron diving helmets, rock'n'roll records, and coffee. The old fisherman who owns the shop won't let you leave town without recounting his memories of Oga when it was still a prosperous place visited by many people. His stories will be the most precious souvenir to bring back home with you.
LAURA LIVERANI
▶︎HOW TO GET THERE
FROM TOKYO STATION, take the shinkansen to Akita. From there, trains on the Oga line to Oga City take about an hour. At the station entrance, there's a good tourist information centre.