No.75 [FOCUS] No more bets!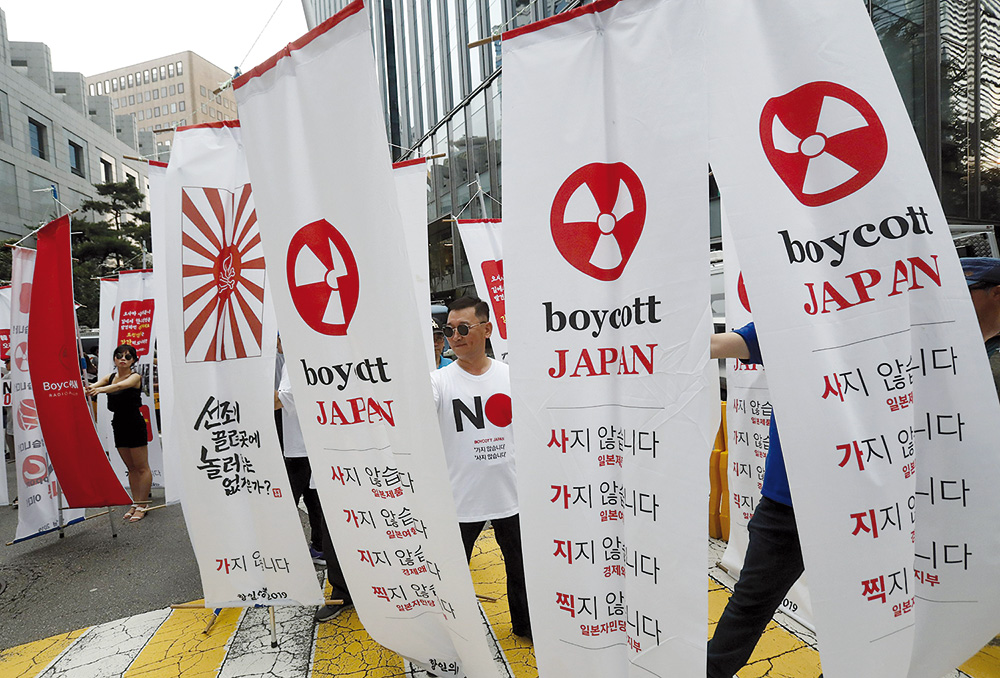 There's been a growing movement in South Korea over the past few months to boycott Japanese products./All Rights Reserved
Both of the United States' main allies in Asia are at daggers drawn, leading to a worrying situation.
Relations between Japan and Korea have had their ups and downs for many years. It's a situation whose roots lie in the past, especially during the early 20th century when the Korean peninsula lived under the yoke of Japan. Wounds linked to this period have remained open despite the 1965 Treaty, which ought to have drawn a line under this tragic history. But with the passing years, it became clear that treaty had come to nothing, and that a part of the Korean population still held a deep resentment towards Japan to the point that those in power in Korea were forced to demand compensation from their Japanese neighbour.
This has resulted in the stalemate that the two countries now find themselves in. Both governments are sticking to their positions, primarily for their own domestic political reasons. The situation has almost reached breaking point today, just when Seoul and Tokyo are the two most important allies of the United States in a region subject both to Chinese expansionism and the whims of North Korea. Unable to find a solution to the problem through dialogue, the politicians on either side of the Tsushima Strait have made decisions that have led their counterparts to behave in ever more absurd ways. After Japan decided to remove South Korea from its "white list" of countries to benefit from special treatment, and to limit the export of certain products essential for the production of semi-conductors, South Korea chose to with- draw from the General Security of Military In- formation Agreement (GSOMIA) whereby the two countries shared sensitive information, in particular about North Korea. It was a symbolic decision that underlined the depth of the division between them.
Today, what is most serious about the situation is that it encourages the most radical among the South Koreans and Japanese to exert more pressure. In South Korea, calls to boycott Japanese products and for tourists not to visit the Archipelago to watch the Olympic Games are echoed in Japan by an increase in anti-Korean demonstrations, while some publications inflame the situation by evoking "the capture of Seoul in 3 days" if a conflict were to arise. What is most worrying is that the intransigence of the two governments is polarising opinion in their respective countries. A survey conducted by Mainichi Shimbun on 16 September showed that 64% of Japanese support the government's decision to remove South Korea from the list of trusted countries. A few days beforehand, a survey by Gallup Korea revealed that 61% of South Koreans blamed Japan for their attitude towards the country. Neither Seoul nor Tokyo can win this game. It's probably time for these two neighbours to start talking to one another again.
GABRIEL BERNARD