No.77 [DISCOVERY] Hiroshima's gardens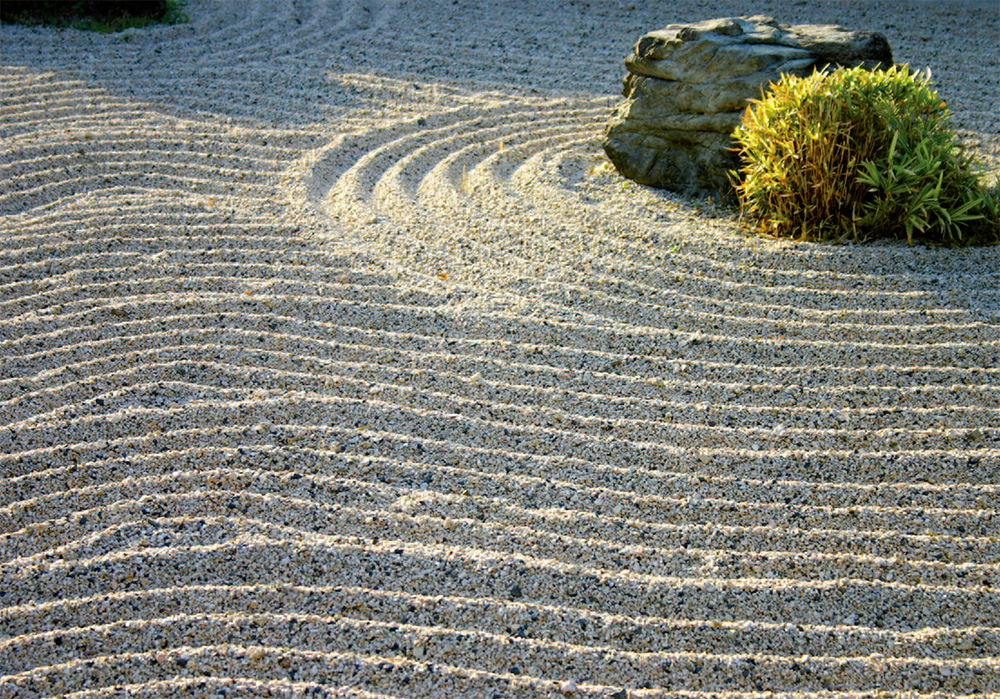 Saizo-ji Temple and its stone garden are a lovely invitation to pause and meditate.
A green city par excellence, it's full of places you can take a stroll, meditate, or even write poetry
Japanese gardens are designed to "express the highest truths of religion and philosophy precisely as other civilizations have made use of the arts of literature and painting", wrote American archaeologist and art historian Langdon Warner (1881-1955). Warner – the inspiration for Steven Spielberg's Indiana Jones character – called this the "spiritual symbolism" of Japanese gardens.
Such symbolism is abundant in the city of Hiroshima. After its destruction at the end of the Second World War, Hiroshima was reborn as an International Peace Capital, with the Peace Memorial Park at its centre, embodying the wish for peace. Hiroshima – with its six rivers, miles of tree-lined riverbanks, and abundant parks and gardens – is much greener than your average metropolis. The spiritual symbolism Warner spoke of lurks in tiny temple gardens, tucked away in sacred spaces that most tourists never get to see. Like the intimate Seigan-ji, exquisitely designed with the economy typical of zen art: a little pond, a maple tree, a stone lantern or two, a few shrubs. The message is clear: this garden is intended for meditation, not walking round or playing in.
Then there's the dry-stone mindscape at Saizoji Temple: enigmatic islands of rock afloat waves of meticulously-raked white gravel. What do they represent? zen expert D.T. Suzuki maintained that Japanese gardens express the spirit of zen. But Saizo-ji's head priest just smiles and says, "It's not something you can explain. You have to experience it."
Temple gardens apart, Hiroshima's green spaces come in two main types: traditional zen-influenced landscape gardens – which Hugo Munsterberg termed an "artistic re-creation of nature" – and parkland of the kind more familiar to Western eyes.
You can see a fine example of the former right outside Hiroshima Airport. A short walk across the road takes you to Sankei-en, a six-hectare garden replicating in miniature the mountains, villages and Inland Sea scenery of Hiroshima Prefecture. Built as a traditional stroll garden in 1993, Sankeien boasts a large lake (representing the Inland Sea), well-stocked with colourful koi carp. Buy a bag of fish-food at the ticket office, stroll along the wooden walkway jutting out into the lake, and trigger a feeding frenzy among the boisterous koi. unlike their Western counterparts, Japanese landscape gardens don't go in for masses of different blossoms. One blossom at a time is the norm: from camellias in January and plum in February, right up to chrysanthemums in November. Carefully placed rocks, ponds and trees do the rest.
Back in the 16th century, some gardeners maintained that the positioning of the rocks was more important than the foliage itself. Perhaps that's why over 7,000 tons of rocks were used in Sankeien. A basic principle of Japanese gardens is that they should be interesting all year round. Hanbe, a garden-restaurant-spa complex in the Minami area of town is a superb example of this principle. The atmosphere at Hanbe is quite magical from the moment you walk in and hear the soothing sound of waterfalls cascading into the koi pond. Beyond the pond rises a gently sloping hill. In the 1930s, the garden's founder planted 100,000 azaleas here. The hill where they grow sheltered them from the A-bomb blast. By 1946, they were already in bloom again, attracting visitors from Kansai and Shikoku. Other seasonal blooms include iris, cherry, plum and hydrangeas, as well as 1,000 maple trees, ensuring that there is a spectacular display of colour at all times of year.
The highlight of Hiroshima's gardens is the Art & Nature Triangle, so-called because the town's three major art museums are located within its three most important parks. Hiroshima is thus the city "where water, greenery and art intersect", according to a recent tourist promotion campaign. Of these three museum-parks, the one most cherished by locals is Shukkei-en Garden, alongside the Prefectural Art Museum. Dating from 1620, Shukkei-en was designed by samurai warrior turned Buddhist monk, landscape gardener and tea-master UEDA Soko, as a garden for the villa of ASANO Nagaakira, daimyo (feudal lord) of the Hiroshima area.
Another Stroll Garden, Shukkei-en is a miniaturised version of the landscape of Xihu (West Lake) in Hangzhou, China. It contains many of the elements of zen landscape gardens introduced from China by zen priest Muso Kokushi (1275- 1351): picturesque rocks, rustic pavilions and a large pond with small islands.
Around Takuei Pond, with its hump-backed Rainbow Bridge, winding paths lead you through miniature mountains, valleys, rice fields, bamboo groves and tea plantations.
Along the way you'll discover secluded nooks, waterfalls, mossy rocks and lichen-covered stone lanterns. Watching a kingfisher darting into Takuei Pond, where frisbee-sized turtles bask on the islets, you'll forget you're just a 5-minute walk from the bustle of Central Hiroshima.
Some say that rainy days are the best time to experience Shukkei-en. The rain not only keeps the crowds away, it also brings out the fragrance of the foliage, makes the stones gleam and the moss glisten. Sheltering in one of those half-hidden tea huts, little more than a roof held up by four wooden pillars so that you're out of the rain but, at the same time, in the "midst" of it all, it's easy to pretend you're 17th century haiku master Basho, composing seventeen-syllable odes to chattering frogs.
In Shukkei-en's Seifu-kan tea-house, monthly tea-ceremonies are held to celebrate the flowers of each successive season. In September, there's even a tea-ceremony for moon-viewing. There's still hope for the world as long as people take time out to savour a cup of tea and contemplate the moon, don't you think?
Another angle of the Art-Nature Triangle is formed by Hijiyama Park. Situated at the end of Peace Boulevard in downtown Hiroshima, this 70-metre-high hill is a splendid maze of walking trails that snake through densely-forested slopes of pine and evergreen oaks. Peaking above the foliage at the top of the hill is the award-winning Museum of Contemporary Art. When it opened in 1989, it was Japan's first public contemporary art museum. Henry Moore's huge bronze Arch stands before the museum, framing panoramic views of the city.
In spring, the blossom of 1,300 cherry trees shrouds the hill in a soft pink mist. Trees are hung with lanterns, the smoky tang of grilled squid and chicken rises from dozens of food stalls as locals enjoy hearty blossom parties under every tree.
For the final angle of the triangle, you dive deep into the heart of downtown Hiroshima. There you'll find the Hiroshima Museum of Art, built as a prayer for peace in 1978. It's home to a collection of European Impressionist and post-Meiji Japanese paintings. In front of the museum stands a flowering chestnut tree donated by Pablo Picasso's son, Claude.
If you look down from the roof-garden of the adjacent multi-storey Pacela shopping mall (yes – there's even a garden up there too), the circular museum looks like a spacecraft adrift in a tranquil sea of green.
The museum, together with Central Park and Hiroshima Castle, which lie just over the road, form a broad swathe of greenery right through the centre of Hiroshima. Tucked away in one corner of Central Park is Yuka-en Garden, a Sichuan-style garden donated in 1991 by Hiroshima's sister city, Chongqing. It's tiny, and usually empty, but it's a charming spot for a moment of quiet contemplation under the winged-roof pavilion.
Your garden tour ends where the city itself began, at Hiroshima Castle. For it was here, in 1589, that feudal lord MORI Terumoto decided to build himself a new castle and a whole new town to go with it. Today, the castle's carp-filled moat and tree-shaded grounds provide another much-loved cherry-blossom viewing spot, when the banks of the moat metamorphose into a fleeting pink epiphany, evoking Basho's haiku:
How many, many things they call to mind these cherry-blossoms!
STEVE JOHN POWELL & ANGELES MARIN CABELLO
How To Get There
SHUKKEI-EN is a 15-minute walk from
Hiroshima railway station. or take a tram from the station, a no. 1, 2 or 6 as far as Hacchobori then change to a no. 9 to shukkeien-mae.
HANABE. Leave from the south exit at Hiroshima station, catch a no. 4 bus in the direction of Niho shako/koyo shinmachi and get off at Nihohime jinja iriguchi.
HIJIYAMA. Catch a no. 5 tram from the station as far as Hijiyama-shita.
HIROSHIMA MUSEUM OF ART. By tram from the station: you can take a no. 5 going to Hiroshima port, a no. 2 to Hiroden miyajima- guchi or a no. 6 to eba, and get off at kamiyacho-Higashi.
SANKEI-EN. 53 minutes by airport limousine bus from Hiroshima Bus station.
SAIZO-JI is a 20 minute walk from the shinkansen entrance at Hiroshima station.
SEIGAN-JI is two stops away from Hiroshima station on the kabe Line. Get off at mitaki station and walk for about 10 minutes along the steep road towards mitaki Temple.
HIROSHIMA CASTLE. By tram from the station, take a no. 1, 2 or 6 and get off at kamiyacho- Nishi or kamiyacho-Higashi.