No6 [Travel] Kawasaki, home of Doraemon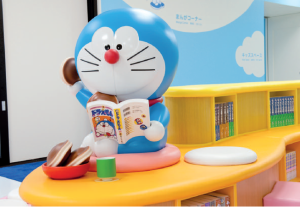 © Fujiko-Pro
You will enjoy visiting this museum whether or not you are a lover of Fujimoto Hiroshi's robot cat."
Paying tribute to one of Japan's most famous authors of graphic novels is the aim of the Fujiko F. Fujio museum that opened on the 3rd of September 2011 in Kawasaki, just south of the capital. The name Fujiko F. Fujio does not really ring a bell with most Europeans but in Japan, he is one of the greatest and most respected authors. His fame has spread all over Asia where his most famous character Doraemon, the blue robot cat with no ears, has become a favourite with young and old.
Immersing oneself in the world of Fujiko F. Fujio by visiting this museum is an interesting experience. It puts his work into perspective and familiarizes those not yet acquainted with it. Kawasaki town council invested a lot in the venue, working hand in hand with Fujiko Pro, the author's business representatives. Situated in the Tama quarter, close to the house in which the artist lived until he died in 1996, the intention of the museum is to show both where and how he worked, as well as to demonstrate the importance of his work in post-war Japanese culture. The museum has an impressive stock of over 50,000 original drawings, donated by the mangaka's widow, which will be exhibited over the years. The spacious exhibition room situated at the entrance of the museum can hold around 150 drawings and helps introduce visitors to the creative process of Fujimoto Hiroshi, alias Fujiko F. Fujio. A few short films are also screened demonstrating how the creator of Doraemon worked.
The omnipresent blue cat in the museum underlines his importance in the collective memory of the Japanese. He first appeared in 1969, in educational journals published by Shogakukan, and the character soon became visible everywhere. Fujimoto Hiroshi and Abiko Motoo's robot cat became famous because it appealed to a very large audience. Both children and adults fell for the large cat (over 140 kg) with a wide mouth, a bell around its neck, and the equivalent of a nuclear powered engine in its chest. Having different plans for the Japanese hero's future, Fujimoto Hiroshi split with Abiko Motoo in 1987 and became Fujiko F. Fujio. Just like the goose that laid the golden egg, as a manga, Doraemon sold hundreds of million of copies in the archipelago. In total, 45 volumes were published between 1974 and 1996, when the author passed away, but the animated series is what really conquered people's hearts. Asahi TV has been screening Doraemon's adventures since 1979 for the enjoyment of his many fans. Many identify with Nobi Nobita, the little boy whom the blue cat wishes to help avoid building up too many debts. Coming from the future, Doraemon has access to many resources to get his friend out of the difficult situations common to all teenagers.
Nobita has many rivals, such as Goda Takeshi and Honekawa Suneo, who spend their time trying to get him into trouble, but Doraemon and his gadgets always end up saving the situation. On the second floor of the museum, a screening room boasting 100 seats shows original films so that visitors can immerse themselves in Fujiko F. Fujio's stories. Many are happy to sit and watch, even though they can regularly see Doraemon and his friends on television and at the cinema.
The films were first screened in 1980 and turned the robot cat into a national institution, just like Astro boy, Tezuka Osamu's little robot. Once a year, in March, during the Spring holiday, an animated feature film is released in the cinema, and attracts millions of viewers who never get tired of Doraemon and Nobita's adventures.
The museum also boasts the mangaka's work desk on which are scattered a few objects he used as inspiration for his stories, books and journals. There is even a rumour that he died while preparing a new adventure for his mascot. When you get closer to the desk and look upwards you can see an eightmetre high air duct which houses Fujiko F. Fujio's library. It is quite a surprise to discover the author's passion for books and objects of all kinds, especially those related to Star Wars, of which he was a great fan.
In September 1978, a few weeks after Episode IV was released in Japan, he wrote a parody in which Nobita and Doraemon played leading roles. This is what makes the museum so interesting, as it could have been just another theme park. You learn a lot about the author, his passions, and what led him to create a character loved by children and adults alike. Fujiko F. Fujio felt that Doraemon could mean something to everyone. "Adults and children have dreams that they wish will come true. Even though they express them in different ways, they have lots in common. One can dream for something to happen, one can hope to become stronger, smarter, and long for a better life. In most cases, these wishes come true in my manga," this is what he used to say to explain the popularity of his characters.
What distinguishes Doraemon from many other manga heroes is his extreme kindness and his continual optimism. Children are very sensitive to this, as they, like their parents, often have to deal with difficult situations in their everyday lives. The museum's creators took this on board and have created a place in which visitors feel comfortable. Pastel colours, blue especially, give the place a feeling of serenity and encourage the visitors to take their time wandering around the different rooms. Children, who are the blue cat's principal fans, even have a playroom at their disposal, decorated to resemble a cloud and where they are greeted by a smiling Doraemon. There are reproductions of the main characters everywhere in the museum, even on the roof where Piisuke, the dinosaur, is prominently displayed along with Goda Takeshi, who always has a trick up his sleeve to play on Nobita. You become increasingly familiar with these characters straight out of Fujiko F. Fujio's imagination after meeting them one after another, and will feel they have always been part of your life, even though you may have only just encountered them. They awaken childhood memories in everyone. The mangaka really succeeded in creating a link between the worlds of both children and adults.
"You cannot write children's stories from an adult's point of view. You need to create something that you will enjoy and that the children will understand. In a certain way, I feel that there is part of me that is a child that refuses to grow up. I'm particularly lucky because they like what I enjoy drawing," said Doraemon's creator. Another of the museum's strong points is the way it focuses on the author's work.
"This profession is often considered as something wonderful, but it's a very unstable job. When your work doesn't sell, you earn nothing. When it does, you have no time to spend your money. And when you earn a lot, taxes take away a large part of it. All in all, no mangaka would like his children to have such a job," Fujiko F. Fujio once said. Nevertheless, it was his passion and it is well represented in the museum.
Thanks to digital technology, you can follow his creative work step by step and hand in hand with his animated characters.
The visit will suit all tastes, all ages and all budgets. Indeed, the museum also boasts a shop in which all kinds of gadgets can be found to suit all sorts of people. There is also a cafeteria where even the food and drinks have a connection with Doraemon, Nobita and the others. However you will need to buy your tickets in advance if you want to make sure you can enter this wonderful museum, because its creators have limited its capacity to 500 people per day in order to guarantee a comfortable visit. The museum welcomes visitors only four times a day, and then only those who have made a reservation. Be warned!
Gabriel Bernard