Brazilian Jazz Nights Presents: Yuko Yokoi Trio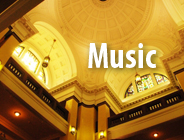 BRAZILIAN JAZZ NIGHTS PRESENTS: YUKO YOKOI TRIO
Verde – Global Album Tour
With Yuko's album launch of Verde this year, she expresses her absolute love of both Brazilian and contemporary jazz music alongside Ife Tolentino on guitar and Sam Watts on piano.
After the successful tour in Brazil this summer, she continues touring at some renowned venues in Japan and in the UK.
She is inspired by the Japanese philosophy, "wabi sabi" which is the pursuit of embracing both the imperfection and transience of life and she believes that this flows through her music.
Her interpretations are full of improvisation, with musical shades of light and colour in a minimalistic, sensitive and warm style.
Tracks include compositions by many of her all-time favourite artists such as: Hermeto Pascoal, Egberto Gismonti and Ivan Lins, as well as some of her own co-written originals.
Her jazz choir, JazzNeco, will also join her on a few tunes to add a touch of samba heat to the evening.
Details
Starts On
20/02/2019 - 00:00
Cost
£11.25
Event Categories