No3 [Initation] From producer to consumer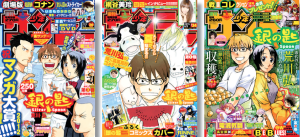 Arakawa Hiromu has taken a bold step with her new manga about agriculture.
With Fullmetal Alchemist, Arakawa Hiromu has become one of the greatest names in manga, both in Japan and in the rest of the world. Her talent is greatly applauded and it is well known that everything she touches turns to gold. Gin no saji (Silver Spoon) is proof of this. It is an original story that may come as a surprise to Fullmetal Alchemist readers when they first dip into it because its content has nothing to do with fantasy. With Silver Spoon the author turns her back on alchemy for a more down to earth universe that is very dear to her: agriculture. Arakawa is from Hokkaido, the main island north of Honshu that is famous for it's agricultural wealth, and she even studied for some time at an agricultural college. That kind of school is also the setting she chose to tell her story . To make her characters more believable, Arakawa meticulously investigated details of her past, which helps make the setting and the psychology of the characters more realistic. Silver Spoon's hero is Hachiken Yugo. His first year at the agricultural college has just begun and he will not only discover life in the school community but above all will learn a great deal about the production of food. How an adorable little piglet is turned into delicious slices of bacon is something he had never given a thought to before but it is a reality that he will need to face up to during his studies. The main point of interest in this award-winning story (winner of the best manga award 2012), lies in how it informs the readers about some of the principles of agriculture, of which many probably know very little. Arakawa Hiromu also stresses the importance of paying attention to the environment and defending sustainable agriculture, so as to ensure respect for a natural balance. She is in tune with the current Japanese preoccupation with food, particularly since March 2011, and the problems with radioactive contamination caused by the accident at the Fukushima Dai-ichi nuclear power plant. The author also pays tribute to the region where she was born by describing local traditions and highlighting how close knit the people in that area are. Without being too moralistic, Silver Spoon nevertheless raises some great moral principles. The manga also explores the questions farmers have to face in relation to life and death when having to send their pigs and cattle to the slaughterhouse. Similarily to Fullmetal Alchemist, Silver Spoon is a sort of tale of initiation, but focussing on youth, and this seems to to be at the root of its popularity with both critics and a growing readership. First published as a serial in the weekly magazine Shonen Sunday, the manga has already been collected together into four graphic novels, with over half a million copies sold. The distinction it was awarded during the spring should give it a tremendous boost, especially as an increasing number of Japanese are drawn to the countryside in Hokkaido and have hopes of living there one day. Arakawa Hiromu, a true comic book alchemist, has succeeded in creating a brilliant story that also relates to current trends in manga. I wish her many congratulations.
O. N.
REFERENCE
GIN NO SAJI – SILVER SPOON by Arakawa Hiromu, Shôgakukan, 2011, an on-going series with 4 volumes published so far.