No3 [History] At Mr. Nobunaga's service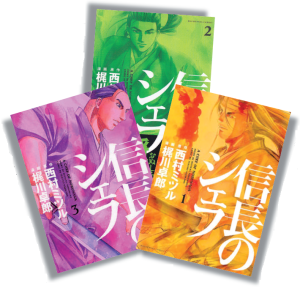 By using the historical figure of Oda Nobunaga as a character, mangaka have succeeded in creating several very imaginative stories.
Over the past few years, jidaigeki ( Japanese period films) have made a comeback in movies. Samurai films are acclaimed both by the audiences they entertain and the directors who find in them an opportunity to express their talent in a different way. Kitano Takeshi's Zatoichi and Miike Takashi's 13 Assassins are wonderful demonstrations of this. The success of these feature films illustrate the Japanese need for traditional points of reference at a time when their country is in deep crisis. Although they are based on fiction, the fact that they are steeped in a period that is rich in history (the Edo era) is enough to satisfy viewers. They are also sensitive to the literary references dealing with Japan in the 16th and 17th centuries, when several great figures in the national history were alive. This craze can also be found in manga, with quite a few successful history based publications appearing during the past few years. Among the many historical characters from this glorious period, OdaNobunaga is perhaps the most famous.
Born into a well-established aristocratic family from central Japan, whose influence was already widespread during the 16th century, Oda Nobunaga found himself in the midst of a feudal power struggle when he succeeded his father as adviser to the Vicegovernor of half of Owari province. He took up arms to unify the province and fought the daimyo of the neighbouring regions. After allying himself to Tokugawa Ieyasu, his eastern neighbour, he conquered Mino province to the north, and transferred his residence from Kiyosu castle to Gifu, near Nagoya. He was endowed with a very inquisitive nature and helped to establish relations with the Portuguese who reached Japan for the first time in 1543, Nobunaga permitted them to preach Catholicism and to build churches right up to the outskirts of Kyoto. In addition, the imperial court perceived him to be a military chief with a great capacity to end civil wars, which led to him being appointed Second Minister, one of the highest positions in the government hierarchy. As a renowned military leader, Nobunaga often surprised his enemies with his battlefield mobility and he was also the first strategist in Japan to use firearms methodically on a regular basis. Being very open to innovation, he led Japan in its first steps towards modernization. Taking his impressive historical profile into consideration, it is not so surprising that many mangaka are inspired by the character of Oda Nobunaga to create stories that describe him either as a great hero or a heartless warrior. For example, he ordered the assassination of his younger brother Oda Nobuyuki whom he suspected of conspiring against him. Among the manga that depict him in a rather negative light is Samurai Deeper Kyo by Kamijo Akimine (a series that appeared between 1999 and 2006 in 38 volumes), in which he is portrayed as a bloodthirsty warrior who is extremely cruel and wants to dominate the world by terrorising it.
More recently, two other manga have also chosen to tell the story of this great lord. Nobunaga Concerto by Ishii Ayumi (an on-going series with 6 volumes published so far) has appeared in the monthly magazine Shonen Sunday, Get Sun, since 2009. Although it initially went unnoticed, the story is now getting more attention from critics and readers alike. In this tale Saburo, an ordinary high school student with poor grades in history, is transformed into Oda Nobunaga, whose personality is markedly changed under Saburo's influence. With a meticulous sense of rhythm and a pleasant brush stroke, Ishii Ayumi has succeeded in writing a widely acclaimed story. The same goes for Nishimura Mitsuri (story) and Kajikawa Takuro (art) for Nobunaga no shefu [Nobunaga's Chef ] that was first published in 2011, with 4 volumes having already been released. It tells the story of Ken, a cook who finds himself in 16th century Japan after falling down a crevasse and soon becomes Oda Nabunaga's personal chef. This is mainly a manga about food but to a background of various historical events that involve the Chef. It attracts a large readership who are able to satisfy two passions in one story: history and gastronomy! The twist is that Ken makes use of his modern day experience to introduce new flavours, all the while having to adapt to the needs of the moment. Published in the weekly magazine Manga Times (Hobunsha ed.), Nobunaga no shefu is a beautiful illustration of the ability of mangaka to make use of history when writing modern and dynamic stories that are impossible to put down.
O. N.
REFERENCE
NOBUNAGA NO SHEFU by Nishimura Mitsuru and Kajikawa Takuro, Hobunsha ed., an on-going series with 4 volumes published so far.