No3 [Trend] Manga are now devoured in many different forms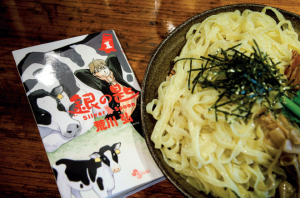 2011 and 2012 saw a marked change in the way Japanese people read comic books. 
Years go by but in the world of manga everything seems to stay the same. In 2005 the sales of graphic novels surpassed those of manga compilation magazines and the gap between the two formats continues to widen, indicating that Japanese readers' relationship to manga has radically changed over the past decade. Most magazines are in decline but the situation has been saved by the rising sales of manga in graphic novel form. 2011 was full of lessons to be learnt from the successes of Shingeki no kyojin by Isaya Hajime and Thermae Romae by Yamazaki Mari. For Kodansha, one of Japan's leading publishers, good sales of Shingeki no kyojin helped save a year that had not started off too well, due to the end of the best-selling series Nodame Cantabile and the temporary absence of Vagabond from the shops during the year. Shingeki no kyojin is remarkable for having sold over a million copies of its 6th volume published in December 2011. The series has been serialised in Bessatsu Shonen Magazine, one of its publisher's less important imprints that has never before experienced such a dramatic rise in sales.
The first volume of Shingeki no kyojin was published in March 2010, with a distribution of only 40,000 copies. By that autumn, sales started to grow and had reached 250,000 copies by October. Then, three months later, sales rose to 750,000 after being awarded the coveted first place ranking in the annual best manga awards held by prestigious comic guidebook, Kono manga ga sugoi [This manga is great]. Since then, each new volume has sold like hot cakes, although the magazine itself remains relatively unknown. Another example of success among Kodansha's publications is Saint Young Men by Nakamura Hikaru. This best seller reaches sales approaching a million copies for every edition printed and like Shingeki no kyojin, it appears in one of the publishing group Morning 2's less important magazines. This phenomenon is illustrated even better by Thermae Romae. The series, written by Yamazaki Mari, is published in Comic Beam magazine, which again, is far from being one of the most prominent publications on the market. However, this did not prevent Thermae Romae from accumulating sales of over 5 million copies when published in graphic novel form, although Comic Beam's actual circulation remains confidential. This switch in popularity to the graphic novel format has been one of the great lessons learnt this year by the manga publishing sector. This situation contrasts sharply with how it used to be not so long ago, when readers of manga magazines were the main driving force behind sales of the graphic novels. From now on, other means of distribution need to be developed in order to consolidate and maintain manga sales. Many readers first discover a story through its animated version or as an adaptation for TV or cinema, before reading it in its original form. This explains the large gap between the sales of manga magazines and manga books to a great degree.
Nevertheless, this development also prompts publishers to show more imagination in their choice of stories, going for maximum diversity in the large number of series they commission in the hope that just one may attract a large readership. It is also why they continue to create a broad range of different manga magazines to meet the expectations of specific groups of readers Shogakukan publishes Big Comic and Original Big Comic, one to promote new talent and the other focusing on the tried and trusted. Publishers pay a lot of attention to the response they get from their readers and try to anticipate what they want in order to guarantee a better and more stable return than they have received in previous years. Manga adaptations into animation or television shows, whether for TV or the cinema, have become substantial sources of revenue for publishers, whose main income comes from copyright and indirect sales. The profit to be made by publishers from these sources is so good that they now take part directly in the production of television shows and feature films, from which they can earn a great deal on sales of tickets and DVDs. When you consider that many of today's great blockbusters at the cinema are actually movies adapted from manga, you will surely understand why publishers are so keen to invest in co-production.
During the first six months of 2012, Bokura ga ita [We Were There] by Obata Yuki, Uchu kyodai [Space Brothers] by Koyama Chuya and Thermae Romae were all adapted for the cinema and became big hits. This is one of the reasons why publishers do not show much concern when one of their magazines is losing a lot of money, because they know they will be able to raise income elsewhere and this is all that matters in the long run. They are also aware that they will no longer experience the high levels of success from previous years, when weeklies such as Shonen Jump enjoyed sales of 6 million copies every week. Now, Shueisha is happy to publish and distribute a mere 3 million copies of its leading manga magazine, and this only made possible partly in thanks to the colossi One Piece by Oda Eiichiro and Naruto by Kishimoto Masashi. The success of these series as graphic novels is much greater and since it's debut in 1997, over 260 million copies of One Piece have been sold in Japan with the first print run of every new volume selling at least 4 million copies, which must no doubt satisfy its publisher. In addition, publishers are also turning their eyes to another new sector: online editions, even if results are still quite modest. After having argued about it for a long time, the leading publishing houses appear to have decided to start taking better advantage of this opportunity and according to a 2011 report on electronic manga, 80% of the revenue generated by online publications in Japan stems from manga. This is encouraging publishers to take more interest in their customer's reading habits, especially with the advent of smart phones and tablet computers. However, specialists believe that it will still take a few years for the digital market to supplant traditional paper publications. In the meantime, publishers are trying to determine how their readers' tastes are evolving in order to create new series, or promote those that have not yet gained enough public interest. In December every year since 2006, they await Kono manga ga sugoi's rankings that have an obvious impact on sales. Over the years this annual publication by Takarajima has become one of the main barometers for measuring market trends. Divided into two parts, one for men, the other for women, the ranking is the result of careful research by specialists and readers and sets the tone of what will be on offer the following season. Since 2006, Kono manga ga sugoi has singled out Pluto by Urasawa Naoki, Saint Young Men, Bakuman by Oba Tsugumi and Obata Takeshi and Shingeki no kyojin. In its 2012 awards published last December the publication picked out Hana no zuborameshi [Hana's sloppy meals], the story of a young woman's mishaps in the kitchen, being charmed by this delightful comedy and it's charismatic main character. By ranking it first in the awards, the publication also highlights a strong trend towards food related manga.
Another much anticipated ranking is Da Vinci's monthly literary review that focuses on new manga in the making. In its February edition Arakawa Hiromu's Silver Spoon, a story that takes place in an agricultural college in Hokkaido, came second. A few days after the magazine was published, Silver Spoon received the Great Manga award of 2012 for the year's best story, which also impacts strongly on the chosen publication's sales. It is still too early to tell (although 500,000 copies of the second volume published last December have already been sold) but this distinction seems to agree with readers' tastes. They become greedier by the day and are happy to devour stories about delicious dishes, giving them an appetite for more!
Odaira Namihei
Photo: Jérémie Souteyrat