No10 [Book] Higashino at his best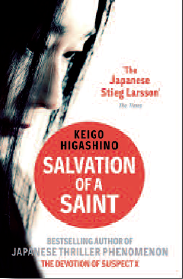 Wakayama Hiromi, assistant to famous artist Mashiba Ayane and her husband's mistress, unfortunately discovers the husband lifeless in the marital home. It is later proved that he has been poisoned with arsenic after drinking a cup of coffee. Inspector Kusanagi is in no doubt: Mashiba Yoshitaka, the husband, has been poisoned by his wife Ayane because he was about to leave her for the young Hiromi. Not only did Ayane know about her husband's affair with her assistant, she also knew he would leave her if she hadn't become pregnant after a year of marriage. The motive is clear, all that is needed is proof. Keigo Higashino draws on the Kusanagi-Yukawa couple from The Devotion of Suspect X and once again weaves together a nuanced
mystery, in which seduction and deduction are wonderfully played against one another, resulting in a charming novel that received the Noaki prize, one of the most prestigious in Japan.
Reference :
Keigo Higashino,
Salvation of a Saint,